Found December 08, 2012 on Fox Sports:
PLAYERS:
Johnny Manziel
,
Collin Klein
,
Charles Woodson
,
Mark Ingram
,
Kevin Sumlin
,
Braxton Miller
TEAMS:
Green Bay Packers
,
Notre Dame Fighting Irish
,
Kansas State Wildcats
,
Michigan State Spartans
,
Alabama Crimson Tide
,
Texas A&M Aggies
,
Ohio State Buckeyes
If the Heisman Trophy has driven a competitive wedge between Manti Te'o and Johnny Manziel, you couldn't sense it Friday afternoon in a stuffy hotel ballroom in Times Square, where the two frontrunners for college football's most prestigious award met with the media in advance of Saturday night's trophy ceremony. With reporters from Manhattan to Maui on hand, Notre Dame linebacker Te'o and Texas A&M quarterback Manziel spent more than a half-hour heaping lavish praise upon one another -- as well as third Heisman finalist Collin Klein -- and there wasn't an ounce of hostility or animosity to be found. "Whoever wins deserves to win; they didn't win by luck," said Te'o, who will look to become the record-setting eighth Notre Dame player to win the award. "(Manziel) and Collin have proven themselves and they deserve to be here, and whoever wins was supposed to." Though they had met just one day prior, at the college football awards show in Orlando, Fla., Manziel and Te'o spoke like old pals, and joked about everything from not letting go of the Heisman Trophy on the nearly empty plane ride from Florida to Te'o's parents trying to persuade Manziel to visit them in Hawaii. Simply put, these guys seem to genuinely like each other -- a lot -- and any preconceived notion someone might have had about what the mild-mannered 21-year-old Te'o and the wild child Manziel (who celebrated his 20th birthday Thursday) might or might not have in common is plain wrong. "To see the way he plays on the field, how big he is and how intimidating he is, I thought he might be a guy who'd stuff me in a locker and maybe beat me up a little bit," Manziel joked of his new bud. "But to find out how good of a football player he is and then to know that me and him click off the field and how great of a guy he is, it's been awesome." "He's just like me," added Te'o. "We love the game, we love what it can do for our family, we don't really like the spotlight, but we understand that it comes with the territory, and we're going to do everything we can to have a lasting impact on people who are watching." Regardless of who wins Saturday night, both of these guys will leave New York happy, and a new precedent of some sort will have been set. If Te'o claims the award, he'll become the first defense-only player to do so, and the first defensive player of any kind to win since Charles Woodson in 1997. A Heisman win would be the ultimate conclusion to a week in which Te'o won the Butkus Award (top linebacker), Bronko Nagurski Trophy (best defensive player), Lombardi Award (best lineman or linebacker), Bednarik Award (best defensive player), Walter Camp Foundation player of the year and Maxwell Award, which goes to the nation's most outstanding player. "When I won the Bednarik, I was just lost for words, and then I found out I won the Maxwell, and I was just like, 'I could never imagine this happening,' " Te'o said. "I can only imagine how I'd feel if my name is called to win the Heisman. I would be humbled and speechless, to be honest with you, but it would be a great ending to this section of my career." Te'o finished the regular season with 103 tackles and seven interceptions for a No. 1 Irish team that has allowed fewer points than any other team in the country on the way to an unbeaten season and a berth in the BCS Championship Game. But Notre Dame's brightest defensive star also was tested off the field, too. In September, Te'o's grandmother and girlfriend passed away in a two-day stretch leading up to the Irish's 20-3 win over Michigan State. Te'o responded to the tragedy with a season-high 12 tackles against the Spartans, and his role as Notre Dame's spiritual leader has only grown from there. "I drew strength from my faith, from the heavenly father, from the same thing everyone should draw strength from," Te'o said. "In times like that, you find out what life is truly about. There's this game of football that we all love, and then there's life, and that's what this whole thing is about. That's why I'm here." As for Manziel -- better known these days as Johnny Football, a name he says he doesn't necessarily love -- he would be become the first freshman to win the Heisman Trophy, just five years after Tim Tebow became the first sophomore to win the award and opened up the door for sophomores Sam Bradford and Mark Ingram to win in subsequent years. Manziel quickly emerged as the standard bearer for his team, which lost the only two games this season in which Manziel did not account for at least two total touchdowns. Manziel finished the season with 3,419 passing yards and 24 touchdowns, as well as 1,181 rushing yards. His 4,600 total yards set an SEC record and shocked everyone -- his coach, Kevin Sumlin, foremost among the surprised. "I thought my expectations for myself were probably higher than what he had for me," Manziel said of A&M's first-year coach. "He wanted me to be more of a game manager and somebody who didn't have to take the game into my own hands to win, and I always had the mindset that I wanted to be the biggest person in this offense. I wanted to be the catalyst and the person who makes this thing run." On Thursday, Manziel became the first freshman to win the Davey O'Brien National Quarterback Award, beating out Klein and Ohio State quarterback Braxton Miller, though both Manziel and Klein lost out to Te'o in the Maxwell Award voting. But should Manziel's name be the one called Saturday, it's probably safe to say that Maxwell Award snub would be quickly forgotten. "I can't imagine that feeling to win the most prestigious award in college football," Manziel said. "To have your name called and be able to walk up on that stage and be admitted into a fraternity of some of the best players to ever walk the face of the Earth has got to be unreal." Should Klein, the one-time leader in the Heisman race before a loss to Baylor, win the award, he would be the first Kansas State player to take home the famed bronze statue, but he's not considered a frontrunner. Still, that didn't stop his fellow finalists from singing his praises, as well. "He's a great guy," Manziel said of the K-State QB, who amassed 3,380 total yards and 37 total touchdowns for the 11-1 Wildcats. "The way he plays the game and how fierce of a competitor he is -- and then to see how nice and how great he was to be around last night, it was really good to see." Realistically, though, it'll probably come down to Te'o or Manziel, with many feeling that Manziel is the favorite coming into Saturday night. But regardless of who wins, this Heisman journey has forged a new friendship between two of the nation's best players -- though even the best of pals don't share everything. Te'o said he tried to get Manziel to pass along some secrets on how to beat Alabama, Notre Dame's opponent in next month's BCS title game. After all, Manziel and the Aggies were the only team to best the Crimson Tide this season. But like a true friend -- and that's how you know their bond is real -- Manziel wouldn't give in so easy. "There's some conflicting things there," Manziel said. "Being an SEC guy, I want to see the SEC continue to roll on the national championship scene, so I might have to keep some stuff to myself." You can follow Sam Gardner on Twitter or e-mail him at samgardnerfox@gmail.com .
Original Story:
http://msn.foxsports.com/cfb/story/he...
THE BACKYARD
BEST OF MAXIM
RELATED ARTICLES
For the first time in its history the Heisman trophy has went to a freshman. Johnny Manziel was chosen as the winner of the 2012 Heisman Trophy beating out Notre Dame's Manti Te'o and [...]
The Davey O'Brien Foundation today announced Texas A&M's Johnny Manziel as the 2012 Davey O'Brien National Quarterback Award® Winner. Todd Blackledge, the 1982 Davey O'Brien Winner, presented the award to Manziel during The Home Depot College Football Awards at the Walt Disney World Resort in Lake Buena Vista, Fla. He will be honored at the 36th Annual Davey O'Brien...
No one knows exactly what winning the Heisman Trophy requires. We do have an idea of what you can't do. You can't play just defense. Unless you're Archie Griffin, you can't win it twice. You can't be an offensive lineman. You couldn't win it as a freshman until Saturday night, when Texas A&M quarterback Johnny Manziel snagged the award in a decisive...
Johnny Manziel was understandably wide-eyed, but he certainly didn't look, or sound, like a freshman as he hugged his parents, said a few calming words to his tearful dad, John Paul, and coolly strolled to the stage to accept the Heisman Trophy on Saturday. He also didn't appear flustered or sound like he was new to addressing a crowd when he offered a polished and selfless...
What could be a big week for Texas A&M quarterback Johnny Manziel is already off to a roaring start. Manziel, who was named the SEC's offensive player of the year earlier in the week, capped his 20th birthday Thursday by winning the Davey O'Brien National Quarterback Award. Manziel received the award at The Home Depot College Football Awards in Lake Buena Vista, Fla...
It was moment unlike any other in the Heisman Trophys existence. The freshman, the first ever to win the storied award in its 78 years, stood with the collected past winners behind him, dozens more peering back from the portraits lining the wall in Best Buy Theater in Times Square. Johnny Manziel took a deep breath, letting out a whoo before the Texas A&M quarterback broke...
NEW YORK (AP) -- Johnny Football just got himself a way cooler nickname: Johnny Heisman. Texas A&M quarterback Johnny Manziel became the first freshman to win the Heisman Trophy, taking college football's top individual prize Saturday night after a record-breaking debut. Notre Dame linebacker Manti Te'o finished a distant second and Kansas State quarterback Collin Klein...
He's Johnny Heisman now. There is a lot to like about Johnny Manziel, and our universe has been infatuated with everything he's done in his breakthrough season. His first name rhymes with iconic actor Denzel Washington, he was a backup quarterback and YouTube sensation at one point. It finally was a moment when Manziel arrived at Texas A&M, where he made a statement and cemented...
NEW YORK (AP) -- Heisman Trophy history suggests it will never get better for Johnny Manziel than it did this season. In the 78-year history of the Heisman, only one player has one more than one: Ohio State's Archie Griffin in 1974 and 75. But even if another Heisman is not in Johnny Football's his future, there's still plenty left for Johnny Football and Texas A&amp...
The latest results of the Discover Fan Loyalty Poll asked the question if college football fans would rather receive gifts this Holiday season as per usual, or if they would forego receiving presents in order to watch their favorite team win the BCS Championship. In a very close vote, 46 percent of fans opted for presents, while 42 percent said they would trade in all of their Holiday...
College Football News

Delivered to your inbox

You'll also receive Yardbarker's daily Top 10, featuring the best sports stories from around the web. Customize your newsletter to get articles on your favorite sports and teams. And the best part? It's free!
THE COLLEGE FOOTBALL HOT 10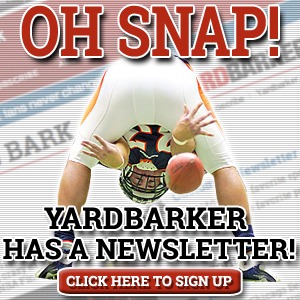 Latest Rumors
The Backyard

Today's Best Stuff

For Bloggers

Join the Yardbarker Network for more promotion, traffic, and money.

Company Info

Help

What is Yardbarker?

Yardbarker is the largest network of sports blogs and pro athlete blogs on the web. This site is the hub of the Yardbarker Network, where our editors and algorithms curate the best sports content from our network and beyond.