Bo Pelini and Taylor Martinez's times in Lincoln started with promise. Instead, the duo have been the poster boys of something else entirely: a program that simply looks stalled. If the collective minds at Nebraska aren't already thinking it, it's time to wonder if they're the ones to bring the Cornhuskers back to prominence. Pelini arrived in 2008 with a reputation as a defensive mastermind, building some fearsome units at LSU. But his influence hasn't translated with the Cornhuskers, who in Saturday's 41-21 loss to then-No. 16 UCLA, gave up 504 yards. Remove the Week 2 win over Southern Miss, in which Nebraska allowed 248 yards, and Pelini's D has been burned for 2,335 yards in four games that include last year's Big Ten title game vs. Wisconsin, the Capital One Bowl against Georgia and this year vs. Wyoming and the Bruins. Those defensive struggles have played a big part as the Huskers are 3-8 in their last 11 games vs. Top 25 teams and winless in four meetings against opponents ranked in the top 10. In each of the last three years, the Huskers have failed to rank higher than 35th in the nation in total defense, including this year's group, which is now 105th, including 114th against the pass. This season's D is young with seven new starters and nine players in the front-seven rotation that made their Nebraska debut in the opening weeks. But youth can't hide busted assignments and missed tackles. The fact is, the progression simply hasn't happened (and it has one Huskers legend voicing his displeasure). The same goes for, "T-Magic," the quarterback who burst onto the scene in '10 as a redshirt freshman generating Heisman Trophy talk with his arm and his legs. Back then he was raw with unconventional mechanics and accuracy issues -- he had a 59.2 percent completion percentage his first season -- that didn't truly improve until this, his last season. Finally looking like the QB Nebraska had been waiting for -- he was completing passes at a 71.1 percent clip entering Week 3 -- Martinez couldn't come through when the defense failed as he threw for just 85 yards in a scoreless second half, and 40 of those came on on one fourth-quarter pass to Ameer Abdullah. He also had minus 13 rushing yards on 10 attempts, just the second time in his carer he finished with negative yards. The Huskers -- now unranked after the loss to UCLA -- won't face much resistance this week against FCS opponent South Dakota State, giving them a chance to rebuild their confidence before Big Ten play starts the next week against Illinois. A Legends Division title and the Rose Bowl are still in play, but can Pelini and Martinez deliver? Defensive collapse after defensive collapse under a coach whose resume is defined by D may be our answer. A QB who has yet to show he can be the transcendent player that once seemed a certainty may be our answer. For Pelini, Martinez and Nebraska time remains, but it all seems so far out of reach. Ole Miss is breaking through, but how far will it go? Coming off a resurgent first season under Hugh Freeze and bringing in a surprising recruiting class that raised more than a few eyebrows, it was easy to peg Ole Miss as a team that would exceed expectations (ahem, shameless plug). The Rebels have delivered, staying unbeaten with a 44-23 rout of Texas and are now 25th in the nation and Freeze's hearalded rookies haven't disappointed, with receiver Laquon Treadwell posting a team-high 16 receptions, while defensive end Robert Nkemdiche is tied for the a Rebel-best four tackles for loss. All is well in Oxford, but now is where we find out if the Rebels' rise is for real or the byproduct of a opening stretch that included 1-2 Vanderbilt, FCS' Southeast Missouri State and the downtrodden Longhorns. Ole Miss gets a week off before opening a four-game stretch of at No. 1 Alabama, at Auburn, No. ? Texas A&M and No. ? LSU. It would be simply stunning if Freeze's squad were to get through that run unscathed, but the question is, can they weather what could potentially happen in those four games? If they go 1-3 or even 0-4, can the season get away from them. A year ago, the Rebels' rival Mississippi State won its first seven games only to drop six of their last seven. Now, it's on Freeze to avoid a similar dive. The surge in '12 and the haul of recruits are traits of a program on the rise, but how Ole Miss handles the next four weeks and its aftermath will go a lot further in telling us how much progress Freeze has made. The AAC's best? Louisville has competition The perception is that Teddy Bridgewater and the seventh-ranked Cardinals face little resistance en route to an undefeated season. Case in point: in the moments after ESPN's crew showed a graphic of Louisville's remaining games during Saturday's win over Kentucky, Twitter lit up with fans railing against the joke of a schedule. But there's one team more than any other that has the potential to make or break the Cards' season and put a kink in the AAC's slim BCS title hopes. Behind Blake Bortles, one of the nation's most underrated stars, UCF earned the first signature win for the young league, beating Penn State in Happy Valley 34-31. The Knights never trailed and led by 18 at one point in piling up 507 yards on a defense that allowed a combined 443 in the first two games. These are the same Cards that beat Florida in last year's Sugar Bowl, and not to downgrade L'ville -- whose tent pole win came against a Gators team that hasn't impressed this fall -- but we may actually know more about the 2013 version of UCF than we do Louisville before they meet Oct. 18. The Knights still have to face No. 13 South Carolina and Jadeveon Clowney. Meanwhile, L'ville takes on winless Florida International and Temple and 2-1 Rutgers, which is 89th against the pass. No offense to Bridgewater, but the fact that the Cards struggled vs. a UK defense that was torched by Western Kentucky in Week 1 doesn't instill a ton of confidence. At this point, UCF did Louisville a favor. The Cardinals need all the help they can get in convincing anyone an unbeaten run through a schedule that Phil Steele ranked 98th in the preseason should get them to the title game. Just don't sell the Knight short, George O'Leary's crew is making the AAC more more than a one-horse race. UPS AND DOWNS UP: Alabama There's no question who the nation's No. 1 team is. The Crimson Tide weathered the best that Johnny Manziel had to offer and left College Station with their payback win. The Alabama secondary, which Manziel tore apart in throwing for 464 yards and five TDs, remains a concern. But with Colorado State on Saturday in Tuscaloosa, Nick Saban has two weeks to work out the kinks before the Tide return to SEC play vs. No. 25 Ole Miss. DOWN: Michigan Devin Gardner said it best: "We almost lost to Akron, no disrespect to Akron." He's right, though. The Zips haven't won more than one game since 2009 and the Wolverines needed a stop on the final play to preserve the 28-24 win. Notre Dame hangover, anyone? Gardner didn't hurt his Heisman hopes in throwing for 248 yards and two TDs and running for 103 yards and a score, but his three picks, lost fumble and 53 percent completion percentage -- his lowest of any regular-season game as a starter -- won't exactly help his cause. UP: Oklahoma Have we witness The Belldozer in full? He went into Week 3 with more TD runs (24) than passes thrown (23) in his career, but Blake Bell would break Sam Bradford's record of 363 passing yards in a starting debut as he went 27 of 37 forkl 413 yards and four TDs. It appears Bob Stoops has found stability again at QB and just in time as the Sooners get a week off before taking on No. 21 Notre Dame, No. 24 TCU and Texas in consecutive weeks. DOWN: Braxton Miller, QB Ohio State As detailed in last week's Heisman Forecast, the preseason favorite needed to at the least play against Cal to stay in the race and more than likely play very well to avoid falling further behind. We got neither as Kenny Guiton threw four TD passes as the Buckeyes racked up 608 yards in the win. Now, like Adrian Peterson ('06), Darren McFadden ('07), Tim Tebow ('08), Colt McCoy ('09), Terrelle Pryor ('10), Andrew Luck ('11) and Matt Barkley ('12) before him, Miller will end the year empty handed. UP: Jameis Winston, QB Florida State He started off looking sluggish, hitting on two of his first five attempts, which included his first interception against Nevada. But the Florida State redshirt freshman regained his touch and wouldn't miss another pass, finishing 15 of 18 for 214 yards and two scores and also had a rushing TD. Through his first two games, Winston has a 88.9 completion percentage and he ranks second in the nation in passing efficiency (234.8), trailing only Baylor's Bryce Petty. DOWN: Tennessee Butch Jones was denied in his bid to become the first Volunteers coach since Robert Neyland in 1926 to start 3-0 as No. 2 Oregon ran roughshod on his defense in a 59-14 rout. It was Tennessee's worst loss since falling 48-0 to Mississippi State in 1910. Now, the Vols get to turn around and face No. 18 Florida on the road in their SEC opener. BMOCS OFFENSE: Marcus Mariota, QB Oregon, Soph. While McCarron and and Manziel were dueling in College Station, Mariota put together the week's most impressive day as he torched Tennessee for a career-high 456 passing yards on 23 of 33 attempts and totaled five TDs (four passing, one rushing). He became the first Ducks QB to go over 400 yards in a game since Kellen Clemens in 2005 and had 350 of them by halftime. Mariota's reaction to his domination? "It's pretty cool, I guess," he said. DEFENSE: Anthony Barr, LB UCLA, Sr. Largely a non-factor as Nebraska played away from him, Barr turned it on , finishing with 11 tackles, including seven solo stops and 1 12 for loss. He also forced three fumbles, including a deflection of an option pitch that resulted int a 20-yard loss and another with the Huskers threatening in the fourth when he leveled Abdullah at the 6-yard line. SPECIAL TEAMS: Paul Seen, Bowling Green, Jr. It's probably unfair to diminish what Seen did by simply calling it a blocked punt. What he actually did was catch the ball off the foot of Indiana's Erich Toth and without breaking stride took it 56 yards for the touchdown, a one-in-a-million convergence of luck and timing that has to be seen numerous times to be truly appreciated. Keep this in your play of the year consideration, college footballerati. FILM ROOM Manziel's magic escape Blindly throwing a ball into the middle of the field? It's a recipe for disaster, that is unless you're Johnny Manziel. On third-and-eight, Alabama lineman Jeoffrey Pagan had his hand on Johnny Football, only to have Manziel squirm his way out of it and throw the ball nearly 50 yards for a 12-yard game. It's a near certainty that the reigning Heisman winner will find his way to the ceremony in December (his mere presence is good for TV) and we'll most definitely see this replayed there. But something tells me we won't see this "tackle" attempt. Worst. Ending. Ever. You can put some of the blame on Wisconsin QB Joel Stave for not being more deliberate in his attempt to kneel and set up the potential game-winning field goal at Arizona State. But the Pac-12 officiating crew simply lost control as multiple Sun Devils defenders fell on the ball after the play was called dead. All credit goes to Gary Andersen, who somehow kept his cool after suffering his first loss as Badgers coach and in the most inexplicable of fashions. On a side note, this finish did draw a strange response on Twitter from the wife of ex-Badgers coach Bret Bielema. Hats off to Collins Arkansas' Alex Collins made SEC history against Southern Miss as the first player to run for at least 100 yards in each of his first three games, but that was only the second most memorable thing to happen to the Razorback. After a second-quarter run, Collins tried to get up and hilarity ensued as a Golden Eagles defender's helmet was stuck to him. CRYSTAL BALL No. 23 Arizona State at No. 5 Stanford When it comes to neutralizing up-tempo offenses, the Cardinal have had a very simple solution: punch them in the mouth. The Sun Devils showed an ability to move the chains on the ground in their bizarre win over Wisconsin behind Marion Grice's four rushing touchdowns, but end Ben Gardner and the Stanford D have allowed one rushing TD in the first two games. Expect that strong play up front to continue in this one. The Pick: Cardinal 35, Sun Devil 20 Auburn at No. 6 LSU The Tigers (the ones of the Alabama variety), broke a 10-game SEC slide with the win over Mississippi State. But this is going to be the biggest test yet for Auburn's D-line, which struggled against Bulldogs QB Dak Prescott (346 total yards). The Tigers (of the Bayou varietY) have seen QB Zach Mettenberger emerge as one of the nation's most reliable triggermen, totaling nine picks, no INTs and a 72.2 completion percentage in three games. LSU hasn't lost in September in 28 games, with the last team to do it Auburn. Malzahn's crew is trending upward, but this doesn't feel like the week they get a true breakthrough win. The Pick: LSU 38, Auburn 27 Tennessee at No. 19 Florida Coming off a rout at the hands of the Ducks, the Vols could use a pick-me-up, but it won't come in this SEC East matchup against a Florida squad looking to rebound from its loss to Miami in Week 2. All indications are that Jeff Driskel will play and he should be licking his chops after seeing what Oregon did to a subpar Tennessee secondary. He needs a big day and he'll get it. One strange fact worth keeping in your back pocket: the Gators have won their third game of the season in each of the last 14 years. The Pick: Florida 41, Tennessee 24 Last week: 3-0 Overall: 5-1
Original Story:
http://www.foxsportssouth.com/fox-spo...
PLAYERS:
Bo Pelini
,
Taylor Martinez
,
Ameer Abdullah
,
Robert Nkemdiche
,
Teddy Bridgewater
,
Jadeveon Clowney
,
Nick Saban
,
Devin Gardner
,
Blake Bell
,
Sam Bradford
,
Bob Stoops
,
Braxton Miller
,
Adrian Peterson
,
Tim Tebow
,
Colt McCoy
,
Terrelle Pryor
,
Andrew Luck
,
Matt Barkley
,
Jameis Winston
,
Marcus Mariota
,
Kellen Clemens
,
Anthony Barr
,
Jeoffrey Pagan
,
Joel Stave
,
Marion Grice
,
Ben Gardner
,
Dak Prescott
,
Zach Mettenberger
,
Jeff Driskel
TEAMS:
Philadelphia Eagles
,
Mississippi Rebels
,
Nebraska Cornhuskers
,
Missouri State Bears
,
Mississippi State Bulldogs
,
Penn State Nittany Lions
,
South Carolina Gamecocks
,
Alabama Crimson Tide
,
Colorado State Rams
,
Michigan Wolverines
,
Notre Dame Fighting Irish
,
Oklahoma Sooners
,
Ohio State Buckeyes
,
Stanford Cardinal
,
Florida State Seminoles
,
Oregon Ducks
,
UCLA Bruins
,
Bowling Green Falcons
,
Arizona State Sun Devils
,
South Dakota State Jackrabbits
MORE FROM YARDBARKER
College Football News

Delivered to your inbox

You'll also receive Yardbarker's daily Top 10, featuring the best sports stories from around the web. Customize your newsletter to get articles on your favorite sports and teams. And the best part? It's free!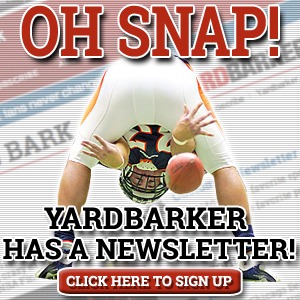 Latest Rumors
Best of Yardbarker

Today's Best Stuff

For Bloggers

Join the Yardbarker Network for more promotion, traffic, and money.

Company Info

Help

What is Yardbarker?

Yardbarker is the largest network of sports blogs and pro athlete blogs on the web. This site is the hub of the Yardbarker Network, where our editors and algorithms curate the best sports content from our network and beyond.