Found July 12, 2012 on NESN.com:
The Freeh Report was released on Thursday morning, and as expected, it was pretty ugly for some of the once-powerful members of the Penn State community. The results of the internal private investigation into the university's involvement surrounding the Jerry Sandusky child sex abuse lay heavy blame on former head football coach Joe Paterno and others for not doing enough to stop Sandusky. In addition to Paterno, athletic director Tim Curley, former president Graham Spanier and vice president Gary Schultz were all mentioned together in the report for their roles. The report concluded that they did not do nearly enough...
Original Story:
http://www.nesn.com/2012/07/the-freeh...
THE BACKYARD
BEST OF MAXIM
RELATED ARTICLES
DISTANCING BEGINS
In light of the Freeh Report's findings, Nike has announced the removal of Joe Paterno's name from the child development center located on its corporate campus in Beaverton, Ore.
Bobby Bowden and Joe Paterno had an ongoing rivalry to see who could outlast the other to top the leaderboard for most wins in a coaching career. Bowden was forced out as head coach of Florida State in 2009 after the Seminoles became a mediocre team. Paterno refused to step down as coach at Penn State, allowing him to surpass Bowden. In light of being peers and competitors, Bowden...
Nike said in 2011 that it wouldn't remove Joe Paterno's name from a child care facility on its Beaverton, Oregon campus because "Our relationship with Penn State remains unchanged," a spokesperson said. That was November 9. Today, Nike has announced, as a result of the crushing Freeh Report, that Paterno's name will be removed from the center. Oh, and Phil Knight wants...
BEAVERTON, Ore. -- The president of Nike Inc. says he has decided to change the name of the Joe Paterno Child Development Center, a child care facility at the company's headquarters. CEO Mark Parker said Thursday he was deeply saddened by the news coming of the Louis Freeh investigation on the child sex abuse scandal at Penn State. Freeh says Paterno and other top school officials...
An internal investigation into whether football coach Joe Paterno and other Penn State officials helped cover up reports that Jerry Sandusky was molesting children in the school's locker rooms will be released Thursday, officials said Tuesday. The report, commissioned by school trustees following the former assistant football coach's arrest last year, is expected to reveal...
Going out on a limb and saying these chicks are incoming freshmen, are in State College for orientation, told mom to stop so they could get a photo with JoePa and then NBC 4 LA cameras caught them posing with a child rape protector. Maybe they were oblivious to why those satellite trucks were in front of the football stadium. You know, because after all, it is Penn State and big...
"It's two different guys: There's a guy I knew for 40 years and did everything right; then a guy who did a dastardly thing." – Bobby Bowden As my colleague Kevin McGuire wrote on Thursday, "Joe Paterno died on January 22, 2012. The Joe Paterno I thought I knew died today, July 12, 2012." And, now, on the heels of the Freeh Report being released, comes...
Key findings and recommendations of the investigation into the Jerry Sandusky sex abuse scandal led by former federal judge and ex-FBI director Louis Freeh. Findings: - Penn State officials including coach Joe Paterno and university President Graham Spanier concealed information of Sandusky's activities from authorities and the public to avoid bad publicity. - Paterno, Spanier...
You can read the Freeh Report cover to cover, spend hours soaking in every damning detail of how Penn State let a serial sexual predator operate within the cocoon of its football program. But what needs to happen now, what must start immediately, is spelled out in a tidy paragraph on Page 18. "It is up to the entire University community -- students, faculty, staff, alumni,...
Matt Millen is having a bad day on ESPN SportsCenter. He's trying to analyze the Freeh Report and is trying to blame then Penn State President Graham Spanier for not going over the real leader of the university – Joe Paterno – to report Jerry Sandusky back in 2001. The guy is stammering. Total mess. Trying to spin that Paterno did so much good for the university that covering...
I don't think that Penn State is out of the wood yet and I do believe that there has to be some kind of NCAA punishment or sanctions for Penn State University. What happened on their campus is disgusting and heinous crime and might have been covered up. STATE COLLEGE, Pa. (AP) – The NCAA says that it will decide on whether to take action at the "appropriate time...
Nittany Lions News

Delivered to your inbox

You'll also receive Yardbarker's daily Top 10, featuring the best sports stories from around the web. Customize your newsletter to get articles on your favorite sports and teams. And the best part? It's free!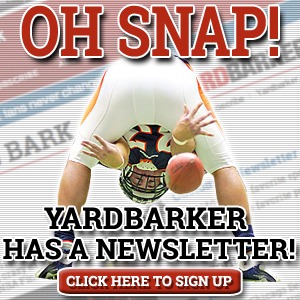 Latest Rumors
Best of Yardbarker

Today's Best Stuff

For Bloggers

Join the Yardbarker Network for more promotion, traffic, and money.

Company Info

Help

What is Yardbarker?

Yardbarker is the largest network of sports blogs and pro athlete blogs on the web. This site is the hub of the Yardbarker Network, where our editors and algorithms curate the best sports content from our network and beyond.