Found May 15, 2013 on Crystal Ball Run:
(Photo Courtesy: USA Today Sports) It's "MAC Week" here at Crystal Ball Run, and if there's one certainty about this league through the years, it's that it's become known as somewhat of a cradle for future college football coaching superstars. In the same way that every great actor seems to have done a random two-episode stint at General Hospital at some point in their careers, it seems like every major college football coach has had a bit of #MACtion flowing through their veins at some point along the way as well. The list of current and former head coaches who have served MAC apprentices is staggering. Nick Saban went 9-2 in one year at Toledo. Urban Meyer won a combined 17 games in two seasons at Bowling Green. Brian Kelly won a MAC Championship in 2006 at Central Michigan, while Brady Hoke was head coach for six years at Ball State, which paved the way to San Diego State before he returned to Michigan. At some point, all those guys were all MAC nobodies, who eventually turned into college football somebodies down the line. So who is the next wave of coaching superstars currently serving MAC apprenticeships? Crystal Ball Run takes a look at the league's three newest coaches. P.J. Fleck, Western Michigan In just a few short months since taking over at Western Michigan, Fleck has undoubtedly infused some youthful exuberance into a program that was clearly lacking it under previous head coach Bill Cubit. Then again, "youthful" might be the best way to describe Fleck; in December, Fleck became the first man born in the 1980's to be named head coach at an FBS school. Yes, you read that correctly, P.J. Fleck was born in the 1980's; November 1982 to be exact. Meaning that not only will Fleck make the rest of us feel bad every time his face is shown on TV this fall, but hs is also the answer to a pretty quirky trivia question. Neat!   At the same time, it's that youth which are both Fleck's best and most concerning traits.   On the positive side, that youth served him well, since people around the Western Michigan campus can't seem to get enough of Fleck. Administrators adore the guy, his current players have praised his "energy," (don't they all) and future players are lining up to play for Fleck in Kalamazoo as well. After a shaky couple weeks prior to Signing Day, Fleck has been on a recruiting roll, even landing a verbal commitment from four-star 2014 quarterback prospect Chance Stewart. If Stewart enrolls at Western, he'll be the highest-rated recruit ever to play in Kalamazoo. Safe to say it's been a good first couple months for Fleck on campus, huh? Of course if things continue to go this well there's also a chance Fleck won't be around very long. Yup you read that correctly, and the simple truth is that Fleck couldn't have gotten this far, this fast if he wasn't a bit of a corporate ladder climber. He is, and if the past is any indication of the future, our crystal ball tells us that Fleck won't be around Kalamazoo very long.   That might sound crazy, until you look at Fleck's brief coaching resume. Remember he is a man who once took the Northern Illinois offensive coordinator job for a grand total of one day before jumping ship to the NFL, a fact which wouldn't be so bad…except that Northern Illinois is his alma matter!! And if he's already done his alma mater dirty like that, you've got to imagine that he'd have no problem skipping town at Western Michigan after a big season or two. Then again, coming off a 4-8 2012 season, that seems like a risk Western Michigan would be willing to take. Overall, it's hard not to like P.J. Fleck's hire. Crystal Ball Run Coaching Hire Grade: A- Rod Carey, Northern Illinois Ironically when Fleck left Northern Illinois for the NFL after one day as the Huskies' offensive coordinator, it was Carey who was promoted to take his position. And just six months later Carey got another promotion after Dave Doeren left to become head coach at NC State. Which also leads to our biggest concern with this coaching hire: Was Carey really the most qualified candidate to take over a Northern Illinois club which finished 11-2 last season? Or was he just the most convenient one? It seems to be the latter, as just hours after Doeren left for Raleigh (which came just hours after Northern Illinois won the MAC Championship) the school eschewed a coaching search and instead tabbed Carey as their next head man. Not just as interim to coach them in a bowl game, but to take over the program full-time. Which is all well and good, except… is it really? Carey takes over at Northern Illinois with no head coaching experience (sans the Orange Bowl in January) a grand total of one year as a coordinator at ANY level (last year with Northern Illinois) and a grand total of one year as an assistant coach at the FBS prior to that (in 2011 as the Huskies' offensive line coach). Before then, Carey worked at such famed college football outposts as Wisconsin-Stoutland, Illinois State and North Dakota. Safe to say the guy didn't exactly fall off the Nick Saban coaching tree. Know what I'm saying? Now to Carey's credit the Huskies did look sharp in that Orange Bowl showdown with Florida State, holding tight for three quarters, in a game which was much closer than the 31-10 final indicated. Not to mention that even before he was promoted to head coach, the Huskies' offense thrived in his only year as coordinator, producing over 38 points and 469 yards of total offense per game last season. Still, had Northern Illinois waited a few days and actually hit the open market in its coaching search, you'd have to think they could've gotten someone a little better to fill their coaching vacancy. Or at very least, someone with a little more experience. In the end, it doesn't matter where Carey started, but where he ends up. And one big season will squash any concerns on our end. But for now, this hire left a lot to be desired. Crystal Ball Run Coaching Hire Grade: C- Paul Haynes, Kent State: In a lot of ways, Haynes to Kent State is somewhat of a combination of the hires of Fleck at Western Michigan and Carey at Northern Illinois. Like Fleck, Haynes is a graduate of the school and has an impressive overall coaching resume, which includes stops at Ohio State and Arkansas amongst others. Then again, like Carey he also has a bit of a spotty recent track record; Haynes was Arkansas's defensive coordinator in 2012, and well, ya'll saw Arkansas last season, right? At the same time, it's hard to blame anyone for the grease fire that was Arkansas football last year, especially a first year assistant coach who'd been on campus just a few short months before the man who hired him got fired. It's also hard to blame Haynes for the Razorbacks 73rd ranked defense, after all the injuries and attrition they dealt with during the 2012 season. Therefore we're going to give Haynes a bit of a pass and bump up this coaching hire grade a bit. As an ex-Kent State player and long-time assistant under Jim Tressel at Ohio State, Haynes was a natural fit for this job. Not to mention that looking at his overall resume, Haynes' 2012 season was much more anomaly than commonality. Plus, it can't hurt that Kent State returns plenty of talent off a club which went 11-3 last season. Speaking of which, let's also not forget that the man who led Kent State to that 11-3 mark (Darrell Hazell) also worked for a long time under Tressel as well. Think there's some symmetry there? Maybe and maybe not. But overall, we like this hire. Crystal Ball Run Coaching Hire Grade: B   For all his opinion, insight and analysis on college football, follow Aaron on Twitter @Aaron_Torres. Follow Crystal Ball Run on Twitter @CrystalBallRun  
Original Story:
http://www.bloguin.com/crystalballrun...
THE BACKYARD
BEST OF MAXIM
RELATED ARTICLES
Michigan Football could receive a big recruiting boost on SUnday, May 26th. That is the day that the nation's second ranked recruit, Jabrill Peppers, will announce his commitment live on ESPNU. Peppers has narrowed his list down to LSU, Notre Dame, Michigan, Penn State, Rutgers and Stanford. The prevailing sentiment among recruiting analyst is that Michigan is in the driver's...
Michigan coach Brady Hoke has taken the Notre Dame rivalry up a notch. Hoke made a crowd chuckle on Monday at West Michigan Sports Commission luncheon by saying the Fighting Irish are ''chickening out'' from the storied series. Notre Dame exercised an option in its football-scheduling contract with Michigan last fall to cancel games from 2015-2017. Hoke lamented...
Michigan head football coach Brady Hoke might be taking Notre Dame's decision to end its annual rivalry game with the Wolverines after 2014 a little too personal. Speaking in front of a luncheon for the Western Michigan Sports Commission, Hoke let loose on how he really felt about the ND's decision, which was a result of the school's recent partnership with the ACC. ...
University of Michigan head coach Brady Hoke has done a great job of reviving the Wolverine football program that had come into hard times during the previous years prior to his arrival in Ann Arbor. A Michigan man to the fullest, Hoke is all about the tradition of the program and its legacy. Part of the tradition for Michigan is their annual match-up with Notre Dame. A rivalry that...
It's understandable what Michigan football coach Brady Hoke is trying to do, stirring up some controversy with his remarks that Notre Dame is "chickening out" of the two teams' rivalry after the 2014 season. Brady Hoke feels slighted by Notre Dame cancelling games between 2015 and 2017, but it makes sense for the Fighting Irish. The game is a guarantee that the Wolverines...
GRAND RAPIDS, Mich. (AP) -- Michigan coach Brady Hoke has taken the Notre Dame rivalry up a notch. Hoke made a crowd chuckle on Monday at West Michigan Sports Commission luncheon by saying the Fighting Irish are "chickening out" from the storied series. Notre Dame exercised an option in its football-scheduling contract with Michigan last fall to cancel games from 2015...
God bless the offseason? Why? Well, the offseason gives us alumni luncheons and other events where coaches get to bloviate. prognosticate, and basically **** talk for an hour, while (especially in Brady Hoke's case) stuff their fat ******* mouth with as much free food as possible.  For example, I give you Brady Hoke: Hoke says Notre Dame is "chickening out&quot...
Brady Hoke has been keen on rivalries since making his way back to Ann Arbor, something his predecessor in Rich Rodriguez was never one to do. Unfortunately though for Hoke and the Wolverines one of their storied rivalries in Notre Dame has chosen to dissolve the rivalry, at least for the time being which has left Hoke a little agitated… (via Mlive.com) "The Notre Dame game,...
The way Michigan coach Brady Hoke sees things, the Notre Dame Fighting Irish are chickening out on their rivalry. The memes happen to think so too.
During the West Michigan Sports Commission Annual Luncheon, Michigan head football coach, Brady Hoke, reportedly said Notre Dame is "chickening out" of the Irish vs. Wolverines series.  Hoke says Notre Dame is "chickening out" of its series with Michigan. Notes ND is still playing Michigan State. — Kyle Meinke (@kmeinke) May 13, 2013 Notre Dame and Michigan have one...
Michigan and Notre Dame have played each other in football 40 times, including every season since 2002. But that rivalry was set to be put on hiatus in 2018-2019 as the Irish scheduled games with the ACC. However, what wasn't expected was that the Irish would also cancel the scheduled games between the two for 2015-2017. Michigan coach Brady Hoke thinks Notre Dame is "chickening...
Notre Dame defensive tackle Louis Nix responds to Michigan Wolverines coach Brady Hoke for claiming the Irish were 'chickening out' on their rivalry game.
Wolverines News

Delivered to your inbox

You'll also receive Yardbarker's daily Top 10, featuring the best sports stories from around the web. Customize your newsletter to get articles on your favorite sports and teams. And the best part? It's free!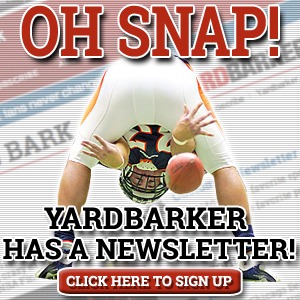 Latest Rumors
Best of Yardbarker

Today's Best Stuff

For Bloggers

Join the Yardbarker Network for more promotion, traffic, and money.

Company Info

Help

What is Yardbarker?

Yardbarker is the largest network of sports blogs and pro athlete blogs on the web. This site is the hub of the Yardbarker Network, where our editors and algorithms curate the best sports content from our network and beyond.