Roundtree has knee surgery With last year's leading receiver, Junior Hemingway, on an NFL roster and Darryl Stonum no longer on the team, the last thing Michigan needed was an injury to the most experienced returning wideout, Roy Roundtree. Yet that's just what happened. But fear not, Brady Hoke says it's nothing to be concerned about. Roy Roundtree should be back for the season opener "He had a little cartilage that he needed cleaned up," Hoke said. "We expect him back in two weeks. Everything went great. He feels great. It was just one of those things." On the surface, hearing that Michigan's top receiver has gone under the knife sounds dreadful and basically eliminates any hope of beating Alabama on Sept. 1. But if presented with an option, this is the best scenario one could ask for. Roundtree is already established; though his 2011 numbers took a back seat to Hemingway, he finished second in the Big Ten in receiving in 2010. He has a good relationship with Denard Robinson and knows the offense, so the missed practice time isn't going to make much of an impact. Any other receiver, perhaps most importantly Devin Gardner, and it would have been a big blow. Gardner needs every snap he can get at the position, as do Jerald Robinson and the rest of the unproven receiving corps. The only other experienced receiver is Jeremy Gallon, but if I had to pick a receiver to miss a couple weeks of fall practice, I'd pick Roundtree over Gallon. It's also important to mention the timing. Instead of putting it off and trying to play through the pain, which would have likely flared up in the middle of the season causing him to miss a game or two, he elected to have it taken care of early. That was a good move. Arthroscopic knee surgery is just a minimally invasive outpatient operation with a recovery time of just a couple to a few weeks. Obviously, everybody heals differently, and depending on the swelling it could take longer, but with a healthy body and what is sure to be top-notch rehab, Roundtree shouldn't have any problem returning before the season opener. ___________________________________________________________________________________ Denard says he can beat Bolt Denard made headlines yesterday for comments he made at Sunday's media day saying that he could beat Jamaican sprinter Usain Bolt, in the 40-yard dash. Bolt, of course, claims the title of 'world's fastest man' after another dominating Olympic performance. Denard didn't just come out of nowhere with the statement, however. Devin Gardner brought it up first, and when Denard was asked about it, he agreed. Usain Bolt trailed five other runners at approximately the 40-yard mark "I've watched him run and I'm pretty sure I can beat him in a 40-yard dash," Robinson said. "I'd get a better start and I could take him. At 60 yards, I'd be in trouble, and at 100 meters, he'd be gone, but I could get him in a 40." The media has taken the story and run with it (see what I did there?) and naturally, opposing fans are having a good laugh, but it is an intriguing challenge. Everybody remembers the finish of the 100-meter dash when Bolt took gold, but do you remember the first half of the race? At approximately the 40-yard mark (4.3 seconds into the race) Bolt trailed five other runners. Granted, these are all world class sprinters, but Bolt isn't by any means the quickest man in the world. It wasn't until about two seconds later when Bolt turned on the jets and pulled away from the rest of the field. His biggest strength is using his long strides to pull away once everybody reaches top speed, so it's not completely out of the question that Denard could win the first 40. The question does bring some interesting possibilities, so I thought I would take a look at it from several angles: • 40 yards on a track: Bolt
• 40 yards on grass in cleats (untied of course): Denard
• 40 yards on grass in full pads: Denard
• 40 yards on grass carrying a football: Denard
• 40 yards in starting blocks: Bolt ESPN's Desmond Howard agreed that Denard would win on grass. Stuart Scott and Joe Tessitore weren't buying it, but I think that if it is run in any type of football situation, Denard wins. If it's run in a track situation Bolt wins. The only way to end the discussion is for it to actually happen, which it probably never will unless Dave Brandon decides to use it as a marketing opportunity (hint, hint). The chances of that are slim to none during the season, however, for risk of injury. If there is any chance at all, it's in February when Denard is prepping for the NFL Draft Combine.
Original Story:
http://maizeandgoblue.com/2012/08/14/...
MORE FROM YARDBARKER
Wolverines News

Delivered to your inbox

You'll also receive Yardbarker's daily Top 10, featuring the best sports stories from around the web. Customize your newsletter to get articles on your favorite sports and teams. And the best part? It's free!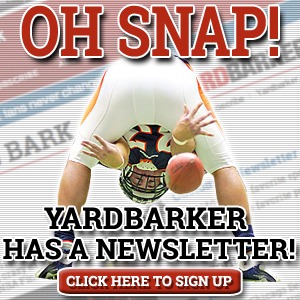 Latest Rumors
Best of Yardbarker

Today's Best Stuff

For Bloggers

Join the Yardbarker Network for more promotion, traffic, and money.

Company Info

Help

What is Yardbarker?

Yardbarker is the largest network of sports blogs and pro athlete blogs on the web. This site is the hub of the Yardbarker Network, where our editors and algorithms curate the best sports content from our network and beyond.