Trouble with the Triple (Option)photo credit: bleacherreport.com This week, Clemson's young-guns on defense will have to un-learn everything Coach Venables has taught them. Paul Johnson's triple option and flexbone veer are coming to Death Valley. I asked former Clemson head coach and legend Danny Ford if he had the magic to stop the triple option. He said he had one answer- get to the quarterback. Easier said than done. Everyone has a responsibility when defending this scheme, and if a linebacker decides to cover the pitch when really he should be dialed in on the quarterback, a play designed for a short-yardage pickup could easily translate to an 80-yard touchdown run. Unlike the wishbone, the flexbone replaces the halfbacks with wingbacks that align off-tackle or off-end. These running backs must be quick, have good vision, and explode out of the hole. They've also got to master the technique of cut blocking. Clemson linebacker Jonathan Willard said of defending the triple option, "Discipline is the main thing, you have to stay on your feet and play fast because guys will cut you. It's tough [to prepare for] because none of the teams we play cut as much as Georgia Tech does." Yellow Jackets' quarterback Tevin Washington leads the nation in rushing touchdowns for a quarterback this season (11). He had 176 rush yards and a rushing touchdown in Georgia Tech's 31-17 win over Clemson last year. "Last year it was guys trying to do too much," Willard said. "Someone would not do their job and someone else would try to make up for it. We would lose track of a gap and their guy would quickly get outside of us." It's not just about the run, either. A main component of the triple option is catching the secondary flat-footed, and opting to go big on play-action pass. This should especially worry Coach Venables because Clemson has trouble defending the big play even when the Tigers are expecting it. Clemson is allowing 6.3 yards per play and 439 yards per game. Last week's second half against Boston College showed signs of promise for the defense, but don't be fooled. Clemson vs. Georgia Tech will be a shoot-out- on both sides. Experience counts on defense, and Clemson doesn't have that. Over half of the starters are freshmen and sophomores. Swinney emphasized this past week his belief that it's immaturity rather than lack of talent haunting the defense. He also said the team will live tackle during the week, something he hasn't done in the past and something that's rare in college football. The linebackers have the most difficult job defending this type of offense. In pre-snap, they still shift left or right depending on the motion across the line of scrimmage, but still must be prepared for the play to go either way. I don't know if it's because Clemson always seems to have trouble covering the triple option, or if I just like a good challenge (or if I don't have a life), but I watched a few videos of the triple option (flexbone) to see how the defense reacted. Particularly, the YouTube video of Stillman Valley High School in Illinois running the triple option (http://www.youtube.com/watch?v=n4pNnY4JliQ) displayed the linebacker's jobs. If it's an option play to the right: 1. The right outside linebacker avoids the lead block by the wingback, stays close the pitch guy (doesn't let him inside) 2. The middle linebacker stays square outside the right defensive end, covering the QB 3. The left outside linebacker makes sure the play doesn't turn inside and crashes the line. If there is no possibility of a pitch? The middle linebacker has to go for the tackle and not hold back. The play of Clemson middle linebacker Stephone Anthony will be critical. He's a sophomore that will no doubt carry a heavy load Saturday. But, perhaps, most importantly, he's got to know to just stick to his assignment and not attempt to do too much, according to Willard. "You have to 11 guys doing their job, follow the play call and do a good job every down. It's about focus." A broader preview of the game will posted soon. BeyondU Sports BeyondU Sports - Best College Sports Blog Site
Original Story:
http://feedproxy.google.com/~r/Beyond...
MORE FROM YARDBARKER
College Football News

Delivered to your inbox

You'll also receive Yardbarker's daily Top 10, featuring the best sports stories from around the web. Customize your newsletter to get articles on your favorite sports and teams. And the best part? It's free!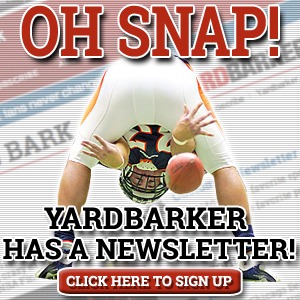 Latest Rumors
Best of Yardbarker

Today's Best Stuff

For Bloggers

Join the Yardbarker Network for more promotion, traffic, and money.

Company Info

Help

What is Yardbarker?

Yardbarker is the largest network of sports blogs and pro athlete blogs on the web. This site is the hub of the Yardbarker Network, where our editors and algorithms curate the best sports content from our network and beyond.