Found April 11, 2013 on Football Nation:
Tyrann Mathieu got himself kicked off the LSU football team for drug problems, and he wants every NFL team to believe that he is a changed man now. LSU was not the same team in his absence, and he is well known as a dynamic force on the defensive side of the ball.But most teams will stay far away from this "trouble-maker", not wanting to take a chance that he will bring dysfunction to the locker room. There will, however, be a handful of teams that believe his desire to play football will trump his troubled past.These are the five teams that will roll the dice and give him the shot to prove that he is not that undisciplined player from a year ago, and that he can still dominate on the field.
Original Story:
http://www.footballnation.com/content...
THE BACKYARD
BEST OF MAXIM
RELATED ARTICLES
BOWL GAME
An NFL assistant coach speaking on the condition of anonymity reportedly said that Tyrann Mathieu told him that the former LSU cornerback "quick counting at 10" failed drug tests.
Tyrann Mathieu is one of the most interesting prospects heading into the 2013 NFL draft. Mathieu, who was banned from the LSU football team in August for violating multiple drug policies, has told one NFL coach that he lost count on how many drug tests he failed in college, according to an anonymous NFL assistant coach who told Jarrett Bell of USA Today. "I quit counting at 10...
Patriots dont play — Tyrann Mathieu (@Mathieu_Era) April 10, 2013 Well this is an interesting tweet with not a lot of substance. The Patriots have shown interest in the troubled former LSU defensive back and he visited with the Patriots on April 5th. Who knows what this tweet means but it sounds like a jab to me. The idiot just needs to keep his mouth shut to protect his already...
According to Jarrett Bell of USA Today Sports, an assistant NFL coach claims that former LSU cornerback Tyrann Mathieu told an NFL team during a meeting that he lost count of how many drug tests he failed. During one visit, Mathieu was asked how many drug tests he failed before he was suspended in college. According to an assistant coach for the team, Mathieu responded: "I quit...
Former LSU cornerback Tyrann Mathieu says that LSU did their best in trying to help him overcome his drug addiction, despite a report from USA Today that says otherwise. "It is irresponsible and shows a lack of integrity for anyone to disclose medical information regardless of how it was gathered," Mathieu said.   "I would expect that conversations regarding my drug testing...
Tyrann Mathieu's drug issues are well documented. They've led to Mathieu being kicked off the LSU football team and even landed him in rehab and jail.Despite all of Mathieu's publicized issues with drugs, not much was known about how much of an issue drugs were for Mathieu while he was at LSU. But thanks to a report by Jarrett Bell of USA Today, we now know that drugs were...
Tyrann Mathieu is quietly resurrecting his reputation and moving up draft boards. Even though he's getting anywhere from a 3rd to 5th round grade, don't be shocked if a team reaches for the talented defensive back. USA Today is reporting that Mathieu who had a significant drug problem at LSU, told one NFL assistant coach that "he didn't know how many drug test he failed...
One of the best ways to improve your image in life is to be honest, and it appears that is what former LSU Tigers standout cornerback Tyrann Mathieu is attempting to do. The one-time Heisman Finalist, who missed his entire senior season for failing a drug test, reportedly told teams in interviews that he failed at least 10 drug tests during his time in Baton Rouge. Jarrett Bell of...
Tyrann Mathieu doesn't seem to be able to get away from his drug issues of the past - especially during NFL coaching interviews. He told USA Today in an interview that he's visiting 10 teams in total, and on one of his visits, he was asked by an assistant how many drugs tests he failed. He answered: "I quit counting at 10. I really don't know." And now, the...
(Photo Courtesy: USA Today Sports) It's no secret to anyone who followed college football over the last few years that Tyrann Mathieu had a problem with marijuana. You know it. I know it. Even my grandma- who thinks football is played with a bat and ball over nine innings- knows the same. At this point, the Honey Badger's affinity for well, "not caring" (at least...
((ht: usatoday.com)) So, let's read a little bit between the lines here on a story reported this morning by Jarrett Bell, USA Today's NFL writer. Tyrann Mathieu, he of the "Honey Badger" fame at LSU, is telling NFL teams he failed more than 10 drug tests in his 2-years at LSU. And it appears it took that many before LSU decided they finally should do something...
According to a CBS Sports report, Tyrann Mathieu has failed up to ten drug tests in his career at LSU. Apparently he told teams at the NFL Combine that he has been drug free since October, but does that matter to the stiffs in the NFL. For all of you that want the Patriots to pick up Tyrann Mathieu, this is great news. Belichick is not, and has never been, turned off by a players...
Tigers News

Delivered to your inbox

You'll also receive Yardbarker's daily Top 10, featuring the best sports stories from around the web. Customize your newsletter to get articles on your favorite sports and teams. And the best part? It's free!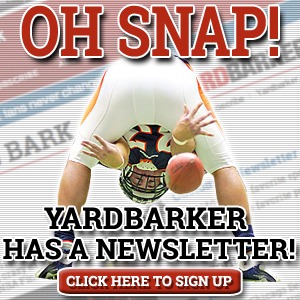 Latest Rumors
Best of Yardbarker

Today's Best Stuff

For Bloggers

Join the Yardbarker Network for more promotion, traffic, and money.

Company Info

Help

What is Yardbarker?

Yardbarker is the largest network of sports blogs and pro athlete blogs on the web. This site is the hub of the Yardbarker Network, where our editors and algorithms curate the best sports content from our network and beyond.