Found November 26, 2012 on NorthWest Sports Beat:
Should he stay or should he go? It's no secret that Chip Kelly has NFL aspirations. The Oregon Ducks head coach made that apparent last season when he accepted a job with the Tampa Bay Buccaneers, but quickly retracted his decision . Now with the team experiencing more success than ever, and with Kelly's stock being as high as it's ever been, the talented leader will be presented with opportunities to bolt for the NFL, and nobody in their right mind can blame him for listening. But the question is, which goal holds more weight in Kelly's mind? A shot at the NFL, or a shot at a legendary BCS career? If Kelly stays, he has a chance to continue his legacy long into the future. If he goes, he'll be starting from scratch, and there's no guarantee he'll ever reach the level of success—or popularity—he's already obtained at the University of Oregon. Why Leave a Good Thing? Chip Kelly has encountered unprecedented success in his four years at Oregon. (Photo: Christian Petersen/Getty Images) Kelly may be just four years into his college coaching career, but he is already regarded as one of the best football minds that the game has to offer. The 49-year-old has posted a 45-7 record in his time with the Ducks, he's been to three—soon four—BCS Bowl Games and he has earned Coach of the Year honors in a multitude of different categories. His offense is virtually untouched by any other team in the nation, and he is the one true staple in an Oregon system that has brought in new players year after year and still found success. If Kelly leaves for the NFL, he's leaving a fan base that cherishes him on the field, and finds him to be just as entertaining off it. There's no promise of success at the next level, but the shot at a legendary career at Oregon has already begun. NFL Experience, NFL Translation Kelly has zero NFL experience. He's never coached at the professional level, he never played at the professional level and it's difficult to picture just how well the up-tempo, no-huddle offense would work against bigger, stronger, faster defenses. We all know that Kelly doesn't like the way college recruiting works, but is he really going to convince a group of grown men—who are playing for contracts; not a chance at the next level—to play at such a furious pace? For all we know, Kelly would hit the ground running and revolutionize the offensive game, not unlike what he did with the Ducks. But that's a big chance to take when you're already on top of the world. Three More Years of Marcus Mariota Coach Kelly made the difficult decision to start Marcus Mariota over Bryan Bennett  to begin the 2012 season, and boy has that decision paid off. The redshirt freshman has been one of the most efficient quarterbacks in all of college football, his running game has been just as lethal as his passing game and heading into the contest against the Stanford Cardinal, he had the top quarterback rating of anybody in the country. Chip Kelly will be leaving the backfield of De'Anthony Thomas and Marcus Mariota if he bolts for the NFL. (Photo: AP/Ted S. Warren) If Kelly leaves the program for the NFL, he'll be leaving the opportunity to mold one of the best young prospects that the team has ever had. Marcus Mariota may leave for the NFL before his eligibility is complete, but if Kelly sticks around, he'll have one of the best quarterbacks in the nation—not to mention one of the best running backs in De'Anthony Thomas—to help lead his team to the promise land. Unfinished Business Kelly sited "unfinished business," as part of the reason he returned to the team this past offseason, and as soon as the Ducks lost to Stanford in 2012, it became clear that the "business" would yet again remain incomplete. This fanbase is itching for a return to the national championship, and coach Kelly is the one who is best suited to get them there. His offense is designed to put up ridiculous numbers, and his "Win The Day" mantra is just what this team needs to stay focused. The current BCS system has made it difficult for a one-loss Oregon team to compete in the biggest game that college football has to offer, but the 2014 season is set to be the inaugural year with a four-team playoff. If Kelly truly wants to return to the title game and get his chance to win on college football's grand stage, he must return to Oregon, and he must stick around to test the waters in the BCS Playoffs. CLICK HERE CHECK OUT THE DUCKS BLOG IN OUR CLUBHOUSE TODAY AT NWSB!
Original Story:
http://www.nwsportsbeat.com/oregon-sp...
THE BACKYARD
BEST OF MAXIM
RELATED ARTICLES
Following Oregon's 48-24 win over Oregon State on Nov. 24, 2012 at Reser Stadium in Corvallis, Ore., Oregon Head Coach Chip Kelly responds to questions from media regarding the game.
One man's carefully considered speculation and observation is another man's uninformed blather.  Here are a couple of impressions after Oregon's 5th straight victory over Oregon State and the end of the regular season: Chip Kelly and his staff have ramped up the speed and athleticism on Oregon's roster in the last four years, and it's a big reason why the defense...
Top ranked college football teams all have signature identities. Even if it's not their year to shine, you know who they are. Florida State has the chop. Texas has their hook 'em horns. Florida's got the 'gator chomp. And Oregon is catching up. Today, when you see someone raise their hands in front of them and touch index fingers and thumbs, you...
1. Stanford (10-2) – Cardinals keep rolling along, easily handling UCLA 35-17.They quietly sit at 10-2, that loss to Washington is still hard to figure out, and they could've beaten Notre Dame, but the refs decided against that.Regardless, if they beat UCLA for the PAC-12 title this weekend, it's hard to argue they don't belong in a BCS game. There are great potential match...
College Football News

Delivered to your inbox

You'll also receive Yardbarker's daily Top 10, featuring the best sports stories from around the web. Customize your newsletter to get articles on your favorite sports and teams. And the best part? It's free!
THE COLLEGE FOOTBALL HOT 10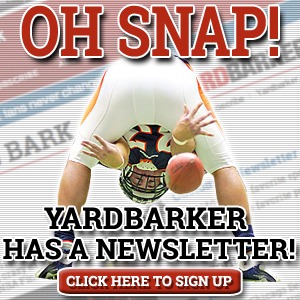 Latest Rumors
Best of Yardbarker

Today's Best Stuff

For Bloggers

Join the Yardbarker Network for more promotion, traffic, and money.

Company Info

Help

What is Yardbarker?

Yardbarker is the largest network of sports blogs and pro athlete blogs on the web. This site is the hub of the Yardbarker Network, where our editors and algorithms curate the best sports content from our network and beyond.