Found October 18, 2012 on Fox Sports North:
PLAYERS:
Montee Ball
,
Joel Stave
,
Jared Abbrederis
,
Ben Strickland
,
Rhys Lloyd
,
Chris Borland
,
Mike Rallis
,
James White
,
Melvin Gordon
,
Kenzel Doe
,
Jeff Duckworth
,
Chase Hammond
,
Reggie Love
,
Lee Evans
,
Mike Taylor
,
A.J. Barker
,
Devin Crawford-Tufts
,
Derrick Wells
,
Tim Brewster
,
Max Shortell
TEAMS:
Wisconsin Badgers
,
Minnesota Golden Gophers
,
Penn State Nittany Lions
,
Ohio State Buckeyes
,
Michigan State Spartans
,
Iowa State Cyclones
Three weeks ago, Paul Bunyan's Axe, the trophy the Minnesota and Wisconsin football teams battle for each fall, seemed to be in play for seemingly the first time since the giant lumberjack and his blue ox roamed the north woods. Oh, wait Bunyan and his ox weren't real.And neither, it seems, was there ever a day less than a month ago when the Gophers had reason to believe they could take the axe from the Badgers for the first time since 2003. Minnesota's 4-0 start the team's best since 2008 -- has melted to 4-2 since the beginning of Big Ten conference play, and Wisconsin's early-season struggles have disappeared just as quickly.Now it's the same, old story for the same, old axe, with Wisconsin again a heavy favorite in the annual border battle. Or is it? FOXSportsWisconsin.com's Badgers writer Jesse Temple and FOXSportsNorth.com's Gophers writer Tyler Mason cover these teams every day and can separate fact from folklore in a five-question point-counterpoint.1. At the end of the nonconference season, Wisconsin was 3-1 and struggling, and Minnesota was 4-0 and seemingly reborn. What is the biggest reason your team's fortunes have changed drastically since that time? TEMPLE: For years at Wisconsin, offensive success has started with the team's ability to control the line of scrimmage up front. That rarely happened during the early portion of the season and led to a well-documented firing of offensive line coach Mike Markuson after just two games.Wisconsin coach Bret Bielema replaced Markuson with Bart Miller, a graduate assistant tasked with bridging the gap between the old coaching style and the new style keep in mind there are six new assistants on Bielema's staff this season.Essentially, Miller re-emphasized the importance of blocking up the field rather than side-to-side. That may sound simplistic, but players were taught one thing for seven months, only to have to learn a different style in the middle of this season. Results have taken time, but the Badgers are beginning to look like the dominant team of old.Running back Montee Ball has been the recipient of huge holes, and he, too, is starting to look like the player who made a case for the Heisman Trophy last season. In three Big Ten games, Ball is averaging 152.0 yards rushing and has scored eight touchdowns.The other big change was inserting redshirt freshman Joel Stave at quarterback in place of redshirt junior Danny O'Brien. Stave has truly gotten better in each of the four games he has started.Wisconsin offensive coordinator Matt Canada has begun to open up the playbook for Stave's big right arm, and the Badgers are taking advantage of play-action passes to star wide receiver Jared Abbrederis. Finally, the running game is working well enough to open up the passing game, and the Badgers are thriving because of it. In Stave's four starts, Wisconsin is averaging 33.3 points per game. The Badgers averaged just 16.3 points in the previous three games this season.MASON: There are a few reasons Minnesota has taken a few steps back since its 2-0 start. Perhaps the biggest is that the Gophers are now playing in the Big Ten. Their nonconference schedule led to a 4-0 start, but the competition Minnesota faced clearly didn't prepare it for the rigors of league play. The Gophers barely snuck by UNLV on the road in three overtimes to open the season and escaped with home wins over Western Michigan and Syracuse. Minnesota's only convincing nonconference win came in a 44-7 rout of New Hampshire. In addition to the tougher schedule, Minnesota has struggled to hang on to the ball the past two weeks. The Gophers entered Big Ten play with the top turnover margin (plus-5) in the conference. In two games against Iowa and Northwestern, Minnesota has thrown four interceptions and lost three fumbles. During that time, the Gophers' defense did not force a single turnover, bringing Minnesota's turnover margin to minus-2 on the season. Both turnovers in the Northwestern loss resulted in Wildcats touchdowns and proved to be the difference in the game. 2. What's the best thing you've been told about the importance of the axe to the team you cover? TEMPLE: Wisconsin's players were in middle school the last time the Badgers relinquished the axe, and the last thing they want to do is give it back.A student manager holds the axe upright so players can touch it as they enter and exit the practice field. Not until the last player or coach leaves the field can the manager return the axe to its trophy case.In terms of importance, players and coaches learn about the history of the rivalry between the two schools on the Tuesday before the big game. A different coach or guest speaker talks to the players about what it means to be a part of the rivalry, which is the most-played in the FBS and dates back to 1890. This week, the speech belonged to Badgers defensive backs coach Ben Strickland, a former Wisconsin player who also gave the speech a year ago.To create extra motivation this year, Strickland showed Wisconsin players footage of Wisconsin's last loss in the series. Minnesota kicker Rhys Lloyd kicked a game-winning field goal as time expired in 2003, and the Gophers ran to Wisconsin's sideline to take back the axe."That kind of gets your blood turned a little bit," Badgers linebacker Chris Borland said.MASON: Perhaps the most telling thing about the Gophers' rivalry with Wisconsin is that Minnesota doesn't really view it as a rivalry at this point. Senior linebacker Mike Rallis had the quote of the week when he said, "If you don't ever win, it's not really a rivalry." Indeed, the Gophers haven't beaten the Badgers since 2003 and haven't won in Madison since 1994. Wisconsin has won eight straight meetings between the two teams and 15 of the last 17.The Gophers seemed enthusiastic about the opportunity to keep the Floyd of Rosedale trophy in their possession when they played Iowa late last month, given than Minnesota had beaten the Hawkeyes in each of the past two seasons. But given that no player on the Gophers roster has won Paul Bunyan's Axe, the luster of the rivalry with Wisconsin seems to be lost. The only way to restore it? Win, of course. That might be easier said than done this weekend for Minnesota, though.3. Who is your team's MVP so far? TEMPLE: A case certainly could be made for Ball, especially considering the way he has owned the Big Ten thus far. But based on consistency throughout the entire season, the MVP belongs to wide receiver Jared Abbrederis.There are enough talented tailbacks that Wisconsin could survive without Ball. James White and Melvin Gordon both are capable of breakout games. The same can't be said for the rest of the Badgers' wide receiver corps.Consider that Abbrederis has 31 catches for 559 yards, even though every defense has targeted him as the team's top wide receiver. The rest of the Badgers' wide receivers Jordan Fredrick, Kenzel Doe, Jeff Duckworth, Chase Hammond and Reggie Love have accumulated 28 catches for 287 yards and no touchdowns.Abbrederis became the first Wisconsin player since Lee Evans in 2001 to record three consecutive 100-yard receiving games. He leads the Big Ten in receiving yards per game (93.2) and ranks second in touchdown receptions with five. Defensively, a shout out goes to linebackers Mike Taylor and Chris Borland, who have lived up to the billing as two of the best in the nation at the position. Taylor and Borland rank 1-2 in team tackles with 72 and 60, respectively. MASON: If MarQueis Gray had stayed healthy, he may have had a chance to be the team's MVP through six games. But an ankle injury has limited his production over the last few weeks. One guy who has emerged out of nowhere this season to be perhaps Minnesota's most productive player is wide receiver A.J. Barker. The junior had just one catch in his college career entering this season, but he now leads the Gophers with 22 catches for 406 yards and four touchdowns. Barker's 22 catches are equal to the total receptions by the next two receivers Isaac Fruechte and Devin Crawford-Tufts are tied for second-most on the team with 11 each. Barker also had a third of Minnesota's 1,255 receiving yards. The Gophers are young at many positions, including wide receiver, so Barker's emergence has been a welcome surprise.The Gophers' defensive MVP so far is safety Derrick Wells, who has been bothered by a laceration on his knee but could still play Saturday against Wisconsin. In six games, Wells has two of Minnesota's seven interceptions and leads all Gophers defenders with 37 tackles. He also has broken up seven passes, which also leads all Minnesota defenders. Wells is a big reason the Gophers' pass defense is much improved from last year. In fact, Minnesota has allowed just 162.5 passing yards per game, second-fewest in the Big Ten.4. Is your team headed to a bowl game, and if so, to what bowl? TEMPLE: Wisconsin is just one victory away from becoming bowl eligible not that it's cause for celebration in Madison. Bowl games are expected from the Badgers, but this is a program that wants to challenge for a Big Ten championship every season.In a sense, the Badgers are fortunate this season because neither Penn State nor Ohio State is eligible for the postseason based on NCAA sanctions. Both teams are ahead of Wisconsin in the Leaders Division, but it won't matter. The Badgers should win the division title, even if they finish third, to advance to the Big Ten championship game in Indianapolis on Dec. 1. Wisconsin is 2-1 in the Big Ten and already owns head-to-head tiebreakers with division foes Illinois and Purdue. Indiana, the only other eligible divisional team yet to play Wisconsin, is 0-3.A victory in the Big Ten championship would give Wisconsin its third straight Rose Bowl appearance. But given the talent level in the Legends Division and the slight drop-off in overall talent at Wisconsin this season, it's hard to fathom the Badgers winning the conference crown once again against, say, Michigan.If I had to guess, Wisconsin will play in the Capital One Bowl on Jan. 1 in Orlando. The second-best Big Ten team has a tie-in to that game, so if Wisconsin loses in the conference championship, expect to see the Badgers matching up against the second-best team out of the Southeastern Conference.Any No. 2 team from the SEC would present the biggest challenge Wisconsin would face all season.MASON: Minnesota still has its work cut out for it to become bowl eligible, but I believe they'll get there before the end of the year. After playing in Madison on Saturday, the Gophers still have three home games, including one against a struggling Purdue team and another against a beatable Michigan State squad. Playing at Nebraska will be tough, but Minnesota's game at Illinois is winnable. It's hard to project which bowl the Gophers might play in if they do win six games, but it will be a lower-tier Big Ten bowl, possibly the Little Caesars Pizza Bowl.Minnesota hasn't played in a bowl game since 2009, when Tim Brewster's club went 6-6 in the regular season before losing to Iowa State in the Insight Bowl. After back-to-back three-win seasons, any bowl game would be a measure of success for a struggling Gophers program. Minnesota's players said a bowl game was their goal before the season began. After a 4-0 start, that seemed like a certainly attainable goal. Now, following two straight losses, it doesn't appear to be such a sure thing. But with six more games remaining, Minnesota should be able to pull out at least two more victories and go bowling in late December or early January.5. Who is going to win this game, by what score and why? TEMPLE: You can talk all you want about how much Minnesota has improved in Year 2 of the Jerry Kill era. This is a team that still has plenty of flaws certainly more than Wisconsin. Minnesota has played two solid Big Ten teams in Iowa and Northwestern thus far and has nothing to show for it. The Gophers fumbled seven times against the Wildcats and lost two of them.Wisconsin rarely loses at Camp Randall Stadium the Badgers are 54-4 there since Bielema took over as coach in 2004 and the team currently owns a 20-game home winning streak. Plus, Wisconsin has won eight straight games against Minnesota in the series.I don't condone gambling, of course, but it's important to note that Las Vegas oddsmakers list Wisconsin as an 18-point favorite against Minnesota. Although that number seems a bit high, the Badgers are the clear-cut favorite.Wisconsin's offense has improved every game, and Ball has been nearly unstoppable in Big Ten play. For all those reasons, I'll go with the Badgers. Wisconsin 31, Minnesota 14.MASON: I just don't see a way that Minnesota wins this game. The Gophers have been exposed in their first two Big Ten games and were far from competitive in their lone conference road game at Iowa. The Badgers' offense seems to be gaining traction, scoring 30 or more points in the last four games, while Minnesota's offense hasn't scored more than 13 points in either of its two Big Ten games. The Gophers will likely struggle to slow down Ball, who appears to be back on track after a career-high 247 yards last Saturday against Purdue. Minnesota's rushing defense was exposed against both Iowa and Northwestern and continues to be a concern entering this weekend's game. Meanwhile, the Gophers are searching for consistency at quarterback after Gray has missed time with an ankle injury. Sophomore Max Shortell had his worst game of his young career last weekend against Northwestern and is 0-2 as a starter on the road in Big Ten games. He'll be under center Saturday in yet another hostile environment.The last three meetings between the Gophers and Badgers have been lopsided wins for UW, and I think this one will be too. I'll take Wisconsin to win, 31-14, and keep Paul Bunyan's Axe in Madison for a ninth straight season.FollowTyler Mason onTwitter.
Original Story:
http://www.foxsportsnorth.com/10/18/1...
THE BACKYARD
BEST OF MAXIM
RELATED ARTICLES
MADISON, Wis. It turns out, the swagger and the smile can fade even for a Hesiman Trophy candidate whose confidence is usually infectious among teammates. Wisconsin running back Montee Ball has come to understand this lesson all too well over the past seven weeks. Ball, the only returning Heisman finalist from a year ago, was the toast of the college football world this summer...
MADISON, Wis. Wisconsin continued its in-season ascent with a 38-13 drubbing of Minnesota on Saturday at Camp Randall Stadium. The Badgers have now won three straight Big Ten games and hold a three-game lead in the Leaders Division race. Wisconsin dominated Minnesota on the ground, out-gaining the Gophers 337-96. And although the Badgers haven't yet played the meat of their...
MADISON, Wis. Wisconsin's form of football flash doesn't exactly include the razzle-dazzle gimmicks an Oregon or Louisiana Tech employs on the field. Even when the Badgers run the sleekly built "Wildcat" package, it comes with a twist only Wisconsin's brute force can bring. Seven offensive linemen. Two tight ends. Two tailbacks. The package name -- "Barge...
MINNEAPOLIS After a 4-0 start to the 2012 season the University of Minnesota football team has now lost two straight games since beginning Big Ten play. Last weekend's loss to Northwestern dropped the Gophers to 4-2. Head coach Jerry Kill's team now has another tough test as it travels to take on rival Wisconsin at Camp Randall Stadium. Here are five things to watch as Minnesota...
What makes a good rivalry? A border-battle? Competitiveness? A trophy? Wisconsin vs Minnesota, the longest running rivalry in Division 1 NCAA football, has fit only two of these categories in recent years. Today's game was no exception. Wisconsin has won the battle for Paul Bunyan's Axe each year since 2004, with varying degrees of difficulty. Not since the mid-2000's though...
MINNEAPOLIS In two Big Ten games, the Golden Gophers defense has been run all over in losses to Iowa and Northwestern. In the conference opener late last month, it was Hawkeyes running back Mark Weisman gaining 177 yards on 21 carries as the Gophers fell, 31-13. One game later, Wildcats running back Venric Mark surpassed Weisman's rushing total as he picked up 182 yards and...
Whether it's the power formation or the new-look 'barge' formation, tailbacks James White and Montee Ball got Wisconsin running in the right direction in a 38-13 victory over Minnesota Saturday.
It's finally here, o.k., it's really just under 24 hours till kickoff in the 122nd edition of Minnesota vs. Wisconsin. It's the battle for Paul Bunyan's Axe and to both sides of this rivalry there's nothing finer than parading around the field chopping down goalposts with the Axe. For Wisconsin fans there's the hope they aren't seeing Gopher players...
James White raced 15 times through Minnesota's defense for 175 yards rushing and three touchdowns, carrying Wisconsin to a 38-13 victory over Minnesota on Saturday, the ninth straight time the Badgers have beaten the Gophers to keep Paul Bunyan's Axe. Montee Ball let his partner steal the show for most of the afternoon but still muscled his way for 166 yards on 24 attempts...
Wisconsin Badgers running backs James White and Montee Ball are running away as the nation's top running back tandem. The duo combined to rush for 341 yards on 39 carries (8.74 average) and all five of Wisconsin's (6-2, 3-1) touchdowns in a 38-13 win over Minnesota. White not only dominated the normal running game, he debuted at quarterback in the Badgers wildcat formation known...
COLUMBUS, Ohio (AP) -- Neither Ohio State's Urban Meyer nor Purdue's Danny Hope can trust their defenses these days. As a result, no one has any idea what's going to happen when the teams meet on Saturday at Ohio Stadium. Meyer, proponent of the high-scoring, devil-may-care spread offense, is not happy when his team is forced to outscore an opponent. "Oh, we can...
College Football News

Delivered to your inbox

You'll also receive Yardbarker's daily Top 10, featuring the best sports stories from around the web. Customize your newsletter to get articles on your favorite sports and teams. And the best part? It's free!
THE COLLEGE FOOTBALL HOT 10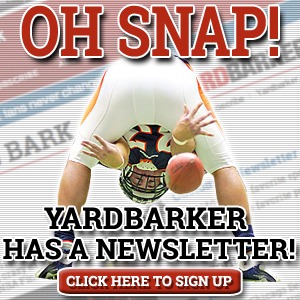 Latest Rumors
The Backyard

Today's Best Stuff

For Bloggers

Join the Yardbarker Network for more promotion, traffic, and money.

Company Info

Help

What is Yardbarker?

Yardbarker is the largest network of sports blogs and pro athlete blogs on the web. This site is the hub of the Yardbarker Network, where our editors and algorithms curate the best sports content from our network and beyond.