Indianapolis over Houston- Andrew Luck will propel the Colts to a division lead they will not relinquish. Last season The Colts were down 21-3 at half in this game and Andrew Luck led them back to win 27-24. The Texans have slipped by some subpar teams in the Redskins, Raiders and managed to beat an okay team in the Bills. They hung with the Cowboys last week in Dallas, making a...
Every week, from now through the Wednesday before the Super Bowl, the editors at cover32 will gather to rank the NFL's 32 starting quarterbacks. Depending on what's happened the previous week, some will rise and some will fall, and even some of the names on the list will change. It's a never-ending evolution, as the status of the league's top signal callers is always in flux...
It's early. That's a true statement, as we're only two games into a 16-game season. But that doesn't mean there isn't enough data to start assessing the performance thus far of every team, player and coach in the NFL. And when the grades start getting compiled, there are some dismal marks on the report. Slow starts abound around the league. Who falls into this category...
We forgot to do Monday Medicine last week (lucky for you, South Carolina fans), but we're bringing back everyone's favorite early week feature (as long as it doesn't involve their team) for Week 2. We were tempted to give this dose to Ohio State, Michigan State or the entire Big Ten after Saturday's collapse, but we'll deal with that steaming trash heap of a conference...
On the final weekend before the FBS college football season begins, we're talking about fumble luck here at The Student Section. Our first overview of the subject appears here. In this companion piece, we look at 10 powerhouse schools through the prism of fumble luck since 2005. We'll primarily list the statistics and duck in a brief comment where appropriate. The schools surveyed...
David Shaw and his Stanford players spent the past nine months telling anybody who would listen that the program had enough talent and depth without Andrew Luck to be a national power for years to come. Now they have everybody's attention. While it's only the third game of the season, Stanford's 21-14 victory over Southern California on Saturday night showed life without...
In most cases, if someone achieves greatness in their life, there is someone behind the scenes who pushed, encouraged, and supported them. Andrew Luck has achieved greatness, in high school and college. Experts expect him to be successful in the NFL also. So who was the person behind Luck who helped him reach his maximum potential? His name is Oliver Luck, Andrew Luck's dad. Oliver...
Stanford Changes "Offensive Coordinator" to "Andrew Luck Director of Offense"Wait till you here this one.  Pep Hamilton was formerly the offensive coordinator at Stanford University and while he still may be running the offense, he's got a new job title now and its absolutely hilarious. image credit: NYtimes.com Who needs to be called an offensive coordinator when they...
It's simply a formality at this point, but the Colts have officially revealed whose name will be on their draft card Thursday night. Here's a hint: You don't need a hint. On Tuesday, GM Ryan Grigson confirmed that Andrew Luck will be the team's No. 1 overall draft pick, days after they reportedly informed the former Stanford Cardinal of their decision. Luck will join Indianapolis'...
The Indianapolis Colts have their man. The Colts will select quarterback Andrew Luck with the No. 1 pick in the NFL Draft next week, ESPN reported Thursday. The team has already informed Luck, according to the report, although the timing is unknown. "We've known for a little while. We've done all our due diligence," Colts general manager Ryan Grigson said Tuesday...
MORE STORIES >>
College Football News

Delivered to your inbox

You'll also receive Yardbarker's daily Top 10, featuring the best sports stories from around the web. Customize your newsletter to get articles on your favorite sports and teams. And the best part? It's free!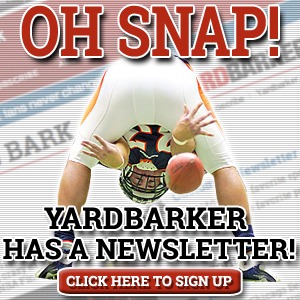 THE COLLEGE FOOTBALL HOT 10