Tired of having to deal with screaming kids on airplanes? Former Alabama offensive lineman Barrett Jones is to. But unlike you, he has come up with a solution for the problem.   I think the FAA should mandate a soundproof nursery on all planes. I love kids but sitting behind a screaming one really gets me. — Barrett Jones (@BarrettAJones) April 5, 2013 Of course, a nursery...
From Big Lead Sports You would think that the NFL, with it being a $9 billion+ industry, could do the little things right. It makes enough money to hire people. Since working for the NFL would be super cool to many, the supply of unpaid interns at the NFL's fingertips has to be virtually endless as well. So with all the resources at the hands of the biggest professional...
NFL.com experienced some problems earlier today, and one particular issue will have you laughing. Alabama offensive lineman Barrett Jones is spending his week grinding things out in Indianapolis at the NFL Scputing Combine with many other draft hopefuls, but what he is not — contrary to what NFL.com believed — is dark skinned. Jones joked with the media about the incident...
Seeing two teammates get into a physical argument on the field is never a good sign, and is often confusing.  When two teammates get into a physical argument when they are winning in the National Championship game by a considerable margin is almost unfathomable; especially because these two are roommates and good friends.  I have never seen anything like this, too bad we will never...
Manti Te'o and Barrett Jones are two of college football's good guys and best players. The Notre Dame linebacker and Alabama center have led their teams into the BCS championship after postponing NFL paychecks to return for their senior seasons. They're good academically and have collected numerous awards and honors for football. Coaches say Te'o and Jones are just...
Alabama center Barrett Jones sprained his left foot during the Crimson Tide's SEC championship game victory over Georgia on Dec. 1. As his foot is in a cast, he won't be able to participate in team practices for the Tide's BCS title game showdown against Notre Dame on Jan. 7, 2013. Jones spoke to the media about the injury on Tuesday. When he arrived in the media...
Alabama offensive lineman Barrett Jones has won the William V. Campbell Trophy, given to the top scholar-athlete in college football. Jones was announced as the winner Tuesday night at the National Football Foundation's Hall of Fame induction and awards banquet in Manhattan. The senior played center for the second-ranked Crimson Tide this season, and is a four-year starter...
ATLANTA -- Barrett Jones hobbled into Alabama's locker room in the bowels of the Georgia Dome, two crutches supporting the 6-foot-5, 302-pound All-America center's frame. "You guys don't mind if I take a seat, do you?" Jones asked the collected media as he took a seat in front off his locker, his No. 2 Crimson Tide having beat third-ranked Georgia 32-28 for...
Offensive lineman Barrett Jones has announced he will return to Alabama for his senior season. Jones, who won the Outland Trophy this season as the nation's best interior lineman, started 10 games in 2011 at left tackle for the second-ranked Crimson Tide (11-1). Jones revealed his decision after a practice session Friday, saying he ''loves'' being at Alabama...
MORE STORIES >>
College Football News

Delivered to your inbox

You'll also receive Yardbarker's daily Top 10, featuring the best sports stories from around the web. Customize your newsletter to get articles on your favorite sports and teams. And the best part? It's free!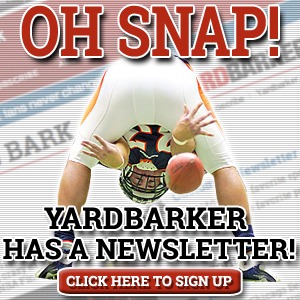 THE COLLEGE FOOTBALL HOT 10