The University of Alabama has announced that the four freshmen that were arrested a few weeks ago have been dismissed from the program. Linebackers  DJ Pettaway and Tyler Hayes were both charged with second degree robbery, and Brent Calloway, an H-Back, were charged with credit card fraud. Eddie Williams - a safety - was charged with both crimes. And things will look to get worse...
Four Alabama players, LB Brent Calloway, WR Eddie Williams, LB Tyler Hayes and DL D.J. Pettway were arrested Monday. Brent Calloway was also charged with fraudulent use of a credit card and Eddie Williams was charged with both second degree robbery and fraudulent use of a credit card. From Alabama: This is a very serious matter and we are very disappointed in the actions that...
Four University of Alabama freshman football players- Eddie Williams, Tyler Hayes, Dennis Pettway and Brent Calloway were arrested Monday from a couple of robberies on campus. Williams, Hayes and Pettway are each facing two counts of 2nd degree robbery. The victim of one robbery was allegedly attacked by Williams, Hayes and Pettway. The victim claimed that his backpack, containing...
Brent Calloway, one of the 'Alabama Accused', has defended himself on Twitter. The linebacker, charged of credit card fraud by Alabama police, tweeted his defense to Cardinals catcher Kyle Lamb:  "First it wasn't a credit card and 2 I wasn't even awake during the robbery you don't kno what happened so dont try me dude". In essence, Calloway is denying...
Among the four Alabama players arrested on Monday, Brent Calloway looks to be the player in the least amount of hot water. Though, with a prior marijuana arrest, his water is still hot. Instead of Calloway quietly letting to legal process run its course and hoping that he is not kicked off the Alabama football team, Calloway decided that he would speak on his arrest earlier today...
Four Alabama football players were arrested on Monday on charges of second degree robbery (Credit: JailBase.com) On Monday, four Alabama football players were arrested on charges of second degree robbery. According to CBSNews, the four players who have been charged are Eddie Williams, Dennis Pettway, Tyler Hayes and Brent Calloway. Calloway, 20, was charged with fraudulent use of...
Nick Saban and his Alabama empire are set to face some adversity off the field.  College Football Talk is reporting that 4 Alabama football players, including stud running back Brent Calloway were arrested and charged with Robbery and Fraudulent use of a credit card. Details are sketchy right now, but Calloway, linebacker Tyler Hayes, defensive lineman D.J. Pettway and defensive...
Four Alabama freshmen football players have gone from helping the Crimson Tide win the 2012 BCS title to helping put the tide in the running for the 2013 Fulmer Cup. The quartet were arrested in Tuscaloosa on Monday and were charged with "second degree robbery and fraudulent use of a credit card." The four players are defensive back Eddie Williams, defensive lineman...
Brent Calloway had been expected to be in the mix at tailback in Alabama spring football practice, but before drills started the decision had been made to work him at linebacker. Callaway received a lot of praise for his work at linebacker. Now he's on the move again.
As evidenced by the Brent Calloway brouhaha earlier this year, the Iron Bowl takes place both on the football field as well as the recruiting front. The latest plot twist on the latter front took place earlier today, with Alabama high school running back T.J. Yeldon announcing he has switched his non-binding verbal commitment from…
MORE STORIES >>
College Football News

Delivered to your inbox

You'll also receive Yardbarker's daily Top 10, featuring the best sports stories from around the web. Customize your newsletter to get articles on your favorite sports and teams. And the best part? It's free!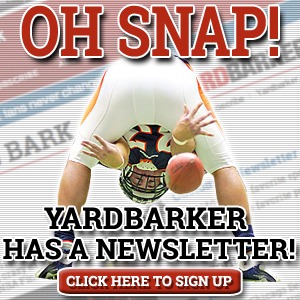 THE COLLEGE FOOTBALL HOT 10