Former Texas Longhorns QB Colt McCoy signs with Redskins http://t.co/jEVSucIImi pic.twitter.com/3O07s3GHu3 — DFW Sports News (@SportsDayDFW) April 3, 2014 News that the Washington Redskins inked QB Colt McCoy to a deal reminds me of a joke I heard somewhere along the way. Colt McCoy heard screams for help as he was walking along a lake shore in Texas. He saw a woman and two little...
There's a new backup quarterback in Washington. Colt McCoy, the former Texas Longhorns star who was a third-round pick of the Browns in 2010, signed with Washington today. McCoy hasn't found much success so far in his NFL career. In three years with the Browns he started 21 games but struggled to find consistency as a passer.
Updates with quotes, details. Will stand. By JIM VERTUNO AP Sports Writer Texas quarterback Case McCoy has spent four years with the Longhorns living in his older brother Colt's considerable shadow. While Colt led Texas to two BCS bowl games, a Big 12 title and was one win shy of a national championship, Case has been spent his career as part-time starter, most-of-the-time backup...
The  majority of Texas Longhorns fans would probably say no to this question, but I would be willing to bet that a percentage of them are probably thinking yes. Yes, we gave up on Garrett Gilbert too soon. @billestes10/Twitter Gilbert was thrust upon the Longhorns Nation during his freshman season when he entered the BCS National title game in relief of an injured...
Mack Brown is fighting to keep his job, and he got a big boost from his quarterback Thursday night. With Texas trailing Big 12 rival Iowa State by three in the final moments of the second quarter, Brown elected to take one last shot at the end zone before halftime. Case McCoy, brother of former Longhorns quarterback Colt McCoy, hurled a Hail Mary from the midfield logo, and wideout...
Many people have called for Longhorns head coach Mack Brown' job over the past few years. After Colt McCoy went down in the National Championship game in 2010, the program hasn't been the same. Heading into this season, Brown has ranked at the top of many lists of coaches in the hot seat. But Mack Brown will not be fired. Why the confidence, because the man said it in...
Former Texas quarterback Connor Brewer won three state titles in high school and transferred out of the Texas program into Arizona's to get the playing time that he felt that he deserved.   Please click here to read/watch this story. The post Tweet of the Day: Connor Brewer transfers from Texas to Arizona appeared first on Players View.
It's been a rough few years in Austin since Colt McCoy's dad took him out of the National Championship Game so he'd be healthy enough to sit on NFL benches, but if this week's "Texas Football" video is any indication the Longhorns are BACK. Or, at the very least, Mack Brown realizes he's actually still the coach at Texas and his job is on the line. ...
I apologize for the following scenario I'm going to throw at you, but please play along. Now imagine if you can Brent Musberger's voice. (Again, I apologize.) Shouldn't be hard to do right? If you watch enough college football it won't be. "Ladies and gentleman, we are back live in Pasadena, CA at the Rose Bowl live as the new kings of college football are...
When it comes to college football rivalries, Oklahoma-Texas is about as big as it gets. So when asked about his favorite memory of playing against Colt McCoy and the Longhorns in college, Sam Bradford
MORE STORIES >>
College Football News

Delivered to your inbox

You'll also receive Yardbarker's daily Top 10, featuring the best sports stories from around the web. Customize your newsletter to get articles on your favorite sports and teams. And the best part? It's free!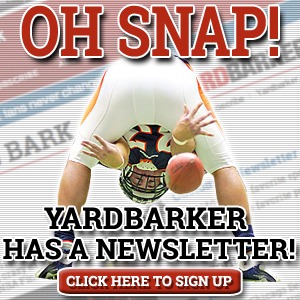 THE COLLEGE FOOTBALL HOT 10