Covering Dixie Like Mildew - The SEC. It's like the Olympics, but with fewer cameras in the showers.Hey It's Good to Be Back Home Again. Alabama defensive end D.J. Pettway describes how it feels to be able to rejoin the program after being dismissed in 2012 following a couple of run-ins with the law. (al.com)Membership has its privileges.Team Speed Kills looks at how...
No one has suggested that D.J. Pettway did not make a bad decision last winter when he was one of four Alabama football players involved in robberies of two Alabama students. In fact, Alabama Coach Nick Saban characterized it as a "horrible decision." But other decisions have been made since, including the latest one, Saban bringing Pettway back to the Crimson Tide.
Defensive lineman D.J. Pettway is returning to Alabama 10 months after he was dismissed from the Crimson Tide. Alabama announced Friday that Pettway and fellow East Mississippi Community College defensive lineman Jarran Reed signed with the Tide and will enroll in January. Pettway and three other Alabama players were dismissed in February after being charged in alleged robberies...
Wayward defensive lineman D.J. Pettway has rejoined the Alabama Crimson Tide after getting kicked off the team in late February.
Nick Saban got another huge letter of intent on Wednesday night, and it was from a guy who's probably going to play right away. According to Yahoo Sports Junior defensive tackle D.J. Pettway has signed a letter of intent to return to Alabama almost a year after he and three other players were kicked out of school for allegedly robbing and beating two fellow Alabama students....
Alabama is where D.J. Pettway began his college career, and as of Wednesday afternoon, it's where he'll end it. The four-star prospect went full circle in signing with the Crimson Tide for the second time, and he explains why inside.
TUSCULOOSA, Ala. -- The University of Alabama has barred three football players from campus after their arrest on robbery charges. University spokeswoman Deborah Lane said Friday the players are suspended from school pending a judicial review expected to be done by late next week. Eddie Williams, Tyler Hayes and D.J. Pettway have been charged in separate robberies of two students...
ROLL TIDE, INDEED
Samuel Jurgens, one of the victims of the robbery allegedly committed by Crimson Tide players, will not allow the experience to alter his love for Alabama football.
If you had Alabama Wide Receiver Eddie Williams listed as a potential breakout player in 2012, back of B. The former five star recruit was arrested along with Defensive End D.J. Pettway Linebacker Tyler Hayes and Linebacker Brent Calloway for a slew of major felonies. Each punishable by several years in the poke. Williams, whose decision making process is clearly substandard, went...
Details are emerging from the arrest of four Alabama players on Monday. According to the arrest warrant obtained by TideSports.com, D.J. Pettway, Eddie Williams and Tyler Hayes "punched a student's head and face and kicked him in the ribs and back area" during one of the robberies. The victim sustained cuts to his face, severe swelling, and a mild concussion. The players then...
MORE STORIES >>
College Football News

Delivered to your inbox

You'll also receive Yardbarker's daily Top 10, featuring the best sports stories from around the web. Customize your newsletter to get articles on your favorite sports and teams. And the best part? It's free!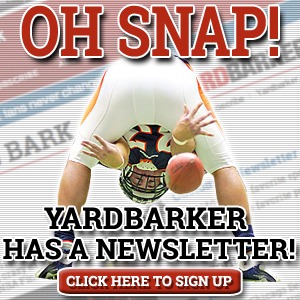 THE COLLEGE FOOTBALL HOT 10