LAS VEGAS There was no name on the back of it, but seeing the No. 51 Gophers jersey on the field Thursday was enough to give University of Minnesota football fans goosebumps as their team took on UNLV.Last season, the No. 51 belonged Gary Tinsley, the former Gophers linebacker who suddenly and tragically passed away in early April due to a heart condition. Wearing Tinsley's...
MINNEAPOLIS Four months after his death, former Gophers linebacker Gary Tinsley is still very much on the minds of his University of Minnesota teammates. As the Gophers took to the field this past weekend to begin fall camp, they wore "GT51" stickers on the backs of their practice helmets. When the season starts Aug. 30 against UNLV, they'll wear a similar memorial...
MINNEAPOLIS -- The Hennepin County medical examiner announced in a release Wednesday night that cardiomegaly (an enlarged heart) was the primary cause of the death of former Gophers linebacker Gary Tinsley. The release also stated that the death was determined to be of natural causes. Cardiomegaly is not a disease itself but rather a symptom of things like stress or a heart condition...
MINNEAPOLIS As tough as it may have been, the University of Minnesota football team eventually had to return to the field. Since Friday, the Gophers have grieved the loss of friend and former linebacker Gary Tinsley, who was found dead in his campus apartment. But they know Tinsley would have wanted them to get back to playing the sport they all love. After canceling Saturday'...
The Minnesota football team has returned to spring practice for the first time since former teammate Gary Tinsley was found dead in his campus apartment. Tinsley died Friday of a yet-to-be-determined cause. The senior linebacker had completed his playing eligibility with the Gophers and was weeks away from his degree. Quarterback MarQueis Gray said Tuesday on a conference call...
Twenty-two year old Gary Tinsley, a recent University of Minnesota football player was found dead in his dormitory room Friday morning, April 6. University Police Chief Greg Hestness "there was no evidence of foul play," but that this death is suspicious, like most deaths that involve college football and college basketball players. More from Sports Kings: Tinsley's roommate...
Gary TinsleyGary Tinsley, a linebacker at the University of Minnesota, who was finishing his classwork to get his degree, was found dead in his on-campus apartment early Friday morning.According to KARE-11 in Minneapolis, police were called to the apartment just before 7:30 a.m and Tinsley was down, on the floor, not breathing.University police say they don't believe there was...
Minnesota linebacker Gary Tinsely was found dead in his campus apartment Friday morning, university officials said. Tinsely, 22, was found unresponsive in his apartment at Roy Wilkins Hall on the Minneapolis campus, team spokesman Andy Seeley said. The cause of death wasn't immediately released. Emergency responders were not able to resuscitate him and he was pronounced dead...
Via AP on Fox
MINNEAPOLIS Former University of Minnesota linebacker Gary Tinsley was found dead in a dorm room on the school's campus Friday. He was 22 years old.According to University of Minnesota spokesman Chuck Tombarge, an emergency response team was not able to resuscitate Tinsley in a room at Roy Wilkins Hall, and he was pronounced dead. Early indications, according to Tombarge, were...
MORE STORIES >>
College Football News

Delivered to your inbox

You'll also receive Yardbarker's daily Top 10, featuring the best sports stories from around the web. Customize your newsletter to get articles on your favorite sports and teams. And the best part? It's free!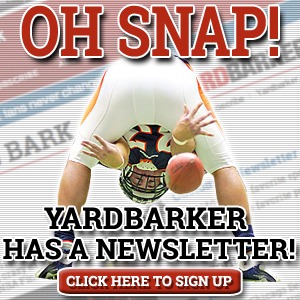 THE COLLEGE FOOTBALL HOT 10