The announcement of the new Red Wings arena and subsequent entertainment district is certainly exciting for the organization and fans who definitely deserve a new facility to replace the decaying Joe Louis Arena which remarkably is only 10 years older than the Palace of Auburn Hills. We've all also had our stories about the Joe whether it's the long lines to the bathroom and...
DETROIT – The Detroit Red Wings will hold a special Wings Warehouse Sale on Saturday, June 7 from 12:00 p.m. – 6:00 p.m. on the arena floor at Joe Louis Arena. The sale will feature drastic discounts on merchandise from the Detroit Red Wings and the Detroit Tigers, such as: T-shirts for $5, sweatshirts for $10 and jerseys starting at $20 Numerous novelty items for $1...
The City of Detroit is on the verge of settling a long-standing debt it says is owed by the Ilitch family's business empire so the Red Wings owner can move forward with a plan to build a new hockey arena near downtown. City officials say the Ilitches could owe the bankrupt city up to $80 million in payments tied to cable TV revenues, which were included in a 1980 amendment to...
DETROIT -- If you were planning to attend the Winter Classic at Michigan Stadium on New Years Day, the Red Wings-Maple Leafs game is a sellout. Representatives from the Wings, the NHL and HBO revealed several of the particulars about the leagues signature event during a far-reaching press conference held Tuesday at Joe Louis Arena. The game is officially a sellout; however, there...
I got kind of sick this weekend.  I had a fever on Friday and woke up Saturday feeling like I'd gone ten rounds with Joe Louis.  Fever, chills, achiness all over, there was a swollen gland thingy in my neck the size of a strawberry, and general malaise and complete lack of motivation.  The weird thing is, as of yet, I never had a cough, sore throat, runny nose, or the usual...
There have been reports on Monday that the Detroit Red Wings have chosen architects for a new 18,000-seat arena for downtown Detroit. According to MLive.com, the Red Wings have hired HKS, an international firm based out of Dallas, which will work with Chan Krieger NBBJ, a Boston architect that specializes in urban developments.All the Red Wings organization will say is that they...
MORE STORIES >>
College Football News

Delivered to your inbox

You'll also receive Yardbarker's daily Top 10, featuring the best sports stories from around the web. Customize your newsletter to get articles on your favorite sports and teams. And the best part? It's free!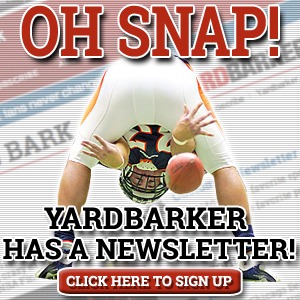 THE COLLEGE FOOTBALL HOT 10