Alabama defensive end LaMichael Fanning will reportedly transfer from the university to Jacksonville State.
Perhaps The Rainman would have noticed that LaMichael Fanning was not at Alabama's football practice Wednesday, but we did not. With about five minutes of viewing time, over 100 players, and our attention in any event focused on whether Kenny Bell was indeed back, we don't have the "savant" part of "idiot savant" to be able to pick up on everything.
Alabama head coach Nick Saban wouldn't say if he's suspended defensive end LaMichael Fanning for his body slam tackle of a Missouri player last week, but explained Alabama is handling the matter "internally."
The SEC office announced today that Alabama defensive end LaMichael Fanning will not be suspended for his suplex of Missouri running back Russell Hansbrough, as seen below. The conference office gave an official statement that explained it as Alabama, you see.  Here now with commentary on the suplex is none other than The Nature Boy, Ric Flair.
If LaMichael Fanning's football career doesn't pan out, a transition to pro wrestling might not be too far-fetched. Fanning showed Saturday that he likely has what it takes to turn some heads in the WWE. With Alabama leading Missouri 42-10 in the fourth quarter, Fanning grabbed running back Russell Hansbrough and delivered a brutal back suplex, which drew...
C.J. Mosley probably doesn't have the most memorable defensive play of the game remembered by those who saw Alabama defeat Missouri, 42-14, in Columbia Saturday. That would probably go to one of the defensive backs, Vinnie Sunseri or HaHa Clinton-Dix, who got interceptions off tips. Or maybe defensive lineman LaMichael Fanning for his slam dunk of a Tigers running back.
THROW DOWN
Check out the video. Alabama defensive end LaMichael Fanning literally body-slammed Missouri running back Russell Hansbrough head first into the ground. Fanning received a personal foul for the pro wrestling move that literally has no place in college football. It happened with just 2:23 left in the game while Alabama had a commanding lead.
MORE STORIES >>
College Football News

Delivered to your inbox

You'll also receive Yardbarker's daily Top 10, featuring the best sports stories from around the web. Customize your newsletter to get articles on your favorite sports and teams. And the best part? It's free!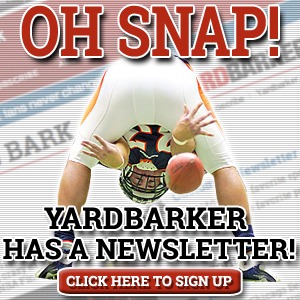 THE COLLEGE FOOTBALL HOT 10