LSU coach Les Miles meets with the media after Tuesday's practice.
In a weekend with mostly expected results, one game sticks out above the rest. Just like Les Miles had said in 2012, Death Valley truly is the place where opponents' dreams come to die. This time those dreams belonged to Ole Miss. The Tigers smothered the Rebels offense, holding them to just 313 yards and seven points, despite the LSU offense turning the ball over four times. The...
On Twitter @TheCoachBart Follow TSS @TheStudentSect At some point in the night, Les Miles is going to go home, tap his pet cobra on the head, then go back behind the shed, find his burlap sack, and make sure he still has a little of that LSU black magic in it. It what will undoubtedly wind up as the most obtuse ending to a meaningful college football game this year, LSU did LSU things...
LSU's Les Miles has a big game to coach Saturday evening, as his No. 24 Tigers host No. 3 Ole Miss. If Miles' mind is elsewhere, though, everyone would understand. Miles' 91-year-old mother, Martha, passed away Friday evening. The school confirmed the death to the death to the Baton Rouge Advocate, but no cause of death was reported. Condolences to the Miles family and LSU.
When Katy Perry made her much ballyhooed, critically acclaimed appearance as celebrity guest picker on "College GameDay" a few weeks back, she cracked a joke about how LSU Tigers fans smell like corn dogs. Apparently, this is something of a long-running SEC joke. According to LSU Super Fan, there is an entire back story about...Read More The post Les Miles disagrees with Katy...
LSU hosts College GameDay this weekend for its match-up with No. 3 Ole Miss, and speculation is rampant as to who the guest picker will be. When asked about the show, head coach Les Miles took the opportunity to call out those who have incorrectly picked against LSU in the past, including ESPN's Kirk Herbstreit. #LSU's Les Miles tweaks Kirk: "Herbstreit made a wrong pick....
Sure, LSU is a disappointing 2-2 in SEC play through two months, but just because reporters are looking ahead to 2015 doesn't mean The Mad Hatter has to...God I love that man.
LSU has won back-to-back games since being blown out by Auburn earlier this month, but its quarterback situation is no clearer now than it was then. Les Miles has used both freshman Brandon Harris and sophomore Anthony Jennings throughout the season and really hasn't named a starter. What will he do in 2015? As you...Read More
Les Miles had fun with this reporter's stupid, silly question about LSU's quarterback position for next season.
LSU head coach Les Miles is a funny guy. The Mad Hatter has a gigantic personality, and when he decides to joke around about something, he's absolutely hilarious. An example of that came on Saturday night after LSU's 41-3 win over Kentucky. A reporter asked Miles if he has put any thought into who will play quarterback for the Tigers in 2015. Miles responded by sarcastically...
MORE STORIES >>
College Football News

Delivered to your inbox

You'll also receive Yardbarker's daily Top 10, featuring the best sports stories from around the web. Customize your newsletter to get articles on your favorite sports and teams. And the best part? It's free!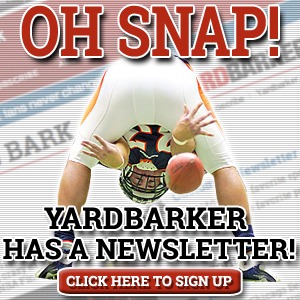 THE COLLEGE FOOTBALL HOT 10