It's no secret that the SMU Mustangs are interested in convincing former Texas coach Mack Brown to come out of retirement and take over the reigns of the program, but Dallas Morning News columnist Bill Nichols dropped a bombshell this morning when he stated in his column that SMU officials are willing to offer Brown an eight-year, $32 million contract. Nichols claimed that...
Former Texas head coach Mack Brown turned 63 over the summer, but SMU seems to believe he can be an effective coach well into his late 60s and even 70s. At least, that's what their reported offer to the coaching legend indicates. According to Bill Nichols of The Dallas Morning News, Brown is SMU's top...Read More
With the June Jones era now over at SMU, speculation has begun about who will replace him as the Mustangs new permanent coach. One interesting name that has been thrown around in recent days: former Texas head coach Mack Brown. Photo used courtesy of chron.com. FoxSports.com's Bruce Feldman reported Monday that "well-connected SMU brass" are very interested in pursuing Brown...
Mack Brown may have been pushed out as the head coach at Texas, but that doesn't mean he is done with the Longhorns altogether. By relinquishing his position, Brown is reportedly entitled to make $500,000 per year as a special advisor to Texas president Bill Powers through 2020. However, the 62-year-old may be aiming higher. […]
A two-word billboard on highway 183 in Texas summed up Mack Brown's Texas coaching tenure perfectly. It reads: "Class Act."
Mack Brown will not resign as the head coach of the Texas Longhorns. The 62-year-old Brown is feeling mounting outside pressure in the form of...
Mack Brown has responded to reports that he's resigned as the Texas Longhorns' head coach, denying the initial reports from Orangebloods.com.
In terms of college football coaching, Mack Brown is an institution. In terms of college football coaching at the University of Texas, Mack Brown is a God. Ever since he set foot on campus the Longhorns have been a staple of success in the Big 12, and the BCS. This year, however, the team – and the coach - may have lost a step or two.Two consecutive sub-par seasons on campus, this...
getty A loss on Saturday could force Mack Brown out at Texas but the head coach of the Texas Longhorns is not going down without a fight. In a rally on Wednesday night, Brown got fired up and took his shirt off. It was not exactly Hulk-Hogan but hey…. if the Longhorns pull off an upset against Oklahoma there will be plenty of chants for him to do it again. Currently Oklahoma...
Last week it was Nick Saban, this week it is Greg Schiano. The current Bucs head coach is the latest to be rumored as a possible replacement for the Texas Longhorns' Mack Brown. Of course, Brown is still in charge…Read more →
MORE STORIES >>
College Football News

Delivered to your inbox

You'll also receive Yardbarker's daily Top 10, featuring the best sports stories from around the web. Customize your newsletter to get articles on your favorite sports and teams. And the best part? It's free!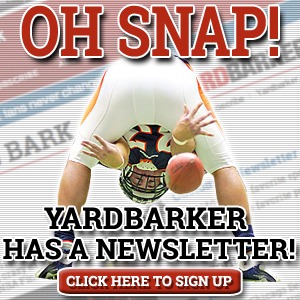 THE COLLEGE FOOTBALL HOT 10