These weekly rankings shows are a lot like eating popcorn. They're empty calories. They serve no meaningful purpose but to fatten … TV executives' wallets. And yet you can't stop consuming them.Also, in this analogy, the popcorn can completely change its flavor when you get to the end because the most important ingredient has yet to be added.Stewart: It has been stated over and over...
LOS ANGELES (AP) UCLA quarterback Josh Rosen underwent surgery Monday morning on his right shoulder for a soft tissue injury. UCLA said in a statement that the sophomore, who injured his shoulder during a 23-20 loss at Arizona State on Oct. 8, is expected to make a full recovery. Before the injury, Rosen had thrown for 1,915 yards and 10 touchdowns with five interceptions. Senior...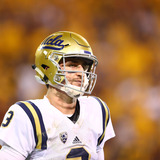 Josh Rosen will be undergoing surgery in the near future, according to a teammate. According to the LA Times' Ben Bolch, UCLA quarterback Mike Fafaul said after Thursday's loss at Colorado that Rosen will have shoulder surgery next week. Josh Rosen will have shoulder surgery next week, Mike Fafaul said. — Ben Bolch (@latbbolch) November 4, 2016 Rosen is UCLA's first-string...
PASADENA, Calif. (AP) UCLA set season highs in points and total yards in its loss to No. 19 Utah, just not with the offense it spent all offseason installing and refining in hopes of becoming a more physical team. The change wasn't enough to salvage what looks to be a lost season for the Bruins (3-5, 1-4 Pac-12), but it could offer a way forward. Instead of featuring multiple tight...
In his second career start, UCLA Football backup QB Mike Fafaul breaks both the completions and attempts record for a single-game. Is this good or bad for an offense that is struggling? UCLA Football backup quarterback Mike Fafaul has been given a lot of responsibility. So much that he is passing the ball more than […] UCLA Football: Mike Fafaul Breaks Completions and Attempts Record...
If UCLA Football starting quarterback Josh Rosen cannot play against Utah, does backup Mike Fafaul have a chance to beat the Utes? Mike Fafaul did a good job leading the UCLA Football team into battle last week against Washington State. Yes, the Bruins lost and yes Fafaul threw a critical late interception on a drive that […] UCLA Football: If Rosen Isn't Ready, Can Backup Quarterback...
Depsite a loss, backup quarterback Mike Fafaul did a admirable job leading the offense in their loss to Washington State with Josh Rosen injured. The UCLA Football team needed to not have a drop off at quarterback with Josh Rosen hurt and Mike Fafaul did a fine job holding the offense together in his place. Fafaul had […] UCLA Football: QB Mike Fafaul Deserves Credit Considering...
The UCLA Bruins suffered a major hit on Saturday when quarterback Josh Rosen left the team's game against ASU with a leg injury, but the sophomore returned after missing about a quarter of play. Rosen exited the game in the second quarter after suffering his second sack of the game and limped to the locker room. Rosen limping off. pic.twitter.com/zUGPq9bMFH — Bruin Report Online...
MORE STORIES >>
College Football News

Delivered to your inbox

You'll also receive Yardbarker's daily Top 10, featuring the best sports stories from around the web. Customize your newsletter to get articles on your favorite sports and teams. And the best part? It's free!
THE COLLEGE FOOTBALL HOT 10