(Vasha Hunt/vhunt@al.com) The hiring of Lane Kiffin as Alabama's offensive coordinator might have been one of the biggest stories in college football leading up to this season. The hire came as a shock seeing that Nick Saban hasn't made a habit of putting up with nonsense and Lane Kiffin's career consists of just that. So how did Kiffin's glorious return to the sideline against...
Nick Saban might be the only person left who doesn't understand why Lane Kiffin is so disliked among the public. The real reason he is disliked is because he is an abrasive, off-putting, arrogant jerk who thinks he is Bill Belichick when he is really just Josh McDaniels. Fans and media members know this. Saban […]
Nick Saban and his Alabama Crimson Tide went into halftime Saturday with a 20-17 lead in their season-opening game against West Virginia, but the head coach was not satisfied with his squad's effort. During his halftime interview with ABC, Saban expressed his frustrations. "The big thing for me is we gotta play better on defense […]
Alabama was a huge favorite heading into today's game with West Virginia, but the Mountaineers are putting up a serious fight, and trail Alabama by just three at halftime. During his brief interview, Nick Saban said something that few would ever suggest about Alabama: "Defensively, we're soft," Saban says. — BamaHammer (@Bama_Hammer) August 30, 2014 Strange as it seems...
New Alabama offensive coordinator Lane Kiffin needs no introduction, whether that's a bad or good thing is up to you, but it appears he certainly needs to explain his offense's lackluster first half to his boss. Check out Kiffin feverishly giving an explanation to a very disinterested Nick Saban as to why the Crimson Tide have stumbled thus far against a West Virginia defense...
The Alabama 2014 football season is a little less than two hours from starting. The Crimson Tide have arrived at the Georgia Dome in Atlanta, where they'll take on West Virginia at 3:30 p.m. E.T. Of course, Nick Saban's squad has arrived in style.  Lane Kiffin wore sunglasses–indoors–as he walked into the arena. Stylish or pretentious? Lane Kiffin rocking the shades as...
Nick Saban and Alabama will head into West Virginia to open up the college football season this weekend, bringing the 'Bama head coach back to the place where he grew up and learned the game. Saban played high school football for Monongah, leading the Black Diamonds to an undefeated 1968 championship season as a quarterback & defensive back in his senior year. Saban was a pivotal...
Both Kristen Saban, daughter of Alabama Coach Nick Saban, and West Virginia quarterback Clint Trickett are no strangers to controversy. Trickett is known for shooting his mouth off with socially regressive, sexist drivel on Twitter. Take a look, he hit all the gender-bashing cliches in under 140 characters; so he's efficient in his misogyny. "Watchin football with girls is literally...
If Nick Saban calls for a few extra blitzes during Alabama's season-opening game Saturday against West Virginia, you'll know why. West Virginia starting quarterback Clint Trickett, whose family has a good relationship with Saban, admitted Tuesday that his first kiss was Nick's daughter, Kristen. The admission came up when asked if he knows Saban well. […]
Clint Trickett's full quote, context and all. Romeo and Juliet scene gonna play out Saturday in Atlanta. #WVU pic.twitter.com/S6aDXlcWlR — Stephen...
MORE STORIES >>
College Football News

Delivered to your inbox

You'll also receive Yardbarker's daily Top 10, featuring the best sports stories from around the web. Customize your newsletter to get articles on your favorite sports and teams. And the best part? It's free!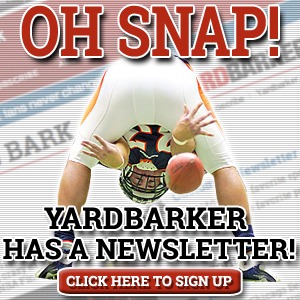 THE COLLEGE FOOTBALL HOT 10