NFL.com NFL.com Even though Alabama head coach Nick Saban has his pick of defensive line recruits coming out of high school, he's found some good bargains from the junior college ranks. Of course, All-American Terrence "Mount" Cody is the most well-known example, as he helped the Tide win their first BCS title under Saban in 2009. But in Dial and teammate Jesse Williams...
Trent Baalke continued to add potential depth to the team's front seven by taking the Crimson Tide's Quinton Dial with the 24th pick in the fifth round.
It seems that Ray Lewis wasn't the only football player trying to get a leg up on his competition using deer antler velvet extract spray. In the same Sports Illustrated story that said the Ravens' linebacker may have used the spray, which contains IGF-1 — a banned substance in the NFL and NCAA — to recover from a torn triceps, it was also alleged that multiple Alabama football...
BIRMINGHAM, Ala. -- The Southeastern Conference won't suspend Alabama defensive end Quinton Dial for a hit on Georgia quarterback Aaron Murray. The league said in a statement Friday that it had reviewed video of that play and others in the SEC championship game and that the two schools would handle any punishments internally. Dial leveled Murray during a second-quarter interception...
Alabama defensive end Quinton Dial will not be suspended for his hit on Georgia quarterback Aaron Murry during the SEC's conference title game on Dec. 1. The SEC ruled Friday that the matter would be handled internally by the two schools. Dial delivered a brutal helmet-to-helmet hit on Murray following an interception return. The hit left Murray on the turf though he was able to...
The SEC released a statement saying that no suspensions will be made resulting from the SEC Championship Game that would result in any suspensions in the BCS National Championship Game. Quinton Dial had a controversial hit on Aaron Murray that probably should have resulted in at least a penalty after an interception. According to Bama Hammer, the SEC released this statement: The...
During today's SEC Championship between Alabama/Georgia, Alabama defender Quinton Dial was trying to clear a path for an interception return by his teammate Ha'Sean Clinton-Dix. Dial spotted Georgia quarterback Aaron Murray standing a few feet from him and saw a perfect time for him to take a free shot at the quarterback. Watch as Quinton unloads on Murray with a helmet...
Alabama Crimson Tide defensive lineman Quinton Dial took a cheap shot at Georgia quarterback Aaron Murray during an Alabama interception return of a pass by Murray during the second quarter of Saturday's SEC championship game at the Georgia Dome in Atlanta. Murray saw Dial coming at him at the very last second, but it was too late to avoid getting crushed by Dial with...
UNCALLED FOR
Alabama defender Quinton Dial delivered a vicious helmet to helmet hit on Georgia quarterback Aaron Murray late in the second quarter. The hit came after Murray threw an interception and was returned by Ha'Sean Clinton-Dix to the Georgia 47. The Crimson Tide would score a field goal on the drive following the hit, entering half time with a 10-7 lead.
Watch Alabama defensive linemen like Damion Square, Quinton Dial, Brandon Ivory and others during Wednesday morning's practice.
MORE STORIES >>
College Football News

Delivered to your inbox

You'll also receive Yardbarker's daily Top 10, featuring the best sports stories from around the web. Customize your newsletter to get articles on your favorite sports and teams. And the best part? It's free!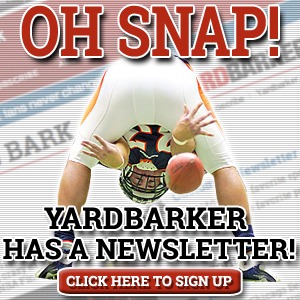 THE COLLEGE FOOTBALL HOT 10