Wake Forrest quarterback Tanner Price celebrates with his teammates after scoring a touchdown in Wake Forrest's 34-10 victory over Maryland (photo courtesy of Bruce Chapman/Wake Forrest Journal) Any small dreams the Maryland Terrapins had about sneaking into the ACC Title game as a dark horse candidate died in Winston-Salem, North Carolina on Saturday as the Terrapins dropped their...
Quarterback Tanner Price had touchdowns rushing, receiving and passing in Wake Forest's 34-10 victory over Maryland on Saturday. Price was 26 of 36 through the air for 231 yards, scored on a 4-yard run and caught a 4-yard TD pass from receiver Michael Campanaro - the trick-play master's fourth career touchdown throw. Price hit Campanaro with a 10-yard touchdown pass to...
Tanner Price threw three touchdown passes and ran for a score to help Wake Forest beat North Carolina State 28-13 on Saturday, extending its mastery of the Wolfpack at home. Michael Campanaro caught two of Price's scoring throws in a huge performance of his own, helping the Demon Deacons (3-3, 1-2 Atlantic Coast Conference) earn their sixth straight win against N.C. State in...
WINSTON-SALEM, N.C. -- Tanner Price accounted for two touchdowns, redshirt freshman Jonathan Williams had 143 yards receiving and Wake Forest forced six turnovers in a season-opening 31-7 victory over Presbyterian on Thursday night. Price was 14 of 25 for 219 yards, threw a 20-yard TD pass to Spencer Bishop and ran 3 yards for another score. With their Atlantic Coast Conference opener...
Tanner Price and Joshua Harris each scored touchdowns and the Demon Deacon offense rushed for 236 yards during a steamy second scrimmage of 2013 spring practice. Deacon passers got few chances to showcase their arms, as the Wake Forest offensive plan called for 57 runs out of 69 total plays. Harris led all rushers with 67 yards on 14 carries, including a touchdown from 4 yards...
(US Presswire) Tanner Price and Jim Grobe are the closest thing to Collin Klein and Bill Snyder because of all the doubters they both have. Price upset the North Carolina Tar Heels, a team many had penciled in as the best team in the Coastal Division. Obviously the Heels are not eligible, but if they were many would have them listed as the favorites as opposed to the Hokies. Wake...
Tanner Price scored on a 1-yard sneak with 2:09 left to help Wake Forest rally past North Carolina 28-27 on Saturday in the Atlantic Coast Conference opener for both teams. Price threw for a career-high 327 yards for the Demon Deacons (2-0, 1-0), who struggled to generate much offense throughout the second half until the decisive drive. Starting from Wake Forest's own 7-yard...
 (Crossing the Atlantic is a look at the ACC, Big East and other schools on the East Coast.)  The Price is Right. Heather Dinich interviews Wake Forest quarterback Tanner Price. (ESPN) Kung-Fu Fighting. Virginia has brought in a marital arts expert (and former Marine) to help make the football team a little more physical. No word if the school is installing an MMA cage...
Wake Forest's Tanner Price lead the Demon Deacons to a 31-10 rout of visiting Maryland.
MORE STORIES >>
College Football News

Delivered to your inbox

You'll also receive Yardbarker's daily Top 10, featuring the best sports stories from around the web. Customize your newsletter to get articles on your favorite sports and teams. And the best part? It's free!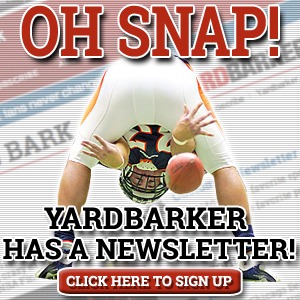 THE COLLEGE FOOTBALL HOT 10