Teddy Bridgewater is not starting yet for the Minnesota Vikings, but his time will come. He knows it, his fans know it, and even his haters do (even they would have to admit that he had a great preseason). For now he is on the bench and bidding his time till the team calls on him.With the NFL season right around the corner and his former team--the Louisville Cardinals--taking the...
Minnesota Vikings quarterback Teddy Bridgewater shined and engineered a 30-28 comeback victory over the Arizona Cardinals Saturday night at TCF Bank Stadium. The 21-year-old Bridgewater, who Minnesota chose with the 32nd overall pick in May, completed 16-of-20 passes for 177 yards and two scores. Bridgewater and Matt Cassel are competing to start when the Vikings travel to St. Louis...
You know it's a good thing when your rookie quarterback is trending worldwide on Twitter. That's exactly what happened to the Minnesota Vikings last night, who benefitted from excellent play from both Matt Cassell and Teddy Bridgewater. But Bridgewater won the day when his name went trending worldwide as "Touchdown Teddy": TT WW 05:53 7.Touchdown Teddy 8.Tim Boetsch 9.Selamat...
Photo: Vikings.com Former Louisville star Teddy Bridgewater put together his best performance as a professional quarterback on Saturday evening for the Minnesota Vikings. Teddy split the QB duties with veteran Matt Cassel and while both performed well, it was Bridgewater who won the game for Minnesota. With just 53-seconds left in the game,. Bridgewater put together a 7-play, 83...
Teddy Bridgwater, former Louisville Cardinals quarterback, has apparently shown enough during camp to warrant some reps with the first-team during the Vikings first pre-season game Friday.#451199658 / gettyimages.comBridgewater has been battling it out with Matt Cassel during training camp for who earns the starting QB position for the Minnesota Vikings. Head Coach Mike Zimmer told...
Teddy Bridgewater, the likely soon-to-be 1st round NFL Draft pick, surprised his mother, Rose Murphy, for her birthday with a brand new pink Cadillac Escalade (6:25 mark of clip). More via the YouTube description: When Teddy Bridgewater was in the 3rd grade he promised his mother, Rose, he'd get her a Pink Cadillac Escalade when he became a professional football player. After...
According to ProFootballTalk.com,  some NFL scouts are worried that Teddy Bridgewater won't be a good NFL starting quarterback. Physically, however, the thinking by some is that Bridgewater simply lacks the attributes necessary to make him one of the rare men who can be starting quarterbacks in the NFL.  Bridgewater isn't particularly big, he's not particularly fast, his...
According to Darren Rovell of ESPN,  NFL Draft prospect Teddy Bridgewater has taken out a loss of value insurance policy that will pay him if he doesn't get taken in the first round of next week's draft or he can prove he has an injury or illness.  He will then collect $5 million tax free. Sources tell ESPN.com that after the quarterback completed his junior season at Louisville...
Teddy Bridgewater has gone from the consensus top overall pick in next month's draft to a potential second day selection. Yet, thanks to some creative foresight, the former Louisville quarterback might reap the benefits of a draft day slide. According to ESPN.com's Darren Rovell, Bridgewater has a $5 million loss-of-value insurance policy, money he will collect if he...
Forget all about Louisville quarterback Teddy Bridgewater's poor Pro Day performance that dropped his draft stock further down the trough. His problems extend way beoynd that one single day, former Tampa Bay Buccaneers general manager Mark Dominc says. In fact, among the expert analysts, Bridgewater's stock was never that high to begin with. "There were things you saw...
MORE STORIES >>
College Football News

Delivered to your inbox

You'll also receive Yardbarker's daily Top 10, featuring the best sports stories from around the web. Customize your newsletter to get articles on your favorite sports and teams. And the best part? It's free!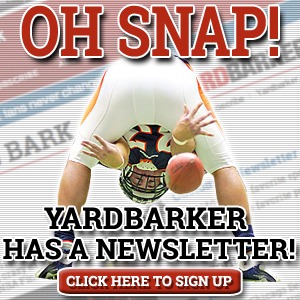 THE COLLEGE FOOTBALL HOT 10