Florida State University has begun a disciplinary investigation of quarterback Jameis Winston in relation to 2012 accusations of rape by a female student. Rachel Axon of USA Today, reported Thursday that Florida State officials interviewed the woman last month.  She initially reported the alleged rape to police in December 2012. "They assured us that the Title IX process...
TALLAHASSEE, Fla. -- They all handled it differently. They didn't realize how much they loved football until they couldn't play the game. Kevin Haplea would watch the games alone. Tyler Hunter sometimes had to walk out of practice. Scooter Haggins couldn't play, but craved the chance to step on the Rose Bowl field so much that he warmed up before the national championship...
Top-ranked Florida State enters the BCS championship game against No. 2 Auburn nearly completely healthy with only one starter out - safety Tyler Hunter. The team lost Hunter to a neck injury in September. The Seminoles have only played one game this season in which the opponent stayed within 14 points, so starters got few snaps late in games. Receiver Kenny Shaw said, ''...
Tyler Hunter is out for the season with a neck injury. (USATSI) Injury to Tyler Hunter forces another position change for FSU defense It was learned earlier this week that Florida State starting safety Tyler Hunter will miss the remainder of the season with a neck injury. Hunter is one of six Seminoles this season to have an interception and had eight total tackles. Hunter also...
TALLAHASSEE, Fla. -- Florida State junior safety Tyler Hunter had surgery to repair a bulging disc in his neck Tuesday and will miss the rest of the season. "(He) expects to make a full recovery and be back next year," Florida State coach Jimbo Fisher said. Hunter started the first three games for Florida State and he is eligible to take a medical redshirt. He would then...
Florida State starting safety Tyler Hunter will be held out of Saturday's Atlantic Coast Conference game against Boston College with a neck injury. The junior was injured in the first half against Bethune-Cookman last week and did not return. Coach Jimbo Fisher said Thursday that freshman Jalen Ramsey will move to safety after starting the first three games at cornerback. Hunter...
TALLAHASSEE, Fla. -- Starting safety Tyler Hunter will miss Florida State's game at Boston College on Saturday with a neck injury. Florida State coach Jimbo Fisher said he is not sure about the severity of Hunter's injury. The junior was hurt in the first half of Saturday's rout of Bethune-Cookman. When asked if Hunter's injury could be long-term, Fisher said, ...
Tyler Hunter and Florida State look to start 3-0 for a second straight season. (Photo: Steve Cannon) Florida State and Bethune-Cookman will get set to square off on Saturday with both schools coming off of wins in Week 3. The Seminoles rallied from an early 7-3 deficit against Nevada to score 59 unanswered points in a 62-7 victory. Florida State however, wasn't the only Florida...
One name Florida State fans need to start getting more familiar with is Tyler Hunter. The sophomore backs up Lamarcus Joyner at safety and also has his sights set on winning the job at nickel back.
MORE STORIES >>
College Football News

Delivered to your inbox

You'll also receive Yardbarker's daily Top 10, featuring the best sports stories from around the web. Customize your newsletter to get articles on your favorite sports and teams. And the best part? It's free!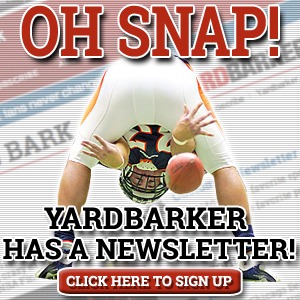 THE COLLEGE FOOTBALL HOT 10