BIRMINGHAM, Ala. (AP) Evan Taylor scored the winning basket with 3 seconds left to lift Samford to a 68-67 win over Austin Peay on Wednesday night. Samford (1-2) took a 41-30 advantage into the break. Austin Peay took the lead for the first time since early in the game on a Chris Freeman layup that made it 65-63 with 1:37 to go and then again on Chris Horton bucket that made it...
CLARKSVILLE, Tenn. (AP) Chris Horton's jumper with :41 left in the game gave Austin Peay the lead and the Governors were 3 of 4 from the free throw line in the final :09 to hold off an upset bid by Division III Berea, 68-63 Sunday. The Mountaineers, beginning a transitional season into NCAA Division III, took the lead at 15-13 on a 3-pointer by Richard Parker, extending the advantage...
CAPE GIRARDEAU, Mo. (AP) Kyle Snyder passed for 334 yards and five touchdowns, both career highs, to lead Southeast Missouri State to a 42-7 win over Austin Peay on Saturday. DeMichael Jackson rushed for 122 yards, moving up to fifth on the single season list (1,099) for the Redhawks (5-6, 3-4 Ohio Valley) and moved into the top 10 for his career (1,659). He had a receiving and...
Austin Peay elected to wear special uniforms to honor the military and doesn't care that it means losing timeouts.
During construction at the Austin Peay University football stadium in Clarksville, Tennessee, a gigantic sinkhole opened up. Thankfully, nobody was injured. The stadium isn't very big, with a capacity of 10,000. I don't know a thing about sinkholes, so I am just going to say check out the crazy pictures below and let's all be happy nobody was in harm's way.        
We've seen seemingly everything in the end zone. Words, logos, slashes, checkerboards but what's in the end zone at Austin Peay University takes the cake.   Yes, that is a sinkhole that is currently residing in the corner of the end zone at Austin Peay. According to Luke Thompson of the Leaf-Chronicle, the sinkhole was originally three feet by five feet and went about five...
Construction crews were working on Governors Stadium at Austin Peay State University on Thursday when a massive sinkhole opened up that extended into one of the end zones. According to the Clarksville Leaf Chronicle, the hole started out about 3 feet by 5 feet wide and 5 feet deep but has turned into a 40-foot […]
A massive 40 feet deep sinkhole appeared at Austin Peay's college football stadium earlier today. Fortunately, no one was injured from the incident. It seems that sinkholes have been popping up more frequently than usual in the US lately. TAPE PLAYBACK: Sinkhole at Austin Peay University in Nashville, TN via @NC5 pic.twitter.com/5wpKS4duSL — CBS Newspath (@cbsnewspath) May 19...
A massive sinkhole opened up inside Austin Peay State University's football stadium in Clarksville, Tenn. on Monday. Here's a view of this massive sinkhole at Austin Peay! Check it out! Don't worry- no injuries. @WSMV http://t.co/v9oIbs4Ezz— Amber Ungaro (@AmberUngaroWSMV) May 19, 2014 TAPE PLAYBACK: Sinkhole at Austin Peay University in Nashville, TN via @NC5 http...
Iosua Siliva the Austin Peay defensive end has signed with the Indianapolis Colts. The Colts have signed some amazing players as free agents, and I feel Siliva can make this roster. The post Austin Peay DE Iosua Siliva has signed with the Colts appeared first on NFL Draft Diamonds.
Sam Travis homered to help power Indiana past Austin Peay 15-6 on Saturday night and into the regional title game. Scott Donley and Michael Basil each drove in four runs for the Hoosiers (45-14), who will play the winner of Sunday afternoon's elimination game between Valparaiso and Austin Peay. The loss ended a 16-game winning streak, longest in the country, for Austin Peay...
BLOOMINGTON, Ind. (AP) -- Michael Davis hit a three-run homer in the bottom of the eighth inning to lift second-seeded Austin Peay to a 4-3 win over third-seeded Florida in the first game of an NCAA regional Friday. With runners on second and third and one out in the inning, Davis -- who was hitless entering the at-bat -- ripped a towering flyball to left field that carried over...
Ean Pemberton ran for 112 of Austin Peay's 378 rushing yards in a 56-0 trouncing of National Association of Intercollegiate Athletics opponent Culver-Stockton on Saturday. Pemberton and Terrence Oliver each scored a pair of touchdowns for the Governors (1-8), with Pemberton picking up his yards on eight carries. Five Austin Peay rushers gained at least 50 yards, and the team...
MORE STORIES >>
Austin Peay News

Delivered to your inbox

You'll also receive Yardbarker's daily Top 10, featuring the best sports stories from around the web. Customize your newsletter to get articles on your favorite sports and teams. And the best part? It's free!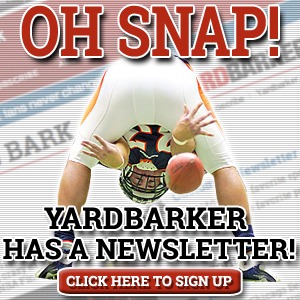 THE HOT 10: Who's Trending