BUIES CREEK, N.C. (AP) Freshman backup quarterback David Salmon threw two touchdown passes in the fourth quarter - including the game-winner with under a minute to play - as Campbell rallied from a 17-point deficit to beat Davidson 28-27 on Saturday. Salmon finished 9-of-21 passing for 108 yards for the Fighting Camels (4-3, 4-0 Pioneer). His game-winning 14-yard scoring pass to...
Campbell Fighting Camels Troy Harper | 6′-1″ | PG | Neumann-Goretti (PA)| Curtis Phillips | 6′-5″ | SF | White Station (TN)| Tony Toplyn | 6′-6″ | PF | Neumann-Goretti (PA)| Campbell will receive a duo of players that are no strangers to a winning culture, as two of their three recruits accumulated multiple state championships in high ...
Loyola freshman Milton Doyle scored a career-high 32 points on Friday. (Photo: Loyola Athletics) Loyola Chicago (5-5) defeated Campbell (4-6) on Friday night to start its first winning streak of the 2013-14 season. The Ramblers, who were coming off a win against Chicago-rival UIC last Saturday, erased a six-point deficit in the second half to complete the 80-68 victory. After a back...
Taylor Heinicke threw three touchdown passes and teammates Antonio Vaughan and Larry Pinkard each finished with over 150 yards receiving Saturday as Old Dominion downed Campbell 42-14. Vaughan caught eight passes for 171 yards. Pinkard caught six passes for 156 yards with the longest reception being a game-high 74 yards for the Monarchs (8-3). David Washington threw a 64-yard touchdown...
Eric Hoffman hit Andrew Cassara for an 11-yard touchdown in overtime to lead Valparaiso over Campbell 49-42. Campbell had a chance to tie and force a second overtime, but Brian Hudson was stopped on fourth-and-goal from the one-yard line to secure the victory for the Crusaders. In a back-and-forth affair, Valparaiso (1-3, 1-0 Pioneer League) did its damage through the air, with...
Malcolm Dixon's pair of touchdowns sealed a 30-10 Charleston Southern victory over Campbell Saturday night for its third straight win of the season. Dixon led the Buccaneers with 16 carries for 135 yards, the quarterback's second game in a row with over 100 yards rushing. He completed 5 of 12 passes. Christian Reyes put up the first points with a rushing touchdown in the...
Send to KindleAn intense competitor who possesses a rare ability to connect with people off the court, Kevin McGeehan was named the head coach of the Campbell Fighting Camels on April 11, 2013, after spending the past eight seasons at Richmond. He'll assume the reins of a Camels team that finished 13-20 overall and 7-9 in league play but welcomes back a talented core that began...
Dallas Kessman ran for four touchdowns as San Diego destroyed Campbell 44-0 on Saturday afternoon. Kessman finished the game with 16 carries for 77 rushing yards in his first career start. Kessman also had three receptions for 19 yards. Mason Mills was 19 of 20 for 217 yards. He also ran 1-yard for a touchdown. Brandon White caught five passes for 66 yards. Kenn James had five...
MORE STORIES >>
Campbell News

Delivered to your inbox

You'll also receive Yardbarker's daily Top 10, featuring the best sports stories from around the web. Customize your newsletter to get articles on your favorite sports and teams. And the best part? It's free!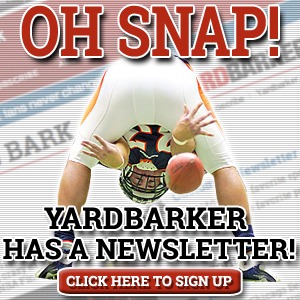 THE HOT 10: Who's Trending