Shortly after Cody Doolin abruptly left the University of San Francisco two weeks into his senior season, UNLV coach Dave Rice called to gauge the point guard's interest in joining the Rebels this year. By the time he hung up the phone, Rice had a hunch Doolin's recruitment would be unusual. What drove Doolin to quit the team at USF was an incident at practice that began...
After losing Avry Holmes to transfer, San Francisco had an open spot at point guard. Head coach Rex Walters and the Dons rebounded on Monday as they landed a commitment from class of 2014 three-star guard Devin Watson. Watson signed his NLI and it was announced in a release from the school. "We are excited that Devin has decided to attend the University of San Francisco," Walters...
Clemson added a guard via the transfer route over the weekend.  Avry Holmes spent his first two years of eligibility at San Francisco and has decided to finish up his career at Clemson.  Holmes will have to sit next season and will be elibible for the 2015-16 season.  Here's more from the Oregonian... Holmes, a 6-foot-2 sophomore guard, decided to transfer from USF shortly...
San Francisco point guard Cody Doolin will transfer to UNLV, a source has confirmed. The news was first reported by Rivals.com. Doolin averaged 13.0 points and 7.0 assists this season before leaving the Dons' program after four games. The 6-foot-2 point guard did remain a student at the Bay Area school and UNLV will apply for a waiver with the NCAA in hopes that Doolin will...
Kruize Pinkins scored a season-high 26 points, including a three-point play with 21 seconds left, to help San Francisco complete a season sweep by holding off Santa Clara, 69-63 Saturday night. Pinkins got a tip-in with 2:30 left to play to give the Dons a 64-58 lead, but Santa Clara battled back. Jared Brownridge connected on a jumper and Evan Roquemore hit the second of two free...
  The Dons were looking to bounce back from their thirteen point loss to Pacific last Thursday, but came up well short in last Saturday's nineteen point loss to Saint Mary's. After starting off 2014 with a 2-0 conference record, the Dons have now lost their second straight following their Jan. 4 win at Pepperdine. Coming into this contest with the fourth place Gaels, the biggest...
Mark Tollefsen scored five of his 22 points in the final 25 seconds of overtime as San Francisco beat Portland 87-81 Saturday night. Kevin Bailey, who scored 24 points, gave Portland a 69-66 lead on a 3-point basket with 9 seconds left in regulation but Chris Adams answered with a trey of his own to send the game to overtime. Following a 3-pointer by Bobby Sharp which brought Portland...
    On Friday night, The Dons held on to a one point lead in the last fifteen seconds to defeat UNLV 62-61, advancing to 3-4 on the season. Fourth year head coach Jennifer Azzi's Dons have won two of their last three games, by a combined three points. In their Nov. 29 road win against UC Davis, it was sophomore forward Taylor Proctor's late game heroics with a game clinching...
Multiple reports have confirmed that star point guard Cody Doolin has left the USF Dons because of a fight with a teammate. Doolin was the recipient of most of the punishment and soon after decided to book his flight home to Austin, Texas from Montana. "It's a little bit of shock there was surprise. Those guys are not brothers but they are pretty darn close. There's a bond...
Cole Dickerson scored a game-high 23 points to lead four players in double digits as San Francisco defeated Division II Sonoma State 96-73 to open the Golden Gate Challenge tournament on Wednesday night. Dickerson was 8 of 10 from the field and hit 2 of 2 3-pointers. He also led the Dons (4-3) in rebounds with 10. Tim Derksen had 19 points, including a pair of 3-pointers, Matt Glover...
Senior point guard Cody Doolin has left San Francisco's basketball team for personal reasons. The university said Tuesday that Doolin will remain enrolled in school and is scheduled to receive his degree in finance in the spring. Doolin's departure is a major blow for a Dons team that already had struggled to compete in the West Coast Conference. He averaged 13 points and...
De'End Parker scored 18 points and Cole Dickerson had 14 points and 15 rebounds Tuesday night to lead San Francisco to a 73-58 victory over Cal State-East Bay. Three other Dons scored in double figures. Avry Holmes had 13 points and Cody Doolin and Tim Derksen scored 11 each for USF (1-1). San Francisco attempted 34 free throws to East Bay's 12, but the Dons made only 20...
FLIP OF THE GLOVE
Here's one of the best infield players you'll see all season. It was made by Loyola Marymount (Los Angeles, CA) second baseman Cullen Mahoney on a ball hit up the middle by San Francisco Dons first baseman Nik Balog this past weekend. I realize that ESPN isn't in the business of broadcasting college baseball, but this needs to find its way on to their Plays of the Week segment...
MORE STORIES >>
San Francisco News

Delivered to your inbox

You'll also receive Yardbarker's daily Top 10, featuring the best sports stories from around the web. Customize your newsletter to get articles on your favorite sports and teams. And the best part? It's free!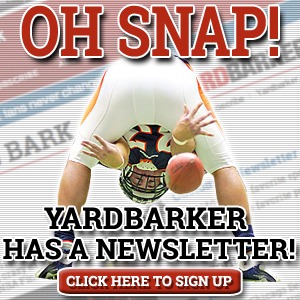 THE HOT 10: Who's Trending