For the second straight year, Valparaiso basketball is ranked in the middle of the pack in the Horizon League preseason rankings. One reason behind the ranking is the biggest loss of the season coming before their first preseason game. Sophomore point guard Lexus Williams suffered a torn ACL in practice a few weeks ago. Williams started at point guard last season. This leaves the...
Jan Somma-Hammel/Staten Island Advance UIC picked up a late addition to its 2014-15 roster with Wagner transfer Jay Harris choosing to join the Flames. Harris will be eligible immediately for the start of the season. Harris averaged 10.3 points and shot 38.6% on 3-pointers last season for the Seahawks. Prior to his time in New York, he played a pair of seasons at Valparaiso in the...
Clay Yeo hit four 3-pointers and his last was the game-winner with 7 seconds left to lift Valparaiso to a 63-60 win Sunday over Oakland. Bobby Capobianco scored on a three-point play to give Valparaiso a 60-57 lead with 2:25 to remaining. Both teams missed 3-pointers on its next two possessions. Travis Bader then answered for Oakland, draining a trey to tie the game at 60 with 41...
Keith Carter scored 19 points and LaVonte Dority added 14 with six assists to power Valparaiso past Illinois-Chicago 87-72 in a Horizon Conference opener for both teams Thursday night. The Crusaders (9-7, 1-0 Horizon) erased an eight-point halftime deficit and were within one midway through the second half. Dority drilled two free throws- the second putting Valparaiso on top- and...
LaVonte Dority scored 18 points and Alec Peters added 16 as Valparaiso routed Southeastern (Fla.) 89-46 on Saturday as part of the UCF Holiday Classic. Valparaiso (8-5) scored the game's first nine points and led 22-2 midway through the first half. The Crusaders shot 55 percent from the field and were 15 of 24 from beyond the arc. Dority and Peters each went 4 of 5 on 3-pointers...
VALPARAISO, Ind. (AP) Dwayne Evans scored 21 points and had 10 rebounds in helping Saint Louis squeeze by Valparaiso 67-65 on Saturday night.Grandy Glaze added 14 points for Saint Louis.St. Louis (8-2) led 39-30 at intermission due in part to Valpo's 13 turnovers, but the Crusaders (6-5) took care of the ball in the second half and narrowed the deficit to four points (62-58)...
AUBURN HILLS, Mich. -- As Valparaisos players cut down the nets last week after winning the Horizon League tournament on their home court, Homer and Janet Drew watched their son experience what they hoped was the first of many shining moments as a coach. Bryce Drew, who once made the most dramatic and significant shot his father ever had in coaching Valparaiso for 22 seasons, looked...
Valparaiso guard Erik Buggs speaks at the 2012 Horizon League Chamiponship (Jon L. Hendricks, Flickr) With the Michigan State Spartans set to oppose the Valparaiso Crusaders Thursday afternoon in Round 2 of the 2013 NCAA Tournament, The Detroit Sports Site asked Mike Osipoff of the Post-Tribune based in Northwest Indiana to help us break down the match up. Osipoff will also be...
The Michigan State Spartans and Valparaiso Crusaders will be among the first teams to take to the court during the NCAA Tournament's second round. Their game at The Palace of Auburn Hills will tip at 12:15 p.m. EDT — the first of four games to be played at The Palace on Thursday. The game will be broadcast on CBS. About 25 minutes after the conclusion of the Michigan State-Valpo...
Valparaiso Ryan Broekhoff sent the Crusaders to the Horizon League Finals after this game-winning shot. Down two points with 6.3 seconds left, Broekhoff hits this three pointer as time expired. Head coach, Bryce Drew, who is best known for his game-winning shot against Ole Miss in the NCAA tournament (seen below), flailed on the ground after the shot went in. Valpo plays Wright...
Ryan Broekhoff made a desperation 3-pointer as time expired Saturday, giving Valparaiso a 70-69 victory over Green Bay and a berth in the Horizon League tournament final. Valparaiso had pulled within 68-67 on Matt Kenney's 3-pointer with 7 seconds left. After Green Bay's Alec Brown made a free throw, Broekhoff threw up a shot from the right wing while he was falling down...
Valparaiso got crazy clutch tonight, beating rival Green Bay on a last-second buzzer beater that will send the Crusaders to the Horizon League title game. Not only was the shot by Ryan Broekhoff sweet, but Valpo coach Bryce Drew had an AMAZING reaction. Take a look: I really hope Bryce Drew flopping around on the court will not get lost with all the attention on the shot. — Matthew...
In what Guyism is calling "arguably the dirtiest of the college basketball season", Bobby Capobianco of Valparaiso fouled Detroit Mercy's high flying Doug Anderson. Sure, this foul was hard and probably could be considered 'flagrant'. Was it a cheap shot, worthy of a potential suspension? We think not. Valpo was down 50-32 at halftime and was in the midst of a furious...
Saturday night wasn't about personal accomplishments for Shawnta' Dyer and Antonita Slaughter. The Louisville duo was more focused on helping the eighth-ranked Cardinals achieve a complete game, a quest that not only ended with a 96-40 victory over Valparaiso but some individual satisfaction as well. Dyer had 12 points and 10 rebounds for her first double-double this season...
MORE STORIES >>
Valparaiso News

Delivered to your inbox

You'll also receive Yardbarker's daily Top 10, featuring the best sports stories from around the web. Customize your newsletter to get articles on your favorite sports and teams. And the best part? It's free!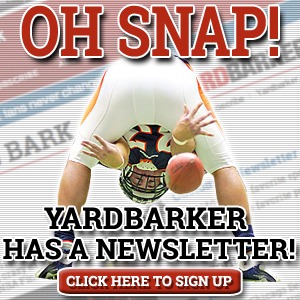 THE HOT 10: Who's Trending