Found January 02, 2013 on IT IS HIGH, IT IS FAR, IT IS caught:
Projecting the Yankees future is like gauging an earthquake under the ocean: You see a seismic wave, then a period of quiet - and then the white foam tsunami. Well, 2013 is the seismic jolt. We start with a breaker of aging stars: Jeter, Pettitte, Mariano, Ichiro, Kuroda - even Youkilis, CC and A-Rod. Then comes a dead zone - around August, when the wheels fall off this geriatric wagon, and the DL fills with Yankee stars. But by May or June of 2014 - with luck - the Yankees could be signaling the first wave of the next Yankee era, the three Austins.We enter 2013 with few young bodies ready to go. The key, of course, is Austin Number One: Romine, the catcher. He could solve our long term catching problems in one quick package - or if he fails, leave us desperate for a crushing trade. Maybe one of our lugnut pitchers - Adam Warren, etc., the kind that usually die on the vine - will step forward, a la David Phelps. But unless someone missiles through the system, forget it. The real Yan...
Original Story:
http://johnsterling.blogspot.com/2013...
THE BACKYARD
BEST OF MAXIM
RELATED ARTICLES
Let me start by declaring that I have been a HUGE fan of linebacker Ray Lewis since the Baltimore Ravens beat my New York Giants in the Super Bowl XXXV back in 2000. (you can read my 2012 ALDS story about my encounter with Ray here or my past post titled Rarefied Ray.) To give you more of an idea of the adoration I have for this man, after watching the Ravens torch my Giants...
Wow. He could become the Jackie Robinson of Breath-Right Nasal Strips.He'll break the nasal barrier. What courage! For so many years, no one stepped forward to don the strip. Damn, do we feel proud or what?Dear God, can't you do something? Can't you twitch your nose like Samantha in "Bewitched" and turn this guy into Moose Skowron? Breath Right Nasal Strips...
Actually, this isn't funny.  A failed marriage is nothing to snicker over... UNLESS THE GUY HIT .210 FOR YOU LAST YEAR.  Then you have the right to prattle.Andruw Jones is heading to Japan without...a) A wedding ring.b) A World Series ring.The Murdoch Post says Andruw and his wife are calling it quits. I'm sorry, but I'm still smarting over the Gammonitic crap I read...
The wife of former MLB All-Star Andruw Jones has filed for divorce about a week after she called police about an alleged domestic violence incident that occurred at their home. According to the Associated Press, Nicole Jones filed a divorce complaint in an Atlanta court Monday saying their 10-year marriage is "irretrievably broken." Nicole called police shortly after midnight...
LAWRENCEVILLE, Ga. -- The wife of former Atlanta Braves star Andruw Jones filed for divorce about a week after she accused him of grabbing her neck and saying he wanted to kill her, according to a court document. Nicole Jones said their 10-year marriage is "irretrievably broken," according to the divorce complaint filed in a suburban Atlanta court Monday. The filing does...
Relief pitcher Scott Proctor has signed a minor league contract with the San Francisco Giants in hopes of continuing his baseball career stateside. According to Proctor's agent the 36-year-old right hander has been invited to spring training. He last pitched at the major league level in 2011 with the Yankees. Proctor spent last year pitching in the Korean Baseball Organization...
The off-season is winding down. Pitchers and catchers report to camp next month. The season starts in a little less than three months. Are you excited, Yankee fans?With the $189 million payroll threshold just a year away, I have been wondering just how excited this team's fans will be as it approaches that very un-Yankee-like deadline. In the decades before the dynasty of the...
While baseball writers submit their ballots for next week's Hall Of Fame announcements, those of us who don't have a vote are relegated to reading the explanations of those writers as to why they voted or didn't vote for certain players.A few of those players (Mike Piazza, Time Raines, etc) spent some of their best years on New York City teams. While they may or may not...
The wife of former Atlanta Braves star Andruw Jones has filed for divorce about a week after she accused him of grabbing her neck and saying he wanted to kill her. A divorce complaint filed Monday by Nicole Jones in a suburban Atlanta court says their 10-year marriage is ''irretrievably broken.'' According to a Gwinnett County police report, the pair had a fight...
Now that the holidays are over, it is time to finish preparing for the 2013 MLB season. Yankees pitchers and catchers report on February 12th with full squad workouts beginning shortly thereafter. The World Baseball Classic begins March 2nd and the new season, featuring a much-discussed realignment, begins on April 1st.I will be writing about all of these topics and more starting...
Yes, it's true.  And, yes, the title of this post was specifically written to make you think it WASN'T about Scott Proctor signing with the San Francisco Giants...but, alas, it is.According to his agent, Mark Rodgers, the soon-to-be-36-year-old righty inked a deal to play for the World Champs late Monday night."For a veteran player like Scott, if he does what he is...
MLB News

Delivered to your inbox

You'll also receive Yardbarker's daily Top 10, featuring the best sports stories from around the web. Customize your newsletter to get articles on your favorite sports and teams. And the best part? It's free!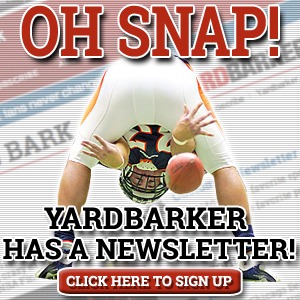 Latest Rumors
Best of Yardbarker

Today's Best Stuff

For Bloggers

Join the Yardbarker Network for more promotion, traffic, and money.

Company Info

Help

What is Yardbarker?

Yardbarker is the largest network of sports blogs and pro athlete blogs on the web. This site is the hub of the Yardbarker Network, where our editors and algorithms curate the best sports content from our network and beyond.