Found September 04, 2013 on ChadMoriyama.com:
Five Dodgers minor-league players were voted as All-Stars for their respective leagues, according to a poll conducted by Baseball America. The main prospects on the list were one of the system's top prospects in Joc Pederson and one of the system's up-and-coming prospects in Jacob Scavuzzo. —– In AAA, Nick Buss of the Albuquerque Isotopes made the outfield for the Pacific Coast League. He has posted a .303/.363/.525/.888 line, but at 26 is just trying to move up from organizational depth to a spot on the 40-man roster. In AA, Joc Pederson of the Chattanooga Lookouts made the outfield for the Southern League. One of the Dodgers best prospects, he has put up a .278/.381/.497/.878 line against advanced pitching at age 21. He'll probably move up to AAA next year, unless the Dodgers make his inevitable trade during the off-season. At A+, Scott Schebler of the Rancho Cucamonga Quakes made the outfield for the California League. A bit older for the league than most future regulars, Schebler has posted an impressive .296/.360/.581/.941 line. He's a solid prospect and certainly one to watch as he moves to AA. The disadvantage is that he doesn't necessarily have the time other prospects do in terms of repeating the league. At A, Geoff Brown of the Great Lakes Loons made the bullpen for the Midwest League. At 24, he's not much of a prospect, but he put up a 2.08 ERA in 78.0 inning pitched. At R, Jacob Scavuzzo of the Ogden Raptors made the outfield for the Pioneer League. Splitting time between right and center, Scavuzzo put up a monster line of .305/.352/.580/.932. And while he's not the second-most likely to make the MLB on this list, he probably is the second-best prospect on this list, as his name even came up back when Dustin Nosler talked with Logan White. At 6'4 and just 19, there's plenty of reason to be optimistic.
Original Story:
http://feedproxy.google.com/~r/ChadMo...
THE BACKYARD
BEST OF MAXIM
RELATED ARTICLES
Matt Kemp will continue his rehab in Arizona, participating in simulated games as he looks to get back the timing he had in the 11 games prior to injuring his ankle. Matt Kemp struggled mightily on his minor league rehab assignment in five games with Class-A Rancho Cuamonga, but now that the Quakes' regular season has ended Kemp will not stay in southern California. Kemp will continue...
I have no doubt that when Matt Kemp comes back healthy - and granted, that may not be until 2014 - he'll be a great offensive force and a plus on the bases once again. Until then, I'll continue to take advantage of others doubting him and the corresponding drop in prices on his cardboard. My latest addition is one I've been after for quite some time.From 2012 Topps this...
Los Angeles Dodgers left-hander Clayton Kershaw is being recognized for his work off the field. He's the winner of the 2013 Branch Rickey Award in recognition of his community work. Created by the Rotary Club of Denver in 1991, the Branch Rickey Award honors individuals in baseball who contribute to their communities and are strong role models for young people. At 25, Kershaw...
  Yasiel Puig is a bit of a diva. Heck, if you spent the majority of your life on a tiny communist island then to become a millionaire before the age of 25 you'd be one too. But with that said, what in the blue hell is a music video entrance? Players are known to pick music to step up to bat to, usually a five to ten second sample of a song to get them in the zone. Puig has taken...
'Like the beginning of Spring Training' is how Los Angeles Dodgers manager Don Mattingly described Matt Kemp's condition to MLB.com's Ken Gurnick yesterday. Kemp has played in less than half of the Dodgers' games this season after struggling with a litany of injuries, the latest being a left ankle sprain sustained in July. With Kemp now moving his rehab to the...
Los Angeles Dodgers outfielder Matt Kemp has struggled through his rehab assignment, as yesterday's 0-for-4 now makes him 0-for-14 with seven strikeouts during his stint in the minors. Still, manager Don Mattingly told reporters -- including Ken Gurnick of MLB.com -- that he feels Kemp's swing isn't far off. "[Hitting coach Mark McGwire] and I watched tape...
Los Angeles Dodgers infielder Nick Punto grabbed the hanger. He stuffed the shirts onto a nearby chair and moved the rest of the gear in the locker around. A few minutes later reliever J.P. Howell walked over and began to put his clothes up. Out popped Skip Schumaker who was crouched behind the uniform gear like a ninja. Howell's reaction left teammates howling. Perhaps the...
Yasiel Puig probably could have played last night in the Los Angeles Dodgers' win over the Colorado Rockies.  However, he is not quite 100 percent.  Rather than rush him back, the Dodgers gave him the night off and they will re-evaluate today.  With a comfortable lead in the division race, Los Angeles has the luxury of trying to get their players as healthy as possible. ...
(Photo credit: Gary A. Vasquez- USA TODAY Sports) The Los Angeles Dodgers will face the Cincinnati Reds this weekend in what marks the Dodgers' first matchup with a team in playoff contention since their three game set with the Boston Red Sox two weeks ago. After a bleak effort put forth against the Red Sox, where the Dodgers dropped two of the three games, they are looking to...
With the regular season ending for all affiliates aside from Ogden, Monday's games are included in this week's recap. Also of note is that the Dodgers have shut down Julio Urias, who hit his strict innings limit, even though Great Lakes made the playoffs. It's a smart move, of course. —– Triple-A Albuquerque Isotopes (5-3) Player Of The Week – 8/26 Brian Barden – 3B...
Jorge De La Rosa looked at his thumb and shook his head. It hurts. It has since June 17 when he violently spun a curveball in Toronto then had the bat ricochet off it while bunting. The pain has traveled with him through two countries eight states and 16 games. "It's bad. But I can work through it" said De La Rosa who wore a BMX-type motorcycle glove while hitting...
DENVER (AP) -- Edinson Volquez lost to the Colorado Rockies on Wednesday night for the fifth time this season. But in his first start for the Los Angeles Dodgers, Volquez saw progress in the 7-5 loss as he tried to implement some recommendations from new pitching coach Rick Honeycutt. "It's tough a little bit working with something new, but what I saw today was very good...
Dodgers News

Delivered to your inbox

You'll also receive Yardbarker's daily Top 10, featuring the best sports stories from around the web. Customize your newsletter to get articles on your favorite sports and teams. And the best part? It's free!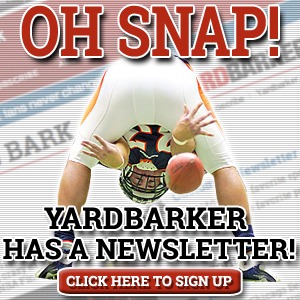 Latest Rumors
Best of Yardbarker

Today's Best Stuff

For Bloggers

Join the Yardbarker Network for more promotion, traffic, and money.

Company Info

Help

What is Yardbarker?

Yardbarker is the largest network of sports blogs and pro athlete blogs on the web. This site is the hub of the Yardbarker Network, where our editors and algorithms curate the best sports content from our network and beyond.