Posted January 09, 2013 on AP on Fox
Alex Rodriguez's surgeon says the New York Yankees third baseman probably will be ready to return to the field after the All-Star break. ''It would be great if he returns faster. Possible that it would take longer,'' Dr. Bryan Kelly of the Hospital for Special Surgery said Tuesday. Kelly is scheduled to operate Jan. 16 on the 37-year-old's left hip, which has a torn labrum, bone impingement and a cyst. The procedure is estimated to take two hours, ''Can I give you a percentage chance as to whether or not he's going to be closer to the 15-year-old or the 60-year old?'' Kelly said during a 40-minute conference call. ''The imaging studies show that he has some cartilage wear that makes me think that we will get him back to his pre-injury level of play, that it's not so extensive that it will ultimately impact his ability to play. But unfortunately our imaging doesn't give us all the information, and that is something that we're going to know at the time of surgery or after the time of surgery, during that investigative portion of the procedure.'' Kelly said the condition, known as femoral acetabular impingement, was caused by genes, not by steroids. Rodriguez admitted in 2009 that he used steroids while with the Texas Rangers from 2001-03. ''This is a developmental, genetic predisposition to a certain shape of the hip joint that occurs during the first 15 years of development,'' Kelly said. ''Steroids don't change the shape of your bones, of your hip joint. Kelly said the injury was responsible for Rodriguez's poor performance in September and October, when A-Rod was benched in three of nine postseason games and pinch hit for in three others. He batted .120 (3 for 25) with no RBIs in the playoffs, including 0 for 18 with 12 strikeouts against right-handed pitchers. Rodriguez is due $114 million over the next five years as part of his record $275 million, 10-year contract, so his health is a major concern for the Yankees. Describing the bone meeting the socket, Kelly said ''we're basically taking an egg-shaped femoral head and through the use of a camera, a motorized burr and Fluoroscopic imaging, we're reshaping the bone to a predetermined shape.'' Technology is a big part of the operation. ''We have the capacity now,'' he said, ''to take our preoperative imaging and put it in a computer program, which will tell us exactly what shape we need to make it in order to provide the effective range of motion that's required for his specific sports requirements, both with his fielding position and with his offensive position.'' A 14-time All-Star, Rodriguez had right hip surgery on March 9, 2009, and returned that May 8. Kelly said the left hip requires more recovery time because Rodriguez is a right-handed hitter and rotates it when he swings. Pete Draovitch, a certified athletic trainer and therapist who heads hip rehab at HSS, will work with Rodriguez and will design the programs, and Tony Ambler-Wright, who specializes in deep-tissue therapies and will work with A-Rod on a daily basis. After the operation, Rodriguez will need six-to-12 weeks for the tissue to heal down to the bone but will do some range-of-motion exercises. He will then start more aggressive physical therapy such as isometrics to strengthen the area that requires ''muscle reeducation.'' That will be followed by endurance and coordination exercises. ''It's like driving with a different set of wheels on your car,'' Kelly said.
Original Story:
http://msn.foxsports.com/mlb/story/al...
THE BACKYARD
BEST OF MAXIM
RELATED ARTICLES
The last time we saw Derek Jeter he was hobbling around with his dad sporting a protective boot at a Knicks game inside Madison Square Garden back in December. The Captain is no longer wearing the clunky fashion accessory on his surgically repaired left ankle and is "doing well," according to Brian Cashman, and remains right on schedule to play on Opening Day. Jeter...
Alex Rodriguez is scheduled for hip surgery on Jan. 16. The New York Yankees third baseman could be sidelined until the All-Star break because of the injury, which was disclosed by the team last month. A-Rod has been undergoing physical therapy in preparation for the operation by Dr. Bryan Kelly of the Hospital for Special Surgery. A 14-time All-Star and baseball's priciest...
The five-time Atlantic League Champion Somerset Patriots have hired Shane Spencer as their hitting coach and third base coach. For those who don't remember, Shane Spencer was in large part, responsible for one of the greatest playoff moments in the history of the game. In Game 3 of the 2001 American League Division series, Terrance Long hit a lined shot down the right field...
Derek Jeter has been working hard this offseason to come back from his fractured ankle.  The work is paying off as GM Brian Cashman says Jeter is right on schedule.  Jeter and the New York Yankees have said all along that the future Hall of Famer will be ready for opening day.  That still seems to be the case. Wallace Matthews of ESPN New York says Jeter has still not done...
New York Yankees third baseman Alex Rodriguez reportedly will undergo hip surgery Jan. 16. Yankees Dr. Bryan Kelly said the anticipated surgery will keep Rodriguez out until after the all-star break, according to MLB.com The surgery will repair a torn labrum in his left hip. The Yankees have said the recovery time is four to six months. Rodriguez struggled in the postseason...
Photo: Getty Images The New York Yankees have already brought in two right-handed hitting outfielders this off-season to fill the void left by Andruw Jones, and they are reportedly looking into bringing in a third. Earlier on Tuesday, ESPN's Andrew Marchand reported that the Yankees are interested in trying to acquire 1B/OF Michael Morse. With newly re-signed 1B Adam LaRoche in...
New York Yankees third basemen Alex Rodriguez had a woeful time at the plate during his team's playoff run. The 37-year old hit just .120 (3-for-25) with no runs batted in and 12 strikeouts during the playoffs, leading him to be pinch-hit for and eventually benched. According to Dr. Bryan Kelly, the doctor scheduled to perform the upcoming hip surgery on the Yankees star, he...
According to Anthony McCarron and the New York Daily News, the Yankees have checked in on left-handed hitting outfielder Grady Sizemore. However, the Yankees main priority is to add a righty outfield bat before the season starts. Cashman is perhaps looking for some insurance. Sizemore, 30, would likely come at a low price, thanks in part to his history of injuries, and would probably...
The title of the post says it all about this Kevin Youkilis New York Yankees player t-shirt. Follow Ian on Twitter @soxanddawgs. And be sure to like us on Facebook as well. photo credit: Mark Feinsand twitter
Kosuke Fukudome will return to Japan. The 35-year-old outfielder has signed a three-year contract with the Hanshin Tigeres of the Central League. Fukudome joined the Chicago Cubs in 2008 earning an All-Star selection but ended his five years in the majors with a .258/.359/.395 line.
Mariano Rivera, the New York Yankees closer, missed just about the entire 2012 season, but don't think that means people forgot about him.  The king of determination, stressful situations, and saves has been rehabbing his torn knee, but he still manages to inspire those who look up to him - including Alabama head coach Nick Saban. Prior to their championship matchup against...
After signing Adam LaRoche, the Washington Nationals have begun to shop outfielder Michael Morse. Reports today have been that five or six teams are interested, one of those teams being the New York Yankees. The New York Yankees have interest in trading for Washington Nationals outfielder/first baseman Michael Morse, sources tell ESPNNewYork.com. (Andrew Marchand – ESPN NY) If...
MLB News

Delivered to your inbox

You'll also receive Yardbarker's daily Top 10, featuring the best sports stories from around the web. Customize your newsletter to get articles on your favorite sports and teams. And the best part? It's free!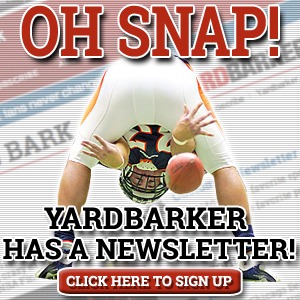 Latest Rumors
The Backyard

Today's Best Stuff

For Bloggers

Join the Yardbarker Network for more promotion, traffic, and money.

Company Info

Help

What is Yardbarker?

Yardbarker is the largest network of sports blogs and pro athlete blogs on the web. This site is the hub of the Yardbarker Network, where our editors and algorithms curate the best sports content from our network and beyond.