Found May 24, 2013 on ChadMoriyama.com:
For better or for worse, the Dodgers offense has basically followed Matt Kemp's lead since 2010. Following a breakout 2009 and the departure of Manny Ramirez, Kemp slumped miserably in 2010 and the team's offense followed suit. He then single-handedly buoyed a terrible lineup in 2011, and he was well on his way towards doing the same in 2012 before injuries struck. The pressure seemed to be off Kemp after the new ownership took over this past year, however, as they aggressively pursued trades and free agents to make sure the offense would no longer be a one-man show. Unfortunately, thus far in 2013, we're seeing that the offense may still live and die with Kemp. His struggles thus far in 2013 go back to the 2012 injuries, and while his hamstring caused him to miss time and sapped his running game, it was his shoulder injury that's still lingering and causing him issues today. It was, after all, a torn labrum worse than the medical staff anticipated, and after months of pretending that everything was all good, Kemp finally copped to struggling with his shoulder. I talked at length to Matt Kemp recently. He cannot fully extend his swing. Whether it's a mental or a physical issue, he doesn't know. He had two teammates experience the same thing after shoulder surgery, and they have told him time is the only answer. So that sounds bad. In reality, though, Kemp's problem are likely a mixture of physical and mental. I honestly don't believe he's injured, it's just that the shoulder is not 100% recovered (think Dwight Howard's back). I also believe the mental aspect is that he altered his swing last year to account for his shoulder weakness, and now we're seeing the residual effect of that in the form of him not being able to find his mechanics. Speaking of mechanics, towards the end of that 2010 season, I noticed a severe yet correctable mechanical flaw in Kemp's swing. Now I see correctable flaws again, and it's not exactly a new revelation. His swing change is something I've been monitoring for at least a month now, and others have mentioned it as well, but I've putting off doing analysis on it. However, given the public admission of the health of his shoulder yesterday, I figured now was as good a time as ever to take a look at the swing. —– Timing 2012 2013 - 2012 2013 All of these stills are taken from the frame prior to when his foot leaves the ground to initiate his timing device. It should immediately jump out at you that he's starting his approach much earlier now than he was before. It's as if he feels the need for his timing to be early because he doesn't trust his swing enough to get there in time. 2012 2013 These pictures are taken at footstrike when the heel touches the ground. Both of the pitches end up middle/away and he's swinging at them in the same appropriate manner. They are very similar at a glance, but there's one glaring difference, which is the lead shoulder (the surgically repaired one), desperately trying to escape towards the third-base dugout in the 2013 cap. Visually, I suppose it's possible to argue this, but look close enough and you can see there's a difference between squared up Kemp above and pulling with his lead shoulder Kemp below. If you can't see the shoulder pulling, look at the difference in his hips and the angle of the bat. —– Swing Path 2012 2013 2012 2013 This is going to be a bit harder to show visually. I think most can understand what I'm trying to communicate, but if it's confusing, please ask questions. Basically, what he's doing now is reaching at balls on the outer half and jamming himself on inside pitches. The catalyst of all this is him trying to clear his lead shoulder, because as he tries to do that, he loses his bat path and bat speed. 2012 2013 1) We just went over this, but in the before image, he's square and ready to explode. In the after image, he's already starting to drift away from the plate. Still, I show this again because how each piece of the swing connects is important. 2012 2013 2) The before picture has perfect connection. He's driving his right shoulder to the ball rather than letting his lead shoulder dictate the path of his hands. Contrast that with him in the after picture, where his swing is already getting loose (hands getting away from the body). To compensate for the lead shoulder pulling, he has to drop his back shoulder to cheat. Why? Because most of your bat speed comes for you core and lower half, so when he takes that out of the equation, the upper half needs to compensate for that loss. Having an upper body dominant swing is not a compliment because of swings like this. 2012 2013 3) You can't see it clearly here, but watch the difference in paths the bats take through the zone after this. Notice that the 2013 swing is ahead of the 2012 swing because of everything I've mentioned thus far. 2012 2013 4) Looks similar, right? Sure, except notice that in the before image, the ball is in contact with the sweetspot of the bat and he's in connection right down the barrel. Also note that his hands are still going through the hitting area. In the after image, he's in a similar position, albeit in a more open and upright posture, but the ball isn't even in the hitting zone yet and the bat path has already begun to cut across the zone. At this point, he's getting it off the end of the bat or nothing. Notice how his hands have already exited the zone and are beginning to fold and cut across his body. 2012 2013 5) Now the aftermath. The 2012 pitch is crushed, as the posture, balance, and connection is all there. Shoulders are on a plane towards his usual high finish. The 2013 pitch? Well, that looks odd, right? It's because that's the hands rolling over, which he had to do because that's all he had left. The only way he was getting to that ball after his hands got out in front of his body was to roll over hard with his hands and wrists. It results in a chopping grounder to the left side with a ton of top spin because the bat hits the top of the ball as it's turning over. You can see why Kemp's chances of hitting the ball hard with this swing are terrible. The power is gone a couple frames into the swing, and the bat head isn't traveling through the zone, but rather cutting through the zone because he has to flick at the pitch with his upper body only. Additionally, as a briefly mentioned, he carries his hands through the hitting zone ahead of his body, failing to let the ball travel and effectively making it so that he has no plate coverage. How is he to hit the ball hard on the fat part of the bat when he's already dead to rights before the ball even gets into the hitting zone. In all three of these plate appearances, the best outcome would a groundball single or maybe a bloop double over first base. Notice that propensity he now has for hitting groundballs to third and fouling pitches off his foot? They were things he rarely did when he was right in 2011/2012 because he wasn't casting his hands out to get around balls like he's doing now. —– Finish 2012 2013 In one, he's cutting across, which leads to a lower finish, in the other, he's finishing high. I mean, it used to be his trademark of sorts, right? Now you know the reason you rarely see it anymore. —– Options Trade Him No. 1) Even if you assume he sucks, his contract is too big for even the Dodgers to eat. 2) If you think he's decent but not worth it, selling now would be the dumbest timing ever, much like it would have been in 2010. 3) If you're like me and think he'll regain most of his form, then this is laughable. So I'll laugh. Bench/DL Kemp While I recognize this is a popular theory after reading that Kemp admitted to having shoulder difficulty, I don't think benching him or resting him or sending him out to rehab will help. 1) Benching him is silly. He's trying to fix stuff, and he needs the chance to repeat a correct swing, not sit on the bench imagining it. 2) Resting him wouldn't do much, IMO. His shoulder needs to get loose, it's not hurt like it was at the end of 2012. He's actively trying to get back to what he was last year, and resting him isn't going to do anything. Stunts the rehab process, if anything. 3) I've been giving this response since April, but if you put him on the DL and send him to rehab, how is he best served by trying to relearn a swing at AAA or AA? He's not a prospect, he has a track record, so he needs to be tested at the MLB level, not beat up AAA guys and then hope the swing changes that worked in AAA will work against significantly better competition. Also, for all the outfielders and outfield prospects the Dodgers have, none of the really play center. Remain Patient As with most things, this is the option that absolutely sucks as a fan, but is the most prudent and responsible way to approach things. The reason I'm not completely worried is because the lack of production right now is less about strength (he bombed that homer at Miller Park), and more about his current inability to make solid contact to begin with. Given his history of adjustments, I see no reason he can't eventually make this one, as even just keeping his front side closed would be a instant improvement. —– Kemp's swing does currently does have significant flaws, but I highly doubt it's anything permanent. This rings especially true since he made a similar adjustment a couple years ago, and I expect him and the Dodgers to eventually work through this as well. In all the disappointment about his 2013, people seem to forget that his ceiling is that of a league MVP, so he's going to get more rope than most because he deserves it. The Dodgers are going to need him to hit at some point in 2013 if they hope to make the playoffs and make a run, and letting him actively work things out in the MLB is the fastest way to get Matt Kemp back to being Matt Kemp.
Original Story:
http://feedproxy.google.com/~r/ChadMo...
THE BACKYARD
BEST OF MAXIM
RELATED ARTICLES
It may have been an accident, but Matt Kemp didn't do a whole lot to endear himself to home plate umpire Wally Bell on May 21.  Video: Matt Kemp rocks home plate umpire Wally Bell's face mask The post Matt Kemp rocks umpire Wally Bell's face mask with a foul appeared first on Players View.
Yesterday, Don Mattingly had what I call a "Wu-Tang moment", inspired by the "When Keeping It Real Goes Wrong" skit on Chappelle's Show. Humorous? Yes, but what it mean to me is that Mattingly basically dropped all the fronts and simply went in on the Dodgers players and front office in surprisingly pointed comments. "We're in last place in the National League West...
The Dodgers have a propensity for drafting players who are athletic and two-way guys. Darren Dreifort was one of the more notable ones, when the team made him the No. 2 draft pick in the 1993 MLB Draft. While most viewed him as a pitcher, the guy could hit. James Loney was viewed by many as a pitching prospect in 2002. The Dodgers made him a first baseman. Ethan Martin was...
Tweet Los Angeles Dodgers star Matt Kemp pledged to donate $1000 to the victims of the Oklahoma tornadoes for every home run he hit until the All-Star break following Monday night's Dodger game. An Oklahoma City native, Kemp has now scratched that idea and will donate a $250,000 straight up to the victims of the [...]
On this episode of "Dugout Blues," Jared Massey (Dodger Diamond) talk all about the Don Mattingly saga and whether he's as much to blame for the Dodgers' problems as the media is making it out to be. We talk a little MLB Draft and reveal our preliminary big boards. Safe to say, its chock full of prep pitchers. To close, well, we answer a myriad of listener...
When Don Mattingly said Wednesday that the Dodgers could not expect to win simply by putting together a collection of All-Stars, many interpreted the manager's remarks as criticism of the team's front office and ownership. Dodgers president Stan Kasten did not see it that way. "I know what Don is trying to do, what his intention is," Kasten told FOXSports.com...
When Topps recently issued a card of Dodgers rookie Hyun-Jin Ryu and couldn't tell the difference between Japan and Korea, I thought it would be interested to look at the issue of race and baseball cards. It turns out this is a legitimate area of scholarly research. Because baseball cards have one player with an easily identifiable race, and also have well-publicized...
Dodgers vs. Cardinals as the Dodgers pay tribute to Spanish language Broadcaster Jaime Jarrin with a Bobblehead. Ted Lilly on the mound for the Dodgers seeking his first win. This article has been read (0) times
LOS ANGELES (AP) -- Don Mattingly isn't in immediate danger of being fired as manager of the last-place Los Angeles Dodgers, with team president Stan Kasten saying none of the players are asking for his dismissal, either. "I do expect things to turn around. I expect Donnie to be here for a long time," Kasten said Friday before the Dodgers opened a three-game series...
LOS ANGELES (AP) Lance Lynn pitched two-hit ball over six innings, and David Freese and Allen Craig each homered and drove in three runs, helping the St. Louis Cardinals beat the Los Angeles Dodgers 7-0 on Friday night for their third win in a row. The last-place Dodgers' fifth loss in seven games came a few hours after team president Stan Kasten said manager Don Mattingly was...
It's not even June yet, but apparently it's not too early to begin speculating about Davey Johnson's successor. And so, with Don Mattingly on the hot seat in LA, CBS Sports' Danny Knobler did just that in a column on Thursday, speculating that if Mattingly gets fired, he could be on Mike Rizzo's radar as Davey's eventual replacement. Via CBSSports.com...
Host Brett Talley (@TheRealTAL) is joined by fellow Fix writer, Chris Garosi (@chrisgarosi). Chris and Brett discuss hot and slow starts both on the mound and at the dish. They touch on guys like Nate McLouth, Everth Cabrera, Matt Kemp, Yoenis Cespedes, Patrick Corbin, Clay Buchholz and many, many more. Give it a listen!  
MLB News

Delivered to your inbox

You'll also receive Yardbarker's daily Top 10, featuring the best sports stories from around the web. Customize your newsletter to get articles on your favorite sports and teams. And the best part? It's free!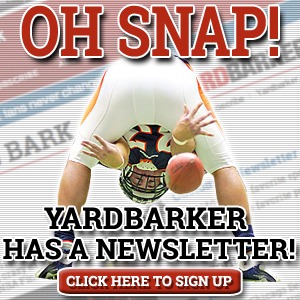 Latest Rumors
The Backyard

Today's Best Stuff

For Bloggers

Join the Yardbarker Network for more promotion, traffic, and money.

Company Info

Help

What is Yardbarker?

Yardbarker is the largest network of sports blogs and pro athlete blogs on the web. This site is the hub of the Yardbarker Network, where our editors and algorithms curate the best sports content from our network and beyond.