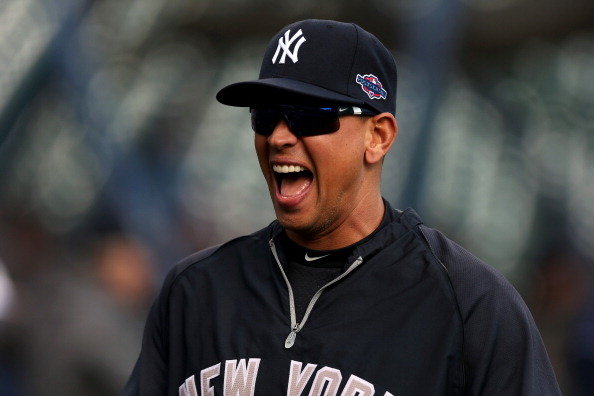 This story isn't going anywhere anytime soon, folks. ESPN's Outside the Lines is reporting that Anthony Bosch (director of the Biogenesis clinic in Miami) would personally inject Alex Rodriguez with performance enhancing drugs at Rodriguez's home in Miami on Biscayne Bay. The texts, the source said, usually came late at night, telling Anthony Bosch to come to the house. Bosch would then head to the waterfront mansion on Biscayne Bay, through the gate on North Bay Road, to inject performance-enhancing drugs into Alex Rodriguez. Procedures were different, though, sources told "Outside the Lines," for the other athletes who were customers of Bosch's Biogenesis of America clinic in Coral Gables, which Major League Baseball considers the center of a widespread doping operation in South Florida. Those athletes, sources said, relied on intermediaries to transport the performance-enhancing drug regimens Bosch provided. But for A-Rod, the service was always personal: "Only Tony handled A-Rod," one source told "Outside the Lines." The visits were every few weeks. One night last spring, a source said, Bosch told associates he had been kicked out of Rodriguez' home after he had trouble locating a vein and infuriated the player. The sources did not say why Bosch would have been tapping a vein, as HGH and testosterone do not require intravenous injections. But whatever he was doing, "Tony said A-Rod was pissed at him," a source said. "He said he was bleeding everywhere." Several sources, speaking on the condition of anonymity, said Bosch spoke openly about his relationship with the Yankee All-Star, and two sources said that documents they reviewed detailed the drug regimens and schedules Rodriguez received. A spokesperson for Rodriguez on Friday said, "the allegations are not true." Obviously, this story isn't good news for Rodriguez at all. Bosch denied all of the claims that ESPN made towards him, and said that he wouldn't be talking specifics any time soon. Gee, that looks great for all parties involved. The ESPN investigation also revealed that a man named Juan Carlos Nunez visited the Biogenesis offices often. If that name sounds familiar, it's because Nunez is the man who created the fake website last summer in an attempt to absolve Cabrera for his PED suspension. Of course, Cabrera was one of the names mentioned in the Miami New-Times report about Biogenesis, tying everything together a little bit more. It's also worth noting that three of the players in the investigation, Cabrera, Gio Gonzalez, and Nelson Cruz, are all represented by the ACES agency run by the Levinson brothers, which Nunez was a consultant for. This whole situation has somehow managed to get uglier. If you would have told me on Tuesday when this story broke that it would somehow get even more out of hand, I don't think I would have believed you. Well...here we are. [ESPN] [follow]
MORE FROM YARDBARKER:
Is Madison Bumgarner a bully?
MORE FROM YARDBARKER
MLB News

Delivered to your inbox

You'll also receive Yardbarker's daily Top 10, featuring the best sports stories from around the web. Customize your newsletter to get articles on your favorite sports and teams. And the best part? It's free!