Found April 16, 2012 on Midwest Sports Fans:
As you may have known, the Chicago Cubs hired Theo Epstein as their President of Baseball Operations, or Savior for short. Many have lauded the move by Cubs owner Tom Ricketts and president Crane Kenney to bring Theo to Chicago to rebuild the Cubs. However, I recently came across some shocking evidence that shatters the generally accepted "fact" that Rickets and Kenney were responsible for Theo coming to Chicago. The real credit should go to Eddie Vedder. That's right. Eddie Vedder, the lead singer of Pearl Jam, was the real reason Theo came to Chicago. Vedder is well known to be a lifelong Cubs fan. He wrote a song for the team, sang the 7th inning stretch, and suffered a whole inning with Len and Bob in the press box, so it's not completely absurd to think the Cubs organization would hire Vedder to covertly recruit Theo. Why else would Vedder betray the Cubbie blue to wear that awful Red Sox red? I decided I needed to investigate this issue further, and what I found made me realize Pearl Jam, not just Vedder, was in on the recruitment as well. (Song in video is "World Wide Suicide.")  It seems, even as early as 2006, the plan to recruit Theo was well in progress. Instead of sending young recruits to impress Theo, the Cubs organization sent the six (yes, Boom Gaspar was there too) American rockers from Seattle to show what the Cubs had to offer. Could this have meant that the Cubs were thinking of signing the members of Pearl Jam to the team at the same time too? It's possible given the skills we see in the video, which are on par with most players on the Cubs. This is, indeed, a very surprising finding, but it's not out of character for the Cubs, who like to sign big names with little constraint and thought. With a 3-7 record , a holding of last place in the NL Central, and decreasing home game attendance, the Cubs may want to reconsider signing the American rockers.
Original Story:
http://www.midwestsportsfans.com/2012...
THE BACKYARD
BEST OF MAXIM
RELATED ARTICLES
Javier Baez hit for the cycle and drove-in all five Cub runs with a two-run triple and a three-run home run, but the Angels rallied for five runs in the middle-three innings to edge the Cubs 6-5, in Cactus League Extended Spring Training action this morning at Diablo Park Field #3 in Tempe, AZ. In addition to his big day at the plate, Baez also stole a base (3rd base following his...
The Cubs fall to 3-8 and only Peoria manages a win in the organization. @Marlins 5 - Cubs 2; It appears the Cubs have a script they can follow for the rest of the season, solid starting pitching effort, a pathetic offense, give up some outs on defense and the basepaths, and then watch the bullpen implode and lose the game. Dempster goes 6 innings with 8 K's against just 2 BB...
After 10 games, the 2012 Cubs are what we thought they were, a poor offensive team with moments of intriguing starting pitching. Here are some rather meaningless numbers I stumbled across... Cubs 2012 P/PA - 3.71 (Team Leader: I Stewart 4.19) Cubs 2011 P/PA - 3.74 (C. Pena 4.13) Cubs 2012 BB/PA - 0.79 (J. Baker 1.76) Cubs 2011 BB/PA - 0.71 (C. Pena 1.67) Cubs 2012 SB/CS - 8/11 for...
And I'm back from the high seas... @Cardinals 10 - Cubs 3; Maholm is gonna look like the goat in this game and he certainly didn't pitch particularly well, but he also wasn't helped out one tad bit by his manager or his defense. Sveum puts out the B-squad against the right-hander Jake Westbrook including Jeff Baker, Joe Mather, Reed Johnson and Blake DeWitt with the...
Dong-Yub Kim blasted a grand slam to cap at five-run 8th, as the Cubs outlasted the Angels 11-8 in Cactus League Extended Spring Training action this morning at Fitch Park Field #3 in Mesa, AZ   DY Kim was one of a half-dozen players signed by the Cubs out of South Korea during the years 2006-10, receiving a $550K bonus as an 18-year old in February 2009. Kim made his U. S. debut...
I'd give the stars of the night to two Peoria Chiefs, Ryan Cuneo and Michael Jensen. Iowa 3 - @Round Rock 2; No multi-hit games for Iowa, but Campana, Jackson, Castillo  and Cardenas reach base multiple times. Campana and Jackson's speed and the defensive miscues of Tommy Mendonca (3B) and Dusty Brown (C) lead to two runs without a hit for Iowa in the third. Sappelt added...
Jackie Robinson Day in Major League Baseball is mostly a day of celebration. All players wear jersey No. 42 in honor of the first player to break MLB's color barrier. Some guys do even more as a tribute. But inevitably, one issue that comes up each year is the declining number of African-American players in the game. Cubs outfielder Marlon Byrd, who comprises part of the 8% of...
I get that Dale Sveum was trying to be all high-roady (and I even admire that) having his Cubs watch the World Champion St. Louis Cardinals have their ring cememony. But for the Cubs it had to be pretty galling.I didn't have the tv on.Maybe they showed it, maybe the Cubs were all perfect gentlemen..And maybe this is what they were all actually thinking. 
MLB News

Delivered to your inbox

You'll also receive Yardbarker's daily Top 10, featuring the best sports stories from around the web. Customize your newsletter to get articles on your favorite sports and teams. And the best part? It's free!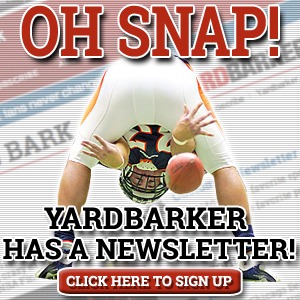 Latest Rumors
Best of Yardbarker

Today's Best Stuff

For Bloggers

Join the Yardbarker Network for more promotion, traffic, and money.

Company Info

Help

What is Yardbarker?

Yardbarker is the largest network of sports blogs and pro athlete blogs on the web. This site is the hub of the Yardbarker Network, where our editors and algorithms curate the best sports content from our network and beyond.