Feelin' Kinda Blue: Our own Dustin Nosler with his mid-season top 25 prospects. Emory Sports Marketing Analytics: Dodgers fans are tied for first in the MLB in terms of intensity and loyalty. —– Mike Scioscia's Tragic Illness: A point-by-point breakdown of the Puig criticism. Think Blue LA: Puig gives a fan with cerebral palsy his jersey. Yahoo! Sports: The story of one of Yasiel Puig's defection attempts brought to you by Jeff Passan. Great read. NotGraphs: Chronicling why Puig is such a terrible person. Look, I don't know Puig as a person, but there's certainly a different narrative that could be built about him if the media wanted to. One with actual physical evidence and not just supposition and assumption, but I already outlined why that didn't happen. Puig may yet prove to be a ****** person, that's absolutely a possibility. But as of right now, it's pointless to label him this or that based on whether he bat-flips or whatever else. That's the point. —– Baseball Musings: Puig's hot start and BABIP is unsustainable, but what are the chances that his entire skill set is a mirage? Not likely, according to Dave Pinto. Another way of looking for the lower bound is to ask, "What is the lowest BA that would put a 47 for 106 in a 95% confidence interval?" The answer is .347. That BA would produce a 95% confidence interval from 27 to 47. If you go to a 99% confidence interval, the lowest batting average that produces an upper bound of 47 is .320. One last data point comes from running Marcels on Puig's season so far. That predicts a .294 BA for him next year. So we have a lower limit of .275 based on Steamer and an upper limit of .347 based on a 95% confidence interval that would produce his hits so far. Splitting the difference puts him at .311. The Dodgers will gladly take that. Sounds good to me. FanGraphs: Jeff Sullivan shows the adjustments that the league is making to Puig. FanGraphs: While being successful without a respectable walk rate is possible, it just isn't likely, and that matters to Puig. —– Baseball Prospectus: Figuring out the makeup aspect of a ballplayer is one of the last frontiers of analysis, but this article might be the groundwork. Crunchology: I was sent this link and I actually found it interesting. It's about athlete performance and whether it increases or decreases while dating celebrity girlfriends. As you know, the common refrain (Matt Kemp/Rihanna) is that celebrity girlfriends/wives torpedo the production of athletes, but that doesn't appear to be the case. Seems like the public just has selection bias. —– ESPN: Pitchers who changed the way we look at pitch counts. Notice the consistent overexertion? It's not just one start of 130 pitches or one start on short rest that's going to kill an arm. IBWAA: We voted on mid-season awards.
Original Story:
http://feedproxy.google.com/~r/ChadMo...
MORE FROM YARDBARKER
MLB News

Delivered to your inbox

You'll also receive Yardbarker's daily Top 10, featuring the best sports stories from around the web. Customize your newsletter to get articles on your favorite sports and teams. And the best part? It's free!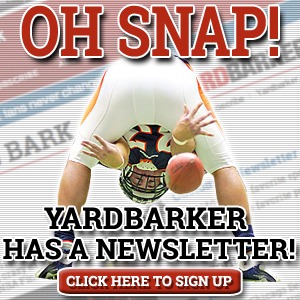 Latest Rumors
Best of Yardbarker

Today's Best Stuff

For Bloggers

Join the Yardbarker Network for more promotion, traffic, and money.

Company Info

Help

What is Yardbarker?

Yardbarker is the largest network of sports blogs and pro athlete blogs on the web. This site is the hub of the Yardbarker Network, where our editors and algorithms curate the best sports content from our network and beyond.