Found November 19, 2012 on IT IS HIGH, IT IS FAR, IT IS caught:
Today, I again woke up to find David Phelps our fifth starter and Chris Dickerson patrolling right field. And - get this - I was relieved. That's because waiting for Brian Cashman's inevitable bad trade is like sitting on death row, waiting for the padre to walk down the corridor.Despite the hype - which is always solid - we have a relatively barren minor league system. That means we will have to bundle prospects - thinking Mason Williams and Slade Heathcott - to deal for anyone of substance. Thus, every morning I expect another Austin Jackson giveaway, where we take some slugger two years beyond peak foliage, or the next arm about to fall off from 220-plus innings. (Think King Felix in 2015.)Listen:  Cash does a great job of picking usable parts off the scrap heap. But our problems cannot be solved by the next Brian Bruney. The Steinbrothers have changed their Prime Directive from "Win World Series" to "Cut Payroll to $189 M."  That means trades. And par...
Original Story:
http://johnsterling.blogspot.com/2012...
THE BACKYARD
BEST OF MAXIM
RELATED ARTICLES
Will Manny Banuelos be added to the 40-man roster in time to be protected from the Rule V draft? (Photo Credit: MiLB.com) With tomorrow being the deadline for the Yankees to protect some of their players from the annual Rule V draft. If not added to the 40-man roster, each of the players below will be able to be drafted just a couple of weeks from now. There is currently seven open...
The New York Yankees have expressed interest in re-signing postseason hero Raul Ibanez this winter, and the veteran has indicated that his top choice would be returning to the Bronx, reports Ken Davidoff of The New York Post. Ibanez hopes the fun will continue. The 40-year-old, a free agent, said he intends to keep playing and his first choice is to re-sign with the...
From Jayson Stark:If free-agent right-hander Hiroki Kuroda pitches in the United States next season, it apparently will be for the New York Yankees. The Yankees are now "very confident" they're going to sign the 37-year-old Kuroda, and believe he will either pitch for them or return to Japan, say agents and clubs that have spoken with them. Meanwhile, other teams...
The Yankees continue to be quiet this off-season, generating very little even in the way of rumors, which means I have a break of sorts from posting regularly to this blog.I am still writing, however, and I recently contributed a piece to the November issue of Big Leagues Monthly. In "In Defense Of Alex Rodriguez"  I present a history of A-Rod, going back to the 2006 season...
Mariano Rivera has retuned to the mound to market a special edition of the New York Yankees Fragrance. The Bronx Bombers released official fragrances back in February, a first for a professional sports team. Rivera serves as a brand ambassador for the team scent, together with center fielder, Curtis Granderson. As part of their pitchman duties, the teammates visited Macy's...
Yankee closer extraordinaire Mariano Rivera is progressing in his rehab from a knee injury to the point where he has begun a throwing program. What better way to highlight that progress than by hawking the (presumably garbage-smelling) cologne that the team is putting out? Your browser does not support iframes. "Cool, man." [MLB]
If someone told me that the New York Yankees first move of this off-season would be the signing of OF journeyman Scott Hairston, I would laugh.  Scott Hairston (Photo credit: Wikipedia) Well, according to multiple sources (NY POST; SB NATION; BRONX BASEBALL DAILY) on the World Wide Web that might just be the case. And not because inking Hairston is a joke but you grab him as bench...
Photo: Philliedelphia/ Frank Klose When it did not work for the Phillies and then the Blue Jays, who thought it would work this time?  The New York Yankees attempted to outright right-handed reliever David Herndon to AAA.  For the first time of the three attempts, Herndon cleared waivers.   Yes, every team passed on claiming Herndon.   This time, however, Herndon exercised...
After rumors that Hiroki Kuroda may prefer to return to Southern California, the Yankees are very confident that they will sign the veteran if he pitches in America in 2013, according to Jayson Stark. There is still a chance that Kuroda could return to his native Japan to finish out his career, but the non-Yankee [...]
When Major League Baseball teams look for their next dominant shut-down closer, they look far and long for the next shut-down dominant closer. They often come from other teams, or converted set-up relievers or the minor leagues. Sometimes, they will try out former starters and turn them into closer, with that producing a mixed bag of results. But this offseason, at least a half dozen...
News Corporation said Tuesday it was acquiring a 49 percent stake in the Yes Network, the New York Yankees' regional cable sports channel. Yankee Global Enterprises, Goldman Sachs and other investors will reduce their ownership as part of the transaction. ''The Steinbrenner family expects to have a continuing, long-term ownership stake in the Yes Network and we will...
As many FanGraphs readers know, David Cone is more than a former All-Star pitcher and current color commentator for the New York Yankees. He is also a stat-head. The borderline Hall of Famer — he ranks 50th all-time in pitcher WAR — has shown a willingness to introduce sabermetric concepts to the listening audience. Cone talked about his appreciation for advanced metrics, and...
MLB News

Delivered to your inbox

You'll also receive Yardbarker's daily Top 10, featuring the best sports stories from around the web. Customize your newsletter to get articles on your favorite sports and teams. And the best part? It's free!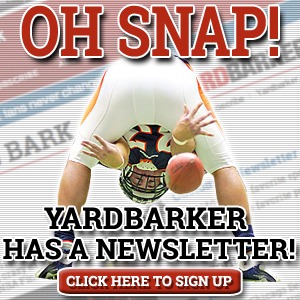 Latest Rumors
Best of Yardbarker

Today's Best Stuff

For Bloggers

Join the Yardbarker Network for more promotion, traffic, and money.

Company Info

Help

What is Yardbarker?

Yardbarker is the largest network of sports blogs and pro athlete blogs on the web. This site is the hub of the Yardbarker Network, where our editors and algorithms curate the best sports content from our network and beyond.