Found August 27, 2012 on dodgerfan.net:
PLAYERS:
Vin Scully
,
Adrian Gonzalez
,
Carl Crawford
,
Josh Beckett
,
Nick Punto
,
James Loney
,
Allen Webster
,
Ken Rosenthal
,
Hanley Ramirez
,
Andre Ethier
,
Ivan De Jesus
TEAMS:
Los Angeles Dodgers
,
Boston Red Sox
Wow, what a weekend to be a Dodgers fan, huh?  And what a weekend I chose to be up in my family's remote cabin, away from most technology.  But I couldn't resist logging in and sharing a few thoughts on this weekend's developments. First up, like all Dodger fans, I'm beyond thrilled that Vin is returning for his 63rd season.  It's a remarkable accomplishment, and something that was in doubt inspired by the recent momentum by the new ownership group. From the official press release:  "The new ownership of the Dodgers has revitalized the city, the team, the fans and myself," Scully said. "I am so convinced of their great purpose and leadership that I eagerly look forward to joining them in pursuit of the next Dodgers championship." Regardless of the success of the Dodgers, it's comforting to know that we'll be treated to at least one more amazing season of listening to the greatest there ever was.  Scully will continue his current schedule, calling all home games at Dodger Stadium, as well as road games in California and Arizona. And now to the other big news item from the weekend: the Dodgers staggering acquisition of Adrian Gonzalez, Carl Crawford, Josh Beckett and Nick Punto for James Loney, minor league pitcher Allen Webster, infielder Ivan De Jesus and two players to be named later (reportedly including highly-touted prospect Rubby de la Rosa. "We continue to do everything in our power to strengthen our team for the stretch drive in an effort to reach the postseason," said Colletti . "This trade today exemplifies ownership's commitment to making the team as good as possible not only for 2012 but for many seasons to come." All you can really say is wow.  It's a remarkable haul of talent for the Dodgers, while also allowing them to shore up their greatest weakness (power at first base) with a SoCal resident and four-time All Star in Adrian Gonzalez.  Of course, the Dodgers are also hoping a change in scenery will revitalize the disappointing Josh Beckett and also provide a suitable home for Carl Crawford next season once he recovers from Tommy John surgery.  We also picked up the versatile IF/OF Nick Punto who can fill the Jerry Hairston, Jr. role now that he's out for the season due to surgery. But the cost is also very high, and I'm not talking about the $262.5 million involved.  The real prizes for the Red Sox are pitchers Allen Webster and Rubby de la Rosa.  While there are highly touted, they are also prospects so are no sure things.  But as Jon Weisman at Dodger Thoughts points out, it makes me shift uncomfortably in my chair a bit to think about de la Rosa in Fenway Park for the foreseeable future. Ken Rosenthal at Fox Sports has a thought-provoking look at the trade and the Dodgers' rationale for making it, in particular the lack of free agent talent at 1B and 3B in the upcoming offseason, and the impact on ticket sales that the Mexican-American Adrian Gonzalez can uniquely provide. This was a rare "win win" trade for both teams, and will no doubt create an ongoing debate for years to come.  But really, as LA fans, you've got to be inspired by this ownership group's commitment to trying to win now, as well as in the future.  After all, how can a middle of the order lineup featuring Kemp, Gonzalez, Hanley Ramirez and Andre Ethier not inspire you?  We gave up a ton for Gonzalez and the rest, but I'd much rather the Dodgers make this move than none at all. You've got to gamble to win, and Mark Walter has proven he's willing to roll the dice with the best of them. Photo Credit: Jon SooHoo / LA Dodgers 2012
Original Story:
http://dodgerfan.net/blockbuster-gonz...
THE BACKYARD
BEST OF MAXIM
RELATED ARTICLES
Josh Beckett's time in Boston could be summer up in one word, really: enigmatic. The three-time All-Star came over from the Florida Marlins in 2005 in a deal that saw prized prospect Hanley Ramirez head down south in return. Beckett entered his career in Boston with a World Series title already in his belt and the expectations of a Cy Young award winner. A roller coaster ride...
POTTY MOUTH
You've probably heard by now that Vin Scully is going to return next year for his 64th year in the LA Dodgers broadcasting booth. KTLA's Weekend Sports Final anchor Rebecca Hall was so excited, she... Full story at Bob's Blitz ~ http://www.bobsblitz.com
We reported yesterday that the Dodgers made it official that 84-year-old Vin Scully will return as the broadcasting voice of the team in 2013 for his 64th season, and we are proud to say we did so without cursing. However, KTLA anchorwoman Rebecca Hall was unfortunately unable to contain her excitement and unleashed a curse word on live TV. Rebecca was in the midst of running through...
The trade that sent Adrian Gonzalez, Carl Crawford, Josh Beckett and Nick Punto to the Los Angeles Dodgers was surely a shock to Red Sox Nation. Now, just imagine if you were a member of that clubhouse and counted the foursome among your teammated over the last six months. That clubhouse was still trying to sift through and make sense of the trade by the time it was announced, and...
LOS ANGELES (AP) -- Vin Scully is sticking around another season to broadcast Los Angeles Dodgers games. The 84-year-old Hall of Fame broadcaster will return for a record 64th season in 2013. Scully will call all Dodgers home and road games in California and Arizona. Scully said Sunday that the team's new ownership has "revitalized the city, the team, the fans and myself...
Ben Cherington's work week never ends. That much is already obvious, but the Red Sox' monster weekend deal served as a reminder. In a franchise-altering, history-making trade, the Sox sent Adrian Gonzalez, Josh Beckett, Carl Crawford and Nick Punto to the Dodgers, which alleviates Boston of more than $250 million in player salaries. Cherington started off his Monday morning...
One of the major questions as Adrian Gonzalez and Carl Crawford headed out of town was why they weren't a good fit for the Red Sox. Former Red Sox great Jim Rice and general manager Ben Cherington gave their thoughts Sunday afternoon, a day after the trade went down. They talked about what it takes to play in Boston, with Cherington saying it's often "a lot easier to...
When Ben Cherington ascended to the position of GM of the Red Sox, he made sure to call attention to his own deliberate style, noting that he tends to gather as much information as possible and not rush into decisions. I'll admit, I've had my moments where I felt that this quality of my NH homeboy would work against him when it came to being able to pull off big deals. With his...
Over the weekend, the Red Sox and the Dodgers completed the most expensive trade in baseball history as the Red Sox shipped Adrian Gonzalez, Carl Crawford, Josh Beckett, and Nick Punto's approximate $287M of future contracts to the Dodgers for 4 prospects and James Loney. The Red Sox are responsible for only $11M of that $287M (roughly 3.8% of the total) commitment.  In return...
Jeff Francis and three relievers combined on a four-hitter as the Colorado Rockies beat Los Angeles 10-0 Monday night to spoil the Dodgers debut of Josh Beckett.
MLB News

Delivered to your inbox

You'll also receive Yardbarker's daily Top 10, featuring the best sports stories from around the web. Customize your newsletter to get articles on your favorite sports and teams. And the best part? It's free!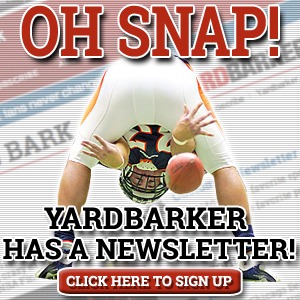 Latest Rumors
Best of Yardbarker

Today's Best Stuff

For Bloggers

Join the Yardbarker Network for more promotion, traffic, and money.

Company Info

Help

What is Yardbarker?

Yardbarker is the largest network of sports blogs and pro athlete blogs on the web. This site is the hub of the Yardbarker Network, where our editors and algorithms curate the best sports content from our network and beyond.