Found December 27, 2012 on Phillies Nation:
Bill Baer of Crashburn Alley wrote today of the Phillies optimum use of Domonic Brown: either give him 600 PA or trade him before he either loses his trade value or he becomes too expensive through the arbitration process. Brown, who has only 492 MLB PA, less than a full year's worth, is entering his age 25 season with what appears to be the inside track on the starting right field job but is now suddenly surrounded by whispers of a double-platoon. In Baer's piece, he illustrates that Brown's small Major League samples are about as statistically insignificant is you can get. For fun, and because his PA sample didn't require me to do too much crazy math to find players with similar PAs, I looked at other players who were not initially shown a vote of confidence by Phillies management and Kevin Stocker, a pseudo-emergency call-up in 1993. The graph above isn't meant to indicate that Brown is or can be as good as Mike Schmidt, Chase Utley, or, heck, even Stocker. But it does help...
Original Story:
http://philliesnation.com/archives/20...
THE BACKYARD
BEST OF MAXIM
RELATED ARTICLES
The final roster spot for the Philadelphia Phillies could affect Darin Ruf personally. Will this be decided even before day 1 of training camp?   TAL'S HANDY CAPS WELCOME, NEWCOMERS: My articles are designed to represent a baseball man's thinking, the view from the dugout and the GM's box. Most fans do not consider the budget, prospects on the radar, the stick-glove-or-power...
The Phillies filled their centerfield void by acquiring Ben Revere, bolstered the bullpen with Mike Adams and shored up the rotation with the cost-effective and underrated John Lannan. While these moves likely represent the bulk of their offseason activity, the Phillies have been linked to a wide array of corner outfielders given the obvious uncertainties in those posts. They...
Chase Utley is a fan favorite in Philadelphia. What Phillies fan doesn't love him? He is gritty, plays the game hard, and has come up huge in the clutch throughout his career. At 34 though, he is no longer the middle of the lineup threat that he once was and the Phillies need alter their plans and find a new hitter for the number 3 spot for 2013. Utley's production has seen a...
A lot of the Phillies' offseason discussion has boiled down to one question: how does Player X compare to Player Y, whom he is replacing? It is a valid and particularly useful tool when projecting wins and predicting improvement for a club. The Phillies have a particularly strong cannon of historically popular players that most of the city's fans rally around. This cannon definitively...
When Philadelphia Phillies general manager Ruben Amaro Jr. suggested a few weeks ago that he would be comfortable going with a "double platoon" situation in both corner outfield spots, there were a few people who snickered and thought it was a bluff. But with Nick Swisher and Cody Ross now off the board as free agents and the trade market appearing to dry up, Amaro may...
Finalmente con mi Padre! twitter.com/JuanUrbina51/s… — Juan Urbina (@JuanUrbina51) December 23, 2012 Remember this face? He was most recently seen in a Venezuelan court room and before that pitching for the Philadelphia Phillies in 2005. After the season, Urbina was involved in an incident that led to him being charged...
I had no idea he might qualify. According to Gerry Fraley of the Dallas News, new Phillies third baseman Michael Young may play for Team Mexico in the World Baseball Classic. Mexico lists Young among the candidates for its team. Young qualifies because his mother is of Mexican descent. Young...
The Phillies made something of an effort to sign B.J. Upton and pushed hard for Angel Pagan before trading Vance Worley and Trevor May to the Twins for Ben Revere. The move gave them a young, cost-controlled centerfielder who plays excellent defense and offers top-notch baserunning. He probably isn't a finished product yet either, which lends credence to the belief that he...
The Tampa Bay Rays were in town on June 23 for an interleague series with the Phillies.  The ending to the game would go down as the arguably the most memorable finish to a Phillies game in 2012. The Phillies had a comfortable 6-4 lead heading into the top of the ninth inning.  With Jonathan Papelbon on the mound, there was plenty of confidence that the Phillies would get the victory...
Left-handed pitcher Austin Wright has been a fast rising performer since he was selected by the Phillies in the 8th round of the 2011 draft, out of the University of Mississippi. In his first season of pro ball that year, the 6-foot-4 235-pounder tallied a 4-3 record with a 3.03 ERA and an 11.2 K/9 mark combined with short-season A level Williamsport and Class A Lakewood. In 2012...
Baseball players love to play pranks on each other, but this prank set up by Brett Myers on Kyle Kendrick kind of goes over the edge.  Charlie Manuel and Ruben Amaro Jr. are in on the prank as Kendrick is told that he's been traded to a Japanese baseball team.  
Relaford was a top prospect with the Mariners. He was replaced by an even higher regarded prospect in Rollins. We continue our series of exploring the careers of the guys who were replaced by our favorites by taking a look at Desi Relaford, who was replaced by Jimmy Rollins. The Hero Sitting fourth all-time in franchise history in hits (only 210 behind first place Mike Schmidt...
Phillies News

Delivered to your inbox

You'll also receive Yardbarker's daily Top 10, featuring the best sports stories from around the web. Customize your newsletter to get articles on your favorite sports and teams. And the best part? It's free!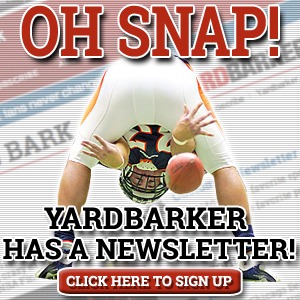 Latest Rumors
Best of Yardbarker

Today's Best Stuff

For Bloggers

Join the Yardbarker Network for more promotion, traffic, and money.

Company Info

Help

What is Yardbarker?

Yardbarker is the largest network of sports blogs and pro athlete blogs on the web. This site is the hub of the Yardbarker Network, where our editors and algorithms curate the best sports content from our network and beyond.