Found January 25, 2013 on Nationals Enquirer:
So Bryce Harper and his girlfriend Kayla Varner were at the UNLV basketball game last night, and some students brought a giant Bryce Harper head. Thankfully, Harper and Varner posed with the big head, and posted to their respective Twitter accounts. Certainly not what Davey Johnson had in mind when he jokingly said of Bryce Harper at the BBWAA meeting in New York last Saturday "His head is too big already."   Photos via @Bharper3407 and @kayvarner. Befriend Nats Enquirer on Facebook. Follow on Twitter.
Original Story:
http://feedproxy.google.com/~r/typepa...
THE BACKYARD
BEST OF MAXIM
RELATED ARTICLES
Only a few people in history have been able to give a quote a life of its own. Bryce Harper is one of those people. In addition to being the rookie of the year, Harper has now tackled a new milestone. Friday night Harper's famous quote "That's a clown question, bro" appeared on Jeopardy as a category. CATEGORY: THAT'S A CLOWN QUESTION, BRO. CLUE: Tim Curry described this...
That impressive photo of Danny Espinosa's Beard posing with Danny Espinosa and his girlfriend @SarabethMosher at Ryan Zimmerman's wedding was discussed at length during Wednesday night's edition of Intentional Talk on MLB Network. And Kevin Millar pulled a Brent Musberger in the process, and revealed that Espinosa's girlfriend went as far to block him on Twitter earlier...
So what if it was below freezing all day in DC on Saturday? Up above, a photo of Bryce Harper standing in the cold on the corner of 7th and Mt. Vernon outside the Washington Convention Center after NatsFest. Jacket? No jacket. And yes, that's Jayson Werth and Danny Espinosa all snug and warm in their beards and winter coats in front of the kid to the left and right. This...
And so, after all the rumors, speculation, and passionate debate, the Nationals will name William Howard Taft as the next Racing President, as first reported by Dan Steinberg over at DC Sports Bog. Minutes later, the Nationals posted a follow on story, with additional details about "Bill", like,  he has his own Twitter account: @NatsBigChief27. There's Taft at a Washington...
NEW ADDITION
The Nationals have decided to make Williams Taft, the 27th president of the United States, the fifth member of their mascot race team.
The Washington Nationals' newest racing president may have to drop a few pounds to be competitive. The team said Saturday that William Howard Taft will join George Washington, Thomas Jefferson, Abraham Lincoln and Theodore Roosevelt this season for the fourth-inning race by 12-foot mascots. Taft was the portliest president at more than 300 pounds. He became the first president...
On Saturday, the Washington Nationals will officially introduce William Howard Taft, our country's 27th President, as the fifth member of their infamous Presidents' Race.He will join George Washington, Thomas Jefferson, Abraham Lincoln, and Theodore Roosevelt in the exclusive fleet-footed club.The Nationals considered many presidential options, but Taft made the most sense...
  Throughout the offseason, The Nats Blog will look back at every player's 2012 season to summarize and analyze his performance, and we'll look ahead to his possible role in 2013. We'll go from #1 Steve Lombardozzi all the way to #63 Henry Rodriguez until Spring Training. Enjoy. Owner of both the best beard and the highlighting moment of the Washington Nationals' breakout...
The 27th President of the United States of America, and the only President to also be a Supreme Court Justice, is on his way back to Washington, DC. The Washington Nationals have selected Taft to become the 5th president of the organization's mascot race. Unlike during his election in 1909, Taft was a long shot to grab the spot. The odds were 35-1 that he would be chosen to taken...
Danny Espinosa beard status: full, black, growing like a weed. [USAT Sports] Espinosa's beard and his GF were big hits on MLB Network. [Nats Enquirer] Also, Bryce Harper got a somewhat normal-looking haircut. [USAT Sports] Svrluga assesses the Caps' struggles after the first two games. [WaPo] Watch both of the Matt Hendricks fights from Tuesday night. [RMNB] Michael Jenkins,...
And so, with all the rumors and speculation swirling around who the 5th Racing President will be at Nationals Park this year, we're throwing our vote firmly behind Richard Nixon. Unfortunately, people who know stuff and are usually right are refusing to confirm or deny our pick for us. Guess we'll just have to wait for NatsFest: (Photoshop via the great @ambp77...
Nationals News

Delivered to your inbox

You'll also receive Yardbarker's daily Top 10, featuring the best sports stories from around the web. Customize your newsletter to get articles on your favorite sports and teams. And the best part? It's free!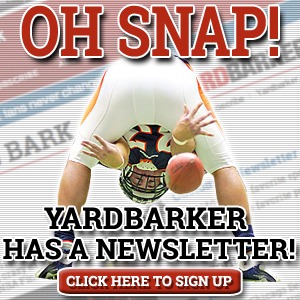 Latest Rumors
Best of Yardbarker

Today's Best Stuff

For Bloggers

Join the Yardbarker Network for more promotion, traffic, and money.

Company Info

Help

What is Yardbarker?

Yardbarker is the largest network of sports blogs and pro athlete blogs on the web. This site is the hub of the Yardbarker Network, where our editors and algorithms curate the best sports content from our network and beyond.