Found May 12, 2012 on Philly Sports World:
Phillies Centerfielder Shane Victorino is in the final year of his contract with the Phillies. Could he be used as trade bait to help the team re-build? Photo by Renee Cendrowski.
Philadelphia Phillies GM Ruben Amaro Jr. told CSNPhilly's Jim Salisbury that he was unhappy with the way the Phillies have played so far this season. The comment didn't come as a huge shock considering the Phillies are in last place in the NL East and are 3 games under .500.
While there is plenty of baseball to be played still, the Phillies' performance does have to make you stop and think. What if they can't turn it around as they have in the past? What if this is the best the team has until Ryan Howard and Chase Utley come back? And is it even sensible to expect Utley and Howard to come back and help the team in some dramatic fashion?
I have said before that you really don't know what you're going to get out of Ryan Howard. A ruptured Achilles' tendon is something that can hamper an athlete long after they've found their way back onto the field. I believe that Ryan Howard will find his power stroke again. I'm just not sure it would be reasonable to expect him to do it this year.
Chase Utley can apparently hit, but is having major issues in the field. That is severely impacting his rehab and return. I hate to say it, but I think Chase's best days are probably behind him.
So the question remaining is what if this is it? Also in that same conversation with Salisbury, Amaro was asked what the team might do come the July trade deadline? Amaro scoffed and said if the team continues to play as they have, the Phillies may be sellers come deadline time.
Some people may not get the impact of that statement. If the Phillies feel that they are out of the race, they could begin to break this team up and start trading players for prospects, signaling a re-building period.
Players like Cole Hamels and Shane Victorino are in the final years of their contract, making them much more likely to be moved. And both players could provide a King's ransom in return.
In fact, Fox Sport's bow-tied wonder, Ken Rosenthal tweeted yesterday that teams have already been in contact with the Phillies about Cole Hamels and Shane Victorino. That doesn't mean a whole lot at this point, but if the Phillies don't start to right this ship as we get deeper into the season, it could mean a whole lot come July.
If the Phillies are sellers come deadline time on July 31st, it could signal the end of this golden age of Phillies' baseball.
Similar Posts:
Original Story:
http://phillysportsworld.com/could-th...
THE BACKYARD
BEST OF MAXIM
RELATED ARTICLES
Mayberry and Ruiz were a 1-2 punch on Friday. (AP)The Phillies opened up their series with the worst team in the National League and calmly dispatched them with a solid all-around showing, winning game one of the series, 7-3.WORLEY NOT BAD -The line: 6 innings, 6 hits, 3 runs (all earned), 2 walks, 9 strikeouts (93 pitches/58 strikes). Overall a very good outing.-His trouble spot...
PRESS THE PLAY BUTTON TO LISTEN! IT'S ONLY TEN MINUTES! The reign of T- Money continues and again I want to thank you for taking your precious time to listen to my thoughts. I have made the show more accessible to you by limiting the podcast to ten minutes or less. If you like what you hear the only thing I ask is for you to continue to spread the word to your friends...
Vance Worley of the Philadelphia Phillies is the youngster in the rotation. How do other young divisional studs match-up with him? The Apocalyptic Horsemen Stats are in my recent coverage linked below. TAL'S HANDY STATS   WELCOME, NEWCOMERS: I am alternating a game-day 2012 ERA For The NL East and a 2012 ERA For The MLB 5. See link section below. In each publication, the number...
Falling behind fast in the NL East, the Phillies were more than due for a team shake up which began on Thursday. Over the course of almost 3 days here is who is in and who is out: COMING IN FROM LEHIGH VALLEY: LHP Jake Diekman, 25 years old (no major league experience), LHP Raul Valdes, 34 years old (2 years in majors, 6 in minors), Third baseman Hector Luna, 32 years old (parts...
Cole Hamels has been a bring spot for the Phillies this season.Cole Hamels finished off the week with his fifth win in a row and leads the Phillies staff with those five wins.  Hamels is the third guy in a rotation behindRoy Halladay and Cliff Lee, but its the lefty thats been confusing hitters all season.Hamels recent domination has people talking; and calling.  Fox Sports'...
Carlos Ruiz went 3-for-3 with a homer and three RBIs and John Mayberry Jr. homered and drove in three runs to lead the Philadelphia Phillies to a 7-3 win over the San Diego Padres on Friday night. Vance Worley (3-2) allowed three runs on six hits, striking out nine, in six innings to help the Phillies snap a three-game losing streak. Placido Polanco had a pair of doubles for Philadelphia...
Before Friday's opening of a three-game series with the San Diego Padres, Phillies manager Charlie Manuel was asked what it would take for Carlos Ruiz to become an all-star. "If Chooch keeps hitting the way he is and catching the way he is, I think he stands a good chance of the all-star game," Manuel said. Good observation. In a season sapped by a struggling offense, Ruiz...
The Red Sox have acquired some outfield help in the form of Scott Podsednik. Podsednik has been acquired by the Red Sox from the Philadelphia Phillies in exchange for cash, according to the team. While it's unclear whether Podsednik will join the Red Sox or remain in the minor leagues, the speedster will help shore up an outfield looking for help while Jacoby Ellsbury and Carl...
The Philadelphia Phillies are currently occupying last place in the NL East. Yesterday General Manager, Ruben Amaro Jr. said they could become sellers at the July Trade Deadline (via Jim Salisbury of CSNPhilly.com). "July is so far ahead," Amaro said. "We just have to get on track. But if July comes and we're playing like this, we'll be sellers. How we play now will...
PHILADELPHIA -- Cole Hamels threw seven strong innings in his first start back from suspension, Jimmy Rollins ended a long homerless drought and the Philadelphia Phillies beat the San Diego Padres 3-2 on Sunday. Hamels (5-1) allowed one run and five hits, striking out five. The two-time All-Star left-hander was suspended five games by Major League Baseball after admitting he intentionally...
Hunter Pence is mired in a difficult slump for a Philadelphia Phillies club that hasn't won consecutive games in two weeks. Facing his former team may help get him - and the Phillies - back on track. Philadelphia seeks its fifth win in the last seven meetings with the Houston Astros when it hosts the opener of a two-game set Monday night. Pence was acquired in a trade from...
Why worry about next year when the Phillies are mired in last place at 16-19, six games behind Atlanta? Because of the core. You, know: The Ryan Howard, Chase Utley, Jimmy Rollins, Cole Hamels, core. We all knew that age would crack the core of the Phillies, but now money is rearing its ugly head. Cole Hamels is a gamer. Anybody who knows anything about baseball knows that the pitcher...
Phillies News

Delivered to your inbox

You'll also receive Yardbarker's daily Top 10, featuring the best sports stories from around the web. Customize your newsletter to get articles on your favorite sports and teams. And the best part? It's free!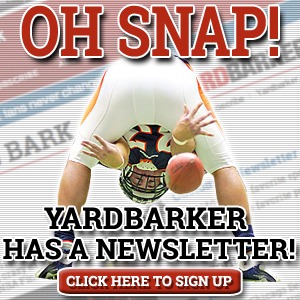 Latest Rumors
Best of Yardbarker

Today's Best Stuff

For Bloggers

Join the Yardbarker Network for more promotion, traffic, and money.

Company Info

Help

What is Yardbarker?

Yardbarker is the largest network of sports blogs and pro athlete blogs on the web. This site is the hub of the Yardbarker Network, where our editors and algorithms curate the best sports content from our network and beyond.