Found January 17, 2013 on World Series Dreaming:
The last time we did Mad Libs was kind of fun but way too involved.  That's probably because Rick Telander uses way too many words to say not very much at all.  Anyway, today we have a somewhat accurate yet snarky article from Tim Brown of Yahoo! Sports as he took a look at the Cubs in 2013.  Amazingly, the Cubs were not ranked lower than #21 out of the 30 MLB clubs.  We'll just take an excerpt from the article so you can go through without wasting as much time as in the previous edition of Cubs Mad Libs.  Still a work in progress, but I think we can definitely perfect this format. STOP! Do NOT go any further before you look at the list of words and fill in your own choices!  It'll be funnier that way.  Ready?  Might want to get a pen/paper or your Notepad app ready… A character trait Noun (plural) Type of person (plural) Object Destructive verb Unit of measure Physics term Verb Annoying celebrity Math term Object (plural) Emotion Military weapon Adjective Negative adjective The worst character trait you can think of in the form of an adjective Historical event Type of vegetable (plural) Dessert food (plural) Verb ending in -ing Verb Occupation (plural) South American tourist spot Name of a Chicago suburb   Okay, that was fun.  Now you're done.  Let's fill in the blanks then:       (1) is out there somewhere, we assume. Too many (2) in the front office. Too many (3) in the system. Too much (4) to (5). Wind-whipped for more than a (6), the Cubs again seek the leeward side of the game. Remember those two NL Central titles from late last decade? All that (7)? Well, 97 wins became 83, which is when the Tribune Company (8), selling to Joe Ricketts and clan. Then 83 became 75, which became 71, which cost (9) his job, and became 61. We're more than a (10) into the Theo Epstein/Jed Hoyer era, which came with impressive (11), a good amount of (12) and a (13). The immediate return was, well, (14) and even a little (15). The Plan – we'll go uppercase here – so far has come at a cost of a season so (16) it ranks with the worst three or four in franchise history. Key fact here: The franchise has been around since (17). One day soon, perhaps, the Cubs will field a team that represents the (18) of The Plan, which, it should be noted, does come with some (19) from The Previous Plan(s).  Granted, that's a lot of (20). In the meantime, somebody has to (21) 2013.  Besides, the Cubs need (22) to help get them from (23) to (24), just as long as, you know, there's going to be a 'there' there. Ultimately, that is The Plan.
Original Story:
http://worldseriesdreaming.com/2013/0...
THE BACKYARD
BEST OF MAXIM
RELATED ARTICLES
Although the Chicago Cubs are coming off a 61-101 season, team president Theo Epstein sounded an optimistic tone in recent days as the team's push toward spring training heated up. "It's postseason or bust every year," Epstein said. "That's what our goal is." If teams and their executives, even realistic ones like Epstein, can't be optimistic...
 Jesse Rogers of ESPN-Chicago reports that Theo Epstein, Chicago Cubs GM, spoke optimistically about two of his projected starting pitchers for 2013, Matt Garza and Scott Baker. "Both guys should be ready to start the year," Epstein said Wednesday. Baker, 31, was acquired via free agency on November 13.  The righty starter has spent his entire career with...
Matt Garza and the Chicago Cubs have agreed to a $10.25 million, one-year contract that avoids salary arbitration. Creative Artists Agency, which represents the right-hander, announced the deal Thursday night on Twitter. Garza also posted on his account, ''Business side over! Hooray! Time to focus on what really matters 2013.'' Garza avoided arbitration a year ago...
There isn't much to be excited about in this Chicago Cubs pitching staff. There is depth sure, but there are only two or three true quality arms in the rotation. One of those arms is the breakout pitcher of 2012, Jeff Samardzija. After the laughter subsided following Samardzija's declaration that he wanted to be in the rotation, he went out and dazzled all of us in spring...
After years of being the golden boy and fan favorite who couldn't quite get there, Jeff Samardzija arrived as a starter in 2012. His record and ERA perhaps belittle the type of season he really had. His record of 9-13 with an ERA of 3.89 in 28 starts might not excite anyone. If you dig a little deeper, there was a lot of impressive stuff about his season considering it was his...
The 2013 Cubs Convention is this weekend, and you can check out the schedule and the list of invitees that unfortunately (to me, at least) does not include a certain former Cub.  For those of you who can't go, please follow the WSD Twitter (check the sidebar to follow) and our forum thread where most of the news will end up once stories and updates are ready.  There is also a...
Photo By Michael BaronFor the second time in less then a month were hearing that a Scott Hairston decision is imminent. Supposedly Hairston was choosing between the Mets and Yanks with a decision any day but when the Yanks lost interest he decided to wait the market out. Now reports are that Hairston is once again close, is this a ploy to see if he can get that two year 8M contract...
Ok, so it's "Cubs Convention Eve", and the bags are packed, batteries for the camera are charged, sharpies placed in a strategic place in my purse for easy grabbing for those unexpected run-in's with any of the 75+ current, former, and future players, not to mention the management, ownership, broadcasters, etc that will be easily accessible this weekend!  I kind of feel...
MLB News

Delivered to your inbox

You'll also receive Yardbarker's daily Top 10, featuring the best sports stories from around the web. Customize your newsletter to get articles on your favorite sports and teams. And the best part? It's free!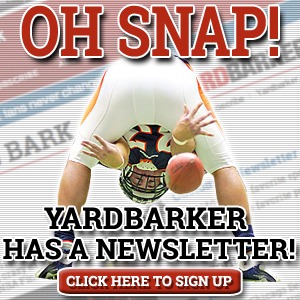 Latest Rumors
Best of Yardbarker

Today's Best Stuff

For Bloggers

Join the Yardbarker Network for more promotion, traffic, and money.

Company Info

Help

What is Yardbarker?

Yardbarker is the largest network of sports blogs and pro athlete blogs on the web. This site is the hub of the Yardbarker Network, where our editors and algorithms curate the best sports content from our network and beyond.