Found April 07, 2012 on Cub Reporter:
I'd probably go Eric Jokish and Arismendy Alcanatra as your pitching and hitting stars of the day, both for Hi-A Daytona.   Round Rock 4 - @Iowa 3; Coleman gives up 4 earned runs over 5 innings, but does strikeout 5 without giving up a walk. Rizzo with a two singles and an error. W. Castillo and B. Jackson have the only 2 extra-base hits on the night for Iowa. Campana gets caught stealing but does get an outfield assist. Tennessee 1 - @Chattanooga 0; Burgess goes yard with a solo shot and ends with two hits on the night, Watkins with the only other multi-hit game. Catcher Juan Apodeca walks twice. Combined shutout by McNutt (3.2 IP), Antigua (2.1 IP), A. Cabrera (2 IP) and F. Batista (1 IP whom also got his second save). @Daytona 6 - Brevard County 2; Rubi Silva and Arismendy Alcanatra both with three hits, Alcanatra though hit a 3-run HR and had 4 RBI's total on the night. Silva did have two doubles. Jokisch goes 6 innings, giving up 2 ER, 4 H, 1 BB and 5 K. Tony Zych goes...
Original Story:
http://feedproxy.google.com/~r/TCRfee...
THE BACKYARD
BEST OF MAXIM
RELATED ARTICLES
Ryan Dempster threw 7.2 impressive innings today as the Cubs beat the Cubs. I imagine the Cubs will be beating themselves a lot this season so they're just getting us used to it right away. Dempster allowed only 2 hits, but 1 of those was a ball that Jeff Baker didn't feel like bending over [...]
IN THE DRINK
During Thursday's Opening Day MLB game at Wrigley Field, Chicago Cubs third baseman Ian Stewart hit a foul ball behind the third-base dugout that landed directly in a fan's cup of beer, resulting in a big splash. Not clear from the video which lucky fan was the owner of the cup of beer, but all of the nearby fans became unlucky victims of the giant splash. MLB/WGN Video...
I can't really afford the time to pour into these game recaps as I'd really like, so I'll just comment briefly on the bigger WTF moments. Today, the honor goes to Kerry Wood and Dale Sveum in the 8th. Granted, I got called to a meeting just as Wood was imploding, but let's take at the play-by-play. - K. Wood relieved R. Dempster- I. Desmond stole second- R. Zimmerman...
Tuesday night I endured a local school board meeting. It comes with the territory of my day job. I sat glassy-eyed in the gallery, my mind drifting ahead 48 hours at which point I would be sitting in the stands on Opening Night at Principal Park, cracking open peanut shells instead of stifling yawns. After work on Wednesday I went to the ballpark to collect my media credential....
The 2012 Cubs are about to jump the shark.  Sending Jeff Samardzija to the mound is about as desperate an idea as when TV shows add Ted McGinley or have the Very Special Pregant Woman Gives Birth in a Stopped Elevator episode in an effort to boost ratings. The lineup that Sveum has constructed to [...]
There's obviously not going to be a lot of optimism in Chicago this season, as least for the North Siders, as the Chicago Cubs have entered yet another rebuilding season with new manager Dale Sveum, general manager Jed Hoyer and president Theo Epstein. But the beauty of baseball is that even in rebuilding years, miracles can happen, and the Cubs could be that Cinderella team that...
I'm really liking that the minor league season has begun at the same time as the MLB season this year. It's usually a week after MLB starts. Iowa Cubs Josh Vitters was 1-3 again. He also walked again. I'm not holding my breath, but if Vitters could learn to become more patient he'd suddenly have [...]
Don't you ever change, Cubs fans. And they said there was pressure on Theo Epstein to win now. Pssshh. H/T Bryan Dryfout via Kevin Kaduk
Welcome back to another year of Obstructed View series previews! And I guess Cubs baseball too. The Washington Nationals have come a long way since their "Natinals" days. The team has made great strides and could be a playoff contender if it weren't stuck in the NL East. Even then I wouldn't be too surprised [...]
Matt Garza and Gio Gonzalez are today's starting pitchers. Garza is trying to duplicate the season he had last year, which won't be easy. The Cubs will have their work cut out for them again today as Gonzalez is a pretty good pitcher. He's been worth more than 9 rWAR over the last 2 seasons. [...]
The games threads this year, for as long as we do them anyway, are going to be abbreviated compared to the past. Stephen Strasburg gets the ball for the Nationals and Ryan Dempster gets his 2nd consecutive opening day start. Let's hope it goes better than the last one. Opening Day hasn't gone well for [...]
Cubs News

Delivered to your inbox

You'll also receive Yardbarker's daily Top 10, featuring the best sports stories from around the web. Customize your newsletter to get articles on your favorite sports and teams. And the best part? It's free!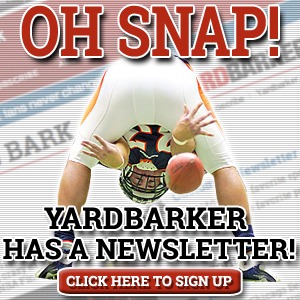 Latest Rumors
The Backyard

Today's Best Stuff

For Bloggers

Join the Yardbarker Network for more promotion, traffic, and money.

Company Info

Help

What is Yardbarker?

Yardbarker is the largest network of sports blogs and pro athlete blogs on the web. This site is the hub of the Yardbarker Network, where our editors and algorithms curate the best sports content from our network and beyond.