Found December 02, 2012 on The Nats Blog:
The hot stove is burning, and winter meetings start this week. There will be endless rumors of who is signing where and what player is available to be moved. One guy that seems to be on the block, according to multiple sources, is Nats second baseman Danny Espinosa. I'm not so sure he should be. Espinosa certainly comes with his share of problems. Primarily, he led the National League in strikeouts in 2012, which is the last place you want your second baseman to be in the rankings. While that's a big issue, he has many redeeming qualities in the lineup and on the field. While Espinosa struck out an exorbitant 189 times last season, that's going to matter less in 2013. The Nationals traded for center fielder Denard Span last week, who will automatically be put in the leadoff spot. That probably slides Jayson Werth down to the number two slot and Bryce Harper into the four or five spot. That's all a fancy way of saying Espinosa will still hit seventh or eighth this year, unchanged from last season. He's not going to be counted on as a significant part of the offense. Since the top of the lineup got way better, what does it hurt to allow Espinosa to remain in the bottom part of the order? The answer: it doesn't. In fact, it may help the Nats a whole lot. Espinosa is quickly becoming among the best defensive second basemen in the NL, meanwhile he provides the Nats great wins above replacement (WAR), even with his extraordinary strikeouts. For the MLB-best Nationals, Danny Espinosa provided the fourth-most WAR of all players. The only Nats who had higher WAR than Espi: Ian Desmond, Bryce Harper, and Ryan Zimmerman. That's not terrible company. Espinosa was also tied in WAR with Adam LaRoche, who was widely considered the Nats MVP last year. WAR isn't a tell-all stat, but it's certainly a good gauge of quality. Espinosa also provides much better defense than the guy who would inevitably replace him, Steve Lombardozzi. I'm a fan of Lombo's, personally. However, he doesn't have nearly as much range, his glove work isn't as good, and his arm isn't as strong as Espinosa. The bottom line is the Nats wouldn't gain much, if anything, on offense, and they would lose on defense with Lombardozzi compared to Espinosa. With Span in the lineup, both Espinosa and Lombardozzi will sit at the very bottom of the Nats batting order, so why would you want to get rid of Espinosa's defense and ability to hit for power? The only reason is more pitching. If the Nats were able to trade Espinosa for a quality starter, likely from the Tampa Bay Rays organization, then it may be a smart move. Otherwise, the Nats would be giving up a bottom of the order power threat with plus defensive ability for very little reason. If Espinosa is moved this week, or this offseason, it will be for something huge, not for a marginal improvement. With the shrewd moves that GM Mike Rizzo has made in the last couple seasons, I'm not worried that he'll make the wrong move.  
Original Story:
http://www.thenatsblog.com/2012-artic...
THE BACKYARD
BEST OF MAXIM
RELATED ARTICLES
Left fielder Michael Morse is the Washington Nationals player most likely to be moved, especially if the team re-signs free-agent first baseman Adam LaRoche. Don't be surprised, though, if second baseman Danny Espinosa also is the subject of trade discussions at the baseball winter meetings, which begin in Nashville on Monday. Espinosa, 25, is likely to draw interest from teams...
Left-hander Zach Duke has agreed to a one-year contract to stay with the Washington Nationals. The NL East champions announced the deal with the free agent on Monday. The 29-year-old Duke joined the Nationals as a minor league free agent in March, spending most of last season at Triple-A Syracuse. He was 1-0 with a 1.32 ERA in 13 2-3 innings over eight appearances as a reliever...
The Tampa Bay Rays are discussing a potential trade with the Nationals that would send one of the team's starting pitchers, most likely James Shields or Jeremy Hellickson, to Washington in exchange for Mike Morse, Danny Espinosa and possibly more, reports Jim Bowden of ESPN. James Loney and Rays close to one-year deal....Loney would replace Carlos Pena at 1B...also...
  Throughout the offseason, The Nats Blog will look back at every player's 2012 season to summarize and analyze his performance, and we'll look ahead to his possible role in 2013. We'll go from #1 Steve Lombardozzi all the way to #63 Henry Rodriguez with about two posts per week until Spring Training. Enjoy. If someone told you that a player who committed 57 errors...
Every morning, we compile the links of the day and dump them here... highlighting the big storyline. Because there's nothing quite as satisfying as a good morning dump. Free-agent first baseman Adam LaRoche, who hit a career-high 33 homers in 2012 with a strong line of .271/.343/.510/.853 while winning a Gold Glove and Silver Slugger award as both the top offensive and...
And so, after an inexplicable 2-year hiatus, the Nationals will be making like a real, live, MLB team and holding a Winter fan fest this year. Good deal. Tickets will be available online starting at 10:00 AM Thursday, December 6, 2012 at nationals.com/natsfest. A person who knows stuff and is usually right told us the Nationals may or may not be looking to bring back former players...
Lidge is ready to retire. (MLB) After several injury-riddled seasons and dealing with the loss of velocity on his fastball, it appears Brad Lidge is hangin' 'em up. Jayson Stark of ESPN broke the news via Twitter that Lidge, 35, will retire. Last season, Lidge was cut by the Nationals after posting an ERA near 10 during his stint there. He was brought in for veteran leadership...
When the Washington Nationals shut down Stephen Strasburg in September, most of the collective baseball world felt the doom fall over the team.  Sure, the team wasn't about to admit it.  They were still a damn good team.  But they were missing their ace, and they were heading into the playoffs without him.  Ultimately, the Nats lost in five games in the Division Series....
MLB News

Delivered to your inbox

You'll also receive Yardbarker's daily Top 10, featuring the best sports stories from around the web. Customize your newsletter to get articles on your favorite sports and teams. And the best part? It's free!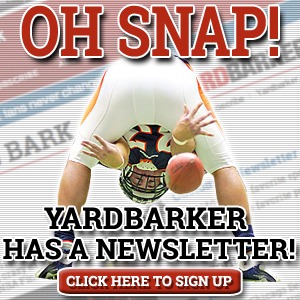 Latest Rumors
Best of Yardbarker

Today's Best Stuff

For Bloggers

Join the Yardbarker Network for more promotion, traffic, and money.

Company Info

Help

What is Yardbarker?

Yardbarker is the largest network of sports blogs and pro athlete blogs on the web. This site is the hub of the Yardbarker Network, where our editors and algorithms curate the best sports content from our network and beyond.