Found May 17, 2013 on Bush League Chronicle:
On Thursday, the Tampa Bay Rays placed struggling southpaw David Price on the disabled list after being diagnosed with a strained left triceps. The reigning American League Cy Young Award winner is off to an unusually poor start in 2013 as evidenced by his 1-4 record and 5.24 ERA, and that has many folks around the team very concerned.Could irritating laundry chemicals used at Tropicana Field be the culprit?On Tuesday, Price revealed that he has been battling a bad case of allergies this season, which have caused skin rashes and blurred vision, among other symptoms. An allergy test conducted Tuesday morning traced the problem to the new chemical ejection system in the washing machines used by the team.Price said his woes began in early January when he started working out at Tropicana Field in preparation for the 2013 campaign. Those woes have continued up until now."That's why my neck was so bad. That's why my eyes are so bad, the back of my hands, because all the towels I use when I'm working out," Price said. "I put a towel on my neck when I'm sitting on the bench, I have a towel for my face and my eyes."As a precautionary measure, the Rays are washing Price's uniform, workout clothes, and towels separately from the rest of the team to see if Price's symptoms subside."We want to isolate his clothes just in case it has something to do with the new ejection system," Rays equipment manager Chris Westmoreland said.Price said his allergies have been so bad that he sometimes has trouble seeing while pitching."There's definitely been many times this year I've had to step off the mound because I couldn't see the signs," Price said. "All the trainers, they all knew that I couldn't see and that my vision was extremely blurry at the time. It (stinks)."His skipper, Joe Maddon, who also has allergies, can relate."Just concentration-wise, it's not that easy," Maddon said. "Literally, your head feels like a block of cement. … David doesn't make excuses. I would like to say that everyone around here doesn't make excuses, but I'm just saying there is contributing factors. … I'm telling you it's a bad day. The bounce is not the same bounce, because it's hard to get all that clear. It's intense."Via Tampa Tribune
Original Story:
http://www.theblcblog.com/2013/05/dav...
THE BACKYARD
BEST OF MAXIM
RELATED ARTICLES
Tampa Bay Rays  ace David Price was placed on the disabled list after  training the triceps in his pitching arm last night against the Boston Red Sox.  It marks the first time the Price has been on the disabled list in his career. An MRI  last night revealed that there was no structural damage and the team doesn't believe it's a long-term situation for  the reigning Cy Young...
Credit: Kim Klement/USA TODAY Sports Tampa Bay Rays LHP David Price suffered triceps tightness on his throwing arm in the third inning of Wednesday's game, a major blow to a team struggling to hang on the back of the pack of a competitive AL East.  The reigning Cy Young Award winner has been off to a tough start at 1-4 with a 5.24 ERA.  For reference, Price was 20-5 with a 2...
The Tampa Bay Rays can ill-afford an injury to their ace David Price.  He has already struggled enough this season after winning the American League Cy Young last year, a serious injury could really derail his season.  So when he was pulled from his start yesterday, fingers were hovering over the panic button.  Fortunately, Rays' manager Joe Maddon doesn't think Price...
Tampa Bay Rays ace David Price has been placed on the 15 day disabled list after suffering a strained left triceps during yesterday's start against the Boston Red Sox. Price began to feel tightness at the start of the 3rd inning, throwing around 4-5 pitches before realizing he "didn't think it was going away". Initial expectations are that Price will miss around 2 weeks...
The Rays' clubhouse is a fun place these days, but no one in Tampa Bay is laughing about David Price's season. Price, who won 20 games en route to earning the AL Cy Young award last season, has long been a key character in the debate over which pitcher could crack the $200-million plateau with his next contract. It's probably unlikely that Price, who has two more years of arbitration...
AL Cy Young Award winner David Price has left the Tampa Bay Rays' game against the Red Sox with left triceps tightness. Price departed with one out in the third inning in Wednesday night's game after allowing an RBI single to David Ortiz. The left-hander walked toward the plate after delivering the pitch to Ortiz and appeared to grimace. Tampa Bay manager Joe Maddon, a...
Just when Tampa Bay Rays fans thought the season couldn't get any worse for their young stud pitcher David Price, it did. Leaving the game against the Boston Red Sox Wednesday with tighness in his left triceps, the left-handed starter very well could make a trip to the disabled list. The 27-year-old, who won the 2012 American League Cy Young award, is just 1-3 with a 4.78 earned...
Tampa Bay Rays ace David Price left his start against the Boston Red Sox with triceps tightness in his pitching arm. Price left after allowing an RBI base hit to David Ortiz in the third inning. He appeared to grimace and was flexing his left hand. Tampa Bay manager Joe Maddon, a team athletic trainer and the Rays infield all joined Price on the mound after the play. Jamey Wright...
ST. PETERSBURG, Fla. David Price addresses a common question about his unfamiliar start, the results different but his expectations the same. The left-hander and reigning American League Cy Young Award winner has faced a number of these queries in the past month Whats wrong? What has changed from last year? and he finds himself doing so again. It is a recent Monday in the home...
ST. PETERSBURG, Fla. Early in the third inning Wednesday, Tampa Bay Rays left-hander David Price was presented another obstacle in a season of many for him, another strange turn that will test his resilience in what is already an uncommon year for the ace. Adversity presents a number of possible outcomes, ranging from the positive to negative and points in between. And once again...
Jon Lester stayed unbeaten, Stephen Drew hit his second career grand slam and the Boston Red Sox roughed up AL Cy Young winner David Price and the Tampa Bay Rays 9-2 on Wednesday night. Price (1-4) departed from the marquee pitching matchup because of left triceps tightness during Boston's eight-run third inning, which Drew finished with his towering homer off Jamey Wright....
As first reported by Marc Topkin  of the Tampa Bay Times Jake Odorizzi will make his Tampa Bay Rays  debut starting against the Toronto Blue Jays on Monday. The move won't be made official until Sunday. Alex Torres who pitched four hitless shutout innings for Tampa Bay against Baltimore On Saturday will likely head back to Durham. Odorizzi  is replacing David Price who  went...
Rays News

Delivered to your inbox

You'll also receive Yardbarker's daily Top 10, featuring the best sports stories from around the web. Customize your newsletter to get articles on your favorite sports and teams. And the best part? It's free!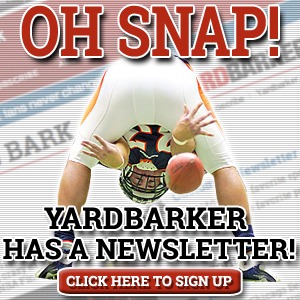 Latest Rumors
Best of Yardbarker

Today's Best Stuff

For Bloggers

Join the Yardbarker Network for more promotion, traffic, and money.

Company Info

Help

What is Yardbarker?

Yardbarker is the largest network of sports blogs and pro athlete blogs on the web. This site is the hub of the Yardbarker Network, where our editors and algorithms curate the best sports content from our network and beyond.