Found November 29, 2013 on ChadMoriyama.com:
The news today is that the Dodgers avoided arbitration with Scott Elbert, Drew Butera, and Mike Baxter, which isn't really significant in itself. However, it's noteworthy because it means they'll all have contracts for 2014, which wasn't necessarily a guarantee. With the deadline to tender contracts on Monday night, the Dodgers on Friday signed left-handed reliever Scott Elbert, backup outfielder Mike Baxter and third-string catcher Drew Butera. Elbert missed the entire 2013 season after undergoing three operations on his left elbow. He had scar tissue removed Sept. 19 last year, debridement of cartilage in a different area of the elbow Jan. 23, and Tommy John reconstruction June 7 that will keep him out through the first half of 2014. He earned $505,000 last season and has a $575,000 Major League salary for 2014. Baxter was claimed off waivers from the Mets on Oct. 17. The 28-year-old is a left-handed hitter who played in 74 games with the Mets in 2013, hitting .189. He is a corner outfielder and was a fourth-round pick of the Padres in 2005, then was claimed off waivers by the Mets in 2011. His Major League salary will be $700,000. Butera was acquired by the Dodgers for insurance on July 31 from Minnesota for Minor League pitcher Miguel Sulbaran, but spent August at Triple-A, hitting .135, and played in only four games with the Dodgers during a September callup. He earned $700,000 last season and has a $700,000 Major League salary for 2014. As far as I'm concerned all three were non-tender candidates due to them being among the least likely to make an impact on the 2014 team, but these moves show the Dodgers believe they will all indeed play a role. Elbert is surprising because he'll miss half the season with injury due to what seems like a millionith arm surgery, but the Dodgers STILL choose to keep him over Shawn Tolleson, which is amazing. I'm in favor of keeping him, but he's obviously a huge question mark for next year and beyond. Butera is a fine third-string catcher, but really nothing beyond that. Defense is important, but not if you can't even OPS .500. As for Baxter, I still have no idea why the Dodgers took him, but I suppose they see him as a sixth or seventh outfielder to hold as depth. At least, that's what I hope, because if he's the fourth outfielder option in 2014, the bench will have gotten even worse. Primarily I'm looking forward to how Elbert bounces back, because he has a ton of upside as a lefty reliever if he can regain his stuff after surgery. I just worry about how he progresses after so many arm problems.
Original Story:
http://feedproxy.google.com/~r/ChadMo...
THE BACKYARD
BEST OF MAXIM
RELATED ARTICLES
Hanley Ramirez is in extension talks with the Dodgers, though it's nothing close to finished, according to Dionisio Soldevila of ESPN Deportes. But more importantly, what might this extension look like? Hanley Ramirez said recently that he has had ongoing extension talks with the Dodgers, Dionisio Soldevila of ESPNDeportes.com reports (Spanish language link). The 29-year-old is...
Baseball America is in full prospect-ranking season, and the Dodgers' Top 10 list officially drops online Monday.However, the print publication (yes, print media still exist) came out on Tuesday to give us an early look at the list.Big thanks to silverwidow99 for making the list public.1. OF Joc Pederson2. SS Corey Seager3. LHP Julio Urias4. RHP Zach Lee5. RHP Chris Anderson6...
Hanley Ramirez and the Dodgers are negotiating a contract extension, according to ESPN Deportes. Ramirez spoke to ESPN Deportes in the Dominican Republic, where he and the other members of the countrys World Baseball Classic championship team were honored. "I can't talk about years or money, but were negotiating and there could be something this winter," Ramirez said...
Los Angeles Dodgers shortstop Hanley Ramirez put up numbers in 86 games in 2013 that many players would love to have for a full season: .345/.402/.638, 20 HR, 57 RBI, and 5.4 WAR. Even more impressively, he played so well even after missing most of the first half with a torn thumb ligament that required surgery and a strained hamstring that followed soon after. That performance,...
It was obvious that Mark Ellis's time with the Los Angeles Dodgers was up when they signed Cuban infielder Alexander Guerrero. The Dodgers declined the 36 year old veterans $5.75 million dollar option but expressed interest in him returning to the team. His return to the Dodgers may be unlikely, but he's still picking up some interest from other teams in the league. Ellis is...
Infielder Hanley Ramirez said he's working on a contract extension with the Dodgers. Ramirez wouldn't discuss years and salary, but while commemorating Team Dominican Republic's championship in the World Baseball Classic at an event Thursday in Santo Domingo, he told ESPN Deportes that a deal could come this winter. The Dodgers had no comment on the report. Ramirez...
A day late on bringing this to everyone's attention, BUT great news from ESPN Deportes yesterday via Steve Dilbeck at LA Times. While Hanley and his Domincan teammates were being honored for their success in the World Baseball Classic last year, Ramirez spoke with reporters from ESPN Deportes and told them: "I can't talk about years or money, but we're negotiating...
By The True Blue Crew Insider, Dale Claiborne With the verdict being out on Dan Haren, the Dodgers best off-season deal to date is Guerrero from Cuba. He has a huge upside - his youth - and he possesses a good, arm, glove and bat. If he can work into second or third base he makes and even better acquisition. Let's hope he produces with the same impact as...
Uggla power without the poor batting average? If Boras is right, I definitely want a piece of that. Ah, the Dodgers 2014 infield, featuring a rejuvenated Adrian Gonzalez at first base, the red hot Hanley Ramirez at short stop, and…who else do they have? All signs, before free agency truly heats up, mind you, point to the ageless wonder Juan Uribe getting the nod at third and recently...
The veteran lefty Ted Lilly who spent the last two years with the Los Angeles Dodgers has called it quits after 15 major league seasons. The Dodgers released Lilly in August after numerous injuries which plagued him during his stay in Los Angeles. The California native attempted to gain some momentum by pitching in the Venezuelan league, but decided it was best to call it a career...
MLB News

Delivered to your inbox

You'll also receive Yardbarker's daily Top 10, featuring the best sports stories from around the web. Customize your newsletter to get articles on your favorite sports and teams. And the best part? It's free!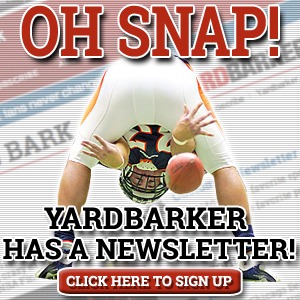 Latest Rumors
Best of Yardbarker

Today's Best Stuff

For Bloggers

Join the Yardbarker Network for more promotion, traffic, and money.

Company Info

Help

What is Yardbarker?

Yardbarker is the largest network of sports blogs and pro athlete blogs on the web. This site is the hub of the Yardbarker Network, where our editors and algorithms curate the best sports content from our network and beyond.