Found May 18, 2013 on ChadMoriyama.com:
The Dodgers handed Brandon League a three-year contract and the closer's role heading into the 2013 season, but his predictable fall from temporary grace in the role has led to continued questions about his viability as the closer, especially with Kenley Jansen waiting in the wings. It's easy to see why questions are being asked, as any comparison between the two relievers' resumes is comical, and it doesn't matter if we're talking about just 2013 or their entire careers. By now, due to what you see in the chart above, I think most of the fan base has concluded that Kenley deserves the closer's spot over League. However, that assumes that the closer's spot is the place where the team should be putting their best reliever. Don Mattingly doesn't think that's correct, and I'm inclined to agree. Don Mattingly has adjusted his late-inning bullpen use recently by deploying Kenley Jansen to face the hitters posing the greatest threat, no matter the inning. "I don't like a committee of guys, that's always unsettling, like every day is a tryout, and that's not the environment I want for my pitchers," said Mattingly. "I want them to know I'm confident in them and trust them. It's not like you give up a run and you're out. "But the way it's been going is the best way to do it. Kenley gets the tougher part of the order, and there's a chance of anybody in the ninth. We don't have Mariano [Rivera]. You see teams changing all the time in the last inning or two." For the moment, forget about statistics or the fact that you hate Mattingly or whatever else. Logically, what he's saying makes absolute sense: Use your best reliever in the most important situations in the game against their best hitters. Basically, Mattingly's plan is to use Kenley as an ace reliever of old, a move which is only bolstered by the fact that Kenley has a history of being able to go multiple innings. Another reason it works is because the Dodger bullpen has been hit by injuries and ineffectiveness like the rest of the team, so despite League's struggles, he's still projected to get late-inning outs even if he's removed as closer. And since blowing a lead in the eighth sucks just as much as in the ninth (or more since the closer doesn't even get used then), stripping League of the overhyped title accomplishes little. Yes, League and Ronald Belisario and friends have to get it together somewhat for this to work, but that was always true to begin with. If they continue to tank, the bullpen fails anyway, as Kenley is only one man. As such, it's hard to see the downside to this move besides the risk for overwork (a temptation, regardless). Like it or not, if Mattingly actually uses Kenley like he says, it's quite the progressive move for a manager whose game decisions are generally regressive. I've been calling for Dodgers managers to use their best relievers in the most important situations forever now, and if Donnie sticks to what he's saying, there may finally be progress on that front, even if it's partially out of desperation.
Original Story:
http://feedproxy.google.com/~r/ChadMo...
THE BACKYARD
BEST OF MAXIM
RELATED ARTICLES
The 2013 MLB Draft is three weeks from yesterday. Apparently, Thursday was a big mock draft day, as Keith Law (ESPN Insider), Jonathan Mayo (MLB.com) and John Sickels (Minor League Ball) all released mocks. Manaea I'm going to look at all the legitimate mock drafts out there to this point to take the temperature of the experts to see who the Dodgers might target...
I attended the Matt Kemp Bobblehead Giveaway game on May 14th and walked away with this sweet nodder.I also picked up the Hanley Ramirez "I See You" bobble, though I didn't make it out to that particular game. My buddy and his girlfriend went and he's not much of a baseball fan, so he asked if I wanted it. As much as I despise the "I See You" gesture,...
Dodgers second baseman Mark Ellis has returned to the lineup after missing the last 19 games with a right quadriceps strain. Catcher Tim Federowicz was optioned to Triple-A Albuquerque to make room for Ellis on the 25-man roster. Ellis was batting second Sunday against the Braves. Ellis was hitting .342 with two homers and 11 RBIs when he injured his quad while running out a grounder...
ALL YOU CAN DO
Tweet   When it comes to playing center field there aren't many who do it better than Matt Kemp of the Los Angeles Dodgers. On Saturday the two-time Gold Glove Award winner used his impressive athleticism to rob Atlanta Braves right fielder Jason Heyward at the wall.   Your browser does not support iframes.   [...]
Matt Kemp is a heck of a ball player--there is no denying that. Saturday night when his Dodgers were playing the Atlanta Braves he proved that once again by making this catch to steal a home run from Jason Heyward. You have to give Heyward a little credit too. Not many players would tip their hat to a guy that just took a home run from them! Your browser does not support iframes.
Clayton Kershaw is tied for the majors' lowest ERA, but unfortunately also owns baseball's worst run support average. Fortunately for him, the Milwaukee Brewers have been awful against left-handers as they face Kershaw in Monday night's opener of a three-game set with the Los Angeles Dodgers out to snap a six-game road slide. Kershaw (4-2, 1.40 ERA) is tied with St. Louis...
Carl Crawford got it… …nope.
Ramiro Pena had a tiebreaking sacrifice fly in a four-run eighth inning, Jordan Schafer drove in two runs and the Atlanta Braves rallied against the Los Angeles Dodgers' beleaguered bullpen for a 5-2 victory on a rain-soaked Sunday. Kenley Jansen (1-3) was the loser for the second straight game, this time allowing one hit, two runs and a walk while getting just one out in a...
On September 28, 2012, Bobby Abreu, in what looks to be his final career home run, blasted a shot down the right field line in Dodger Stadium. After strutting out of the box, Abreu took his sweet time rounding the bases. Vin Scully even said, after Abreu rounded second, "And Bobby's going to take his time and enjoy the ride." Abreu's trot ended up clocking in...
PREPARING WALKING PAPERS
With the Dodgers struggling, Don Mattingly reportedly has a tenuous hold on his job at best and some speculate that it would be a surprise if he lasts the week.
Clayton Kershaw is tied for the majors' lowest ERA, but unfortunately also owns baseball's worst run support average. Fortunately for him, the Milwaukee Brewers have been awful against left-handers as they face Kershaw in Monday night's opener of a three-game set with the Los Angeles Dodgers out to snap a six-game road slide. Kershaw (4-2, 1.40 ERA) is tied with St...
Another week goes by and it looks like another job may be lost in Los Angeles, but Donny Baseball is being vague about things. Also, a few firsts occurred this week, as in first blown saves of the season. Besides that, it was a pretty quiet week for closers. Sink your teeth into this week's rankings as we've named the tiers after a Philly favorite in honor of Jonathan Papelbon's...
Dodgers News

Delivered to your inbox

You'll also receive Yardbarker's daily Top 10, featuring the best sports stories from around the web. Customize your newsletter to get articles on your favorite sports and teams. And the best part? It's free!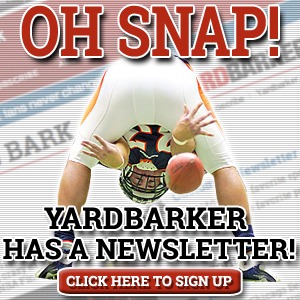 Latest Rumors
Best of Yardbarker

Today's Best Stuff

For Bloggers

Join the Yardbarker Network for more promotion, traffic, and money.

Company Info

Help

What is Yardbarker?

Yardbarker is the largest network of sports blogs and pro athlete blogs on the web. This site is the hub of the Yardbarker Network, where our editors and algorithms curate the best sports content from our network and beyond.