Found January 09, 2013 on The Nats Blog:
The Washington Nationals' quiet offseason was granted some new life on Tuesday as the team re-signed their 2012 first baseman Adam LaRoche. It was a drawn out process between LaRoche and Rizzo, but ultimately, everyone knew that LaRoche had limited options. LaRoche's deal is for two years at $24 million, which is an extremely reasonable rate for arguably the best first baseman in the National League last season. There is an option for 2015 with a $2 million buyout, and the Nats stockpile of corner infielders (Tyler Moore, Anthony Rendon, etc.) seems to indicate a buyout is already the likely outcome. But on to the immediate ramifications of the deal. The Nats seemed to know they would be re-signing LaRoche from day one of the offseason, and that patience paid off. They got a power hitting left-handed bat, for exactly the deal they wanted, who is still in the heart of the lineup without immediately putting pressure on Bryce Harper to fill that role. They also have one of the absolute best defensive first basemen in all of baseball on what should be the best defensive infield in baseball when you consider LaRoche, Danny Espinosa, Ian Desmond, and Ryan Zimmerman. Inevitably, when you get something good, something bad must come. LaRoche's re-signing likely means the end of the Michael Morse era in DC. With a stacked outfield of Harper, Denard Span, and Jayson Werth and a fully solidified infield, there's no place for The Beast to go. It's not often you see a .300 hitter with significant extra-base power unable to crack an MLB lineup, but that's exactly Morse's situation right now. Oh, how far the Nationals have come in just one season. I fully expect Morse to be traded in the next few weeks, and unfortunately for the Nats, they have absolutely no leverage in getting something good in return. Every team in baseball knows he's not a bench player and that the Nats don't have a spot for him. It's possible that they would consider keeping Morse around until spring training as an insurance policy in case an outfielder, or LaRoche, gets hurt, but it seems unlikely. There should be enough teams clamoring for a player of Morse's caliber. At the extremely reasonable cost, I do believe that the Nats made the right move in signing LaRoche, but I say that with mixed feelings if and when Morse is finally traded. Morse is really the first player to provide significant personality to a team on the rapid rise to success. Between the brilliant "Take On Me" walk-up song/sing along at Nationals Park,  The Cobra before walking into the box, the helmet slap rounding first base on his home run trot, and even his awkward jumping-in-place catches in the outfield to end innings, his personality will be sorely missed for fans and players alike.
Original Story:
http://www.thenatsblog.com/2013-artic...
THE BACKYARD
BEST OF MAXIM
RELATED ARTICLES
Adam LaRoche agrees to two-year, $24 Million deal with Nationals. "It's good to have it done, it really is." (Adam LaRoche, via Washington Post, 7/8/2012) Michael Morse would beg to differ: Indeed, Michael Morse has been reduced to trade-bait. He'll be missed. (Screen cap via SAFE video) Befriend Nats Enquirer on Facebook. Follow on Twitter.
Adam LaRoche tested the open market, but it doesn't appear he's going anywhere. According to Adam Kilgore of The Washington Post, the Nationals have agreed to terms on a two-year deal with LaRoche, who spent the last two seasons in the nation's capital. LaRoche had a solid 2012 campaign, jacking 33 home runs and driving in 100, which was enough to earn him a Silver Slugger...
Well, it looks like one of the big boppers left on the market, Adam LaRoche, has gone ahead and re-signed with the Washington Nationals. From Nats Insider: The Nationals' unwillingness to budge on their longstanding, two-year offer to Adam LaRoche paid off in the end. LaRoche today agreed to the deal after failing to find another club willing to give the free agent first...
Free-agent first baseman Adam LaRoche agreed to a two-year, $24 million contract to stay with the Washington Nationals, ESPN reported Tuesday. LaRoche's contract includes $10 million this year, $12 million in 2014 and a $2 million mutual buyout option for 2015. LaRoche batted .271 with hit 33 home runs and 100 RBI in 2012. He also won a Gold Glove. Earlier, LaRoche reportedly...
The Washington Nationals accomplished another of their primary offseason goals today and re-signed first baseman Adam LaRoche to a two-year contract that guarantees him $24 million, according to The Washington Post. GM Mike Rizzo got his way as he was adamant that he would not give LaRoche more than a two-year deal right from the start. LaRoche pushed hard for a three-year commitment...
Adam LaRoche lost a lot of 2011 to injury, okay, and in 2012 he had himself a bounceback season, okay. Sometime during the season, the Nationals approached LaRoche — a free-agent-to-be — about a contract extension. Nothing was agreed to; the Nationals were willing to give LaRoche two years, and LaRoche was seeking three years, citing a desire to stop bouncing around. Come the...
After signing Adam LaRoche, the Washington Nationals have begun to shop outfielder Michael Morse. Reports today have been that five or six teams are interested, one of those teams being the New York Yankees. The New York Yankees have interest in trading for Washington Nationals outfielder/first baseman Michael Morse, sources tell ESPNNewYork.com. (Andrew Marchand – ESPN NY) If...
It's unclear whether the Red Sox ever seriously considered Adam LaRoche to be a Plan B, but his contract with the Nationals makes completing a deal with Mike Napoli that much more important for Boston. LaRoche agreed to a two-year contract with Washington on Tuesday, further slimming down an already slim first-base market. The Sox were wise to steer clear of going after the 33...
Although he was seeking three years, Adam LaRoche compromised to stay in the city that helped get him to the postseason again.  He and the Washington Nationals have agreed to a two-year deal.  The Nationals had been offering two years all along, but LaRoche wanted to see what he could get on the free agent market. According to ESPN's Buster Olney, LaRoche's deal is...
  Adam LaRoche was one thing – the Boston Red Sox didn't want to sign him to a three-year free-agent contract and forfeit their second-round draft pick as compensation.   But, as the Red Sox enter Day 40 of their standoff with free-agent catcher/first baseman Mike Napoli, why wouldn't they want to trade for the Washington Nationals' Mike Morse?   The Sox, sources say,...
In a matter of hours, we'll find out who (if anyone) will be joining Hank O'Day, Jacob Ruppert, and Deacon White in the 2013 Baseball Hall of Fame induction class. Perhaps a little shockingly, we might not have *anyone* inducted. with no player achieving the necessary 75% at Baseball Think Factory's tabulation of the ballots known thusfar. Now that would certainly be...
Nationals News

Delivered to your inbox

You'll also receive Yardbarker's daily Top 10, featuring the best sports stories from around the web. Customize your newsletter to get articles on your favorite sports and teams. And the best part? It's free!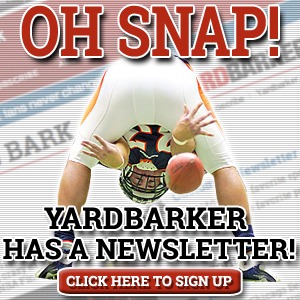 Latest Rumors
Best of Yardbarker

Today's Best Stuff

For Bloggers

Join the Yardbarker Network for more promotion, traffic, and money.

Company Info

Help

What is Yardbarker?

Yardbarker is the largest network of sports blogs and pro athlete blogs on the web. This site is the hub of the Yardbarker Network, where our editors and algorithms curate the best sports content from our network and beyond.