Found August 02, 2013 on World Series Dreaming:
PLAYERS:
Jen-Ho Tseng
,
Jorge Soler
,
Gerardo Concepcion
,
Kyle Hendricks
,
Javier Baez
,
George Springer
,
Albert Almora
,
Arismendy Alcantara
,
Daniel Vogelbach
,
Christian Villanueva
,
Brett Jackson
,
Anthony Rizzo
,
Trey McNutt
,
Josh Vitters
,
Jeimer Candelario
,
Rafael Dolis
,
Junior Lake
,
Dae-Eun Rhee
,
Arodys Vizcaino
TEAMS:
Chicago Cubs
,
Houston Astros
In this edition of the Future Alert, I'd like to update the WSD Top 13 Prospect List, compare our farm system today to it at various points over the past year and a half, and catch up on the latest news across the Cubs system. Eloy Jimenez - The Cubs made their long-awaited signing of #1 international prospect Eloy Jimenez, and outfielder from the Dominican Republic.  The Cubs did quite well in this year's international market, also netting the #2 international prospect, Gleyber Torres (SS, Venezuela), #16 Erling Moreno (RHP, Colombia), and #23 Jen-Ho Tseng (RHP, Taiwan).  The Cubs also netted Jefferson Meija and Yohan Matos, thus blowing past their cap space, and will not be allowed to sign any international prospect for more than $250K next year.  Most of these players are quite young, many just sixteen years of age, so while many have great potential, they are simply too far away to rank on the Top 13 Prospects List, and thus have been left off.  Last year, the Cubs landed Jorge Soler and Gerardo Concepcion under much looser signing restrictions. Kyle Hendricks - The emergent Kyle Hendricks seems to have been called up to AAA Iowa, as many friends and family members have tweeted him their congratulations.  Follow @kyle_hendricks9. Javier Baez - Baez has been going insane with the bat, You know, only a 1.090 OPS in his last ten games with seven home runs.  Baez had hit seventeen in seventy-six games with Advanced-A Daytona, but has already hit eleven in twenty-four games at AA Tennessee.  Baez is only batting .222 in Tennessee, but his OPS remains a constant .873 at each level.  Only Ryan Rua of Texas's farm system and George Springer of Houston's best Baez's twenty-eight combined home runs. The Rankings - Here we go… SS Javier Baez – Tennessee Smokies OF Jorge Soler – Daytona Cubs (DL) OF Albert Almora – Kane County Cougars 3B Kris Bryant – Boise Hawks 3B Mike Olt – Iowa Cubs 2B Arismendy Alcantara – Tennessee Smokies RHP C.J. Edwards – Daytona Cubs RHP Pierce Johnson – Daytona Cubs 1B Daniel Vogelbach – Kane County Cougars LHP Rob Zastryzny – Boise Hawks RHP Kyle Hendricks – Tennessee Smokies RHP Dillon Maples – Boise Hawks 3B Christian Villanueva – Tennessee Smokies Seeing this list, the first thing that comes to mind is probably something along the lines of "Where's Lake? Or Vizcaino? Or Candelario? Or [Insert Prospect Here]?".  And while I asked myself the very same questions, the answer is just that this is really good farm system with a lot of depth.  There is not one player on this list that is undeserving, yet there are many deserving players left off the list.  The top seven or nine is obvious, though not necessarily in order.  A case could be made for any player in the top four to be the number one prospect, or any player in the next five to be ranked number five.  Six top hundred prospects for 2014 (at the absolute minimum) are on this list, and cases could be made for as many as nine, which would just be overkill. Compare this to my first list when I first came to World Series Dreaming in 2012. OF Brett Jackson 1B Anthony Rizzo SS Javier Baez RHP Trey McNutt OF Matt Szczur RHP Dillon Maples 3B Josh Vitters 1B Dan Vogelbach 3B Jeimer Candelario RHP Rafael Dolis C Welington Castillo SS Junior Lake RHP Dae-Eun Rhee Just about all of those players are still in the Cubs farm system, or have made it to the major leagues.  Yet Jackson, McNutt, Szczur, Vitters, Candelario, Dolis, Lake, and Rhee have all fallen off the list.  In Lake's case, it definitely isn't due to lost stock.  The system has simply improved exponentially.  The most important thing may be that the players are Cubs are now pouring into the system have less major concerns such as Jackson's inability to make consistent contact.  Sure, Baez and Soler aren't known for taking walks (though Baez has really improved in this category recently), but it is a much smaller question mark and the potential remains through the roof. Even since the beginning of this year, the farm system looks extremely improved. SS Javier Baez OF Jorge Soler OF Albert Almora RHP Arodys Vizcaino OF Brett Jackson 1B Dan Vogelbach 3B Jeimer Candelario RHP Pierce Johnson 3B Christian Villanueva RHP Juan Carlos Paniagua RHP Duane Underwood SS Arismendy Alcantara 3B Josh Vitters Pierce Johnson, Kyle Hendricks, and most notably Arismendy Alcantara, have made major strides since then.  Between the draft and trading season, the Cubs managed to add Bryant, Olt, Edwards and Zastrynzny to bolster an already solid core.  The Cubs farm system used to barren of any top pitching prospects, but the teams now has several interesting arms, including likely top hundred prospects C.J. Edwards and Pierce Johnson to go along with a stacked offensive core of prospects.
Original Story:
http://worldseriesdreaming.com/2013/0...
THE BACKYARD
BEST OF MAXIM
RELATED ARTICLES
TRY AGAIN
Cubs fan celebrating a Cubs win with an upside-down "W" sign. Seriously, how long does it take to see if you're holding your sign up properly, like two seconds? Then again, when you're rooting for the Cubbies, chances are you haven't had much practice holding up a "W" sign, which would explain why this poor guy failed miserably. [@Shoreaux via TBL] The post Cubs fan...
MiLB The Chicago Cubs have purchased the contract of infielder Donnie Murphy from Triple-A Iowa. Murphy, 30, will provide infield depth for the Cubs. While at Triple-A, Murphy batted .265/.338/.457 with 12 home runs. He has not appeared at the major league level this season but played 52 games for Miami last season. In parts of seven big league season Murphy has played in 244 games...
Today, we continue profiling minor league prospects on the rosters of the Chicago Cubs three upper level teams: Iowa, Tennessee and Daytona. In a few days, we will examine prospects on the Cubs' lower-tier teams of Kane County, Boise and Arizona. IOWA CUBS: Jae-Hoon Ha: The right handed hitting and throwing Ha, was signed by the Cubs out of his native South Korea in September...
The Chicago Cubs today named Single-A Kane County Cougars first baseman Dan Vogelbach and Double-A Tennessee Smokies pitcher Matt Loosen the organization's minor league player and pitcher of the month for July. The walk-up music for Dan Vogelbach says it all. Whenever the Kane County Cougars first baseman comes up to bat, the Stadium audio blares the "BIG BOY" snippet from...
Chicago Cubs third baseman Luis Valbuena sat out Saturday's game with the Los Angeles Dodgers due to a right oblique strain. After the game, as MLB.com's Manny Randhawa reports, the Cubs announced that they will place Valbuena on the 15-day disabled list. The move should become official before Sunday's game, so the Cubs have a chance to make a roster move to fill...
For some reason, the Chicago Cubs did a Lucha Libre wrestling mask giveaway Tuesday night when they took on the Milwaukee Brewers.  So, naturally, WWE Superstar (and noted Cubs fan) CM Punk was on hand to cheer on los Cachorros. Oh, they also let him sing "Take Me Out to the Ballgame". Unfortunately, the beer makers put the smack down (see what I did there?) on...
Ben and Sam discuss whether several extensions would still be signed today, then talk about the Cubs` decision to exceed their international spending allowance.
CHICAGO (AP) -- Yasiel Puig hit a long home run and scored two runs to lead the Los Angeles Dodgers to a 6-4 win over the Chicago Cubs on Thursday. Hanley Ramirez and Jerry Hairston each drove in two runs for the Dodgers, who got a win a night after having a four-game winning streak snapped and improved their record to 11-2 since the All-Star break. Junior Lake and Anthony Rizzo...
Why is Michael Morse still a Mariner? Why is Nate Schierholtz not a Pirate? Why are seemingly half of MLB's general managers infected with paralysis by analysis, unwilling to help their teams even incrementally?
MLB News

Delivered to your inbox

You'll also receive Yardbarker's daily Top 10, featuring the best sports stories from around the web. Customize your newsletter to get articles on your favorite sports and teams. And the best part? It's free!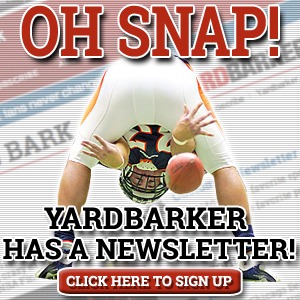 Latest Rumors
Best of Yardbarker

Today's Best Stuff

For Bloggers

Join the Yardbarker Network for more promotion, traffic, and money.

Company Info

Help

What is Yardbarker?

Yardbarker is the largest network of sports blogs and pro athlete blogs on the web. This site is the hub of the Yardbarker Network, where our editors and algorithms curate the best sports content from our network and beyond.