Found September 27, 2012 on The Daily Stache:
At 11:45 today. We will say Goodbye to the greatest facial hair that ever was grown in professional sports. I will be there with this sign to pay my respects. I hope to see you at the game as we watch RA Dickey go for his 20th win, say bye to Citi Field for the 2012 season and move on into the future with a cleanly shaved Keith Hernandez. Lets Go Mets!
Original Story:
http://dailystache.net/archives/3710?...
THE BACKYARD
BEST OF MAXIM
RELATED ARTICLES
In a season that has had such highs, and since July, mostly lows, one constant has been Robert Allen Dickey. He has had such a long journey both on and off the baseball diamond to get to where the 37-year old knuckleballer stands today: The best pitcher in the game this year and of course, a 20-game winner. What a season Dickey has had: his back-to-back one-hitters, his 44 2/3 earned...
Now that R.A. Dickey has achieved his dream of a 20-win season, the conversation has shifted to his last remaining goal -- the National League Cy Young award. With most major league starters scheduled for one more start before the end of the regular season, Dickey ranks second in the NL with his 20 wins, one fewer than Gio Gonzalez of the Nationals. His 2.69 ERA is also second...
It's hard to get recognition when you play for a team that is nowhere near playoff contention. Especially when that team is the Mets and you have to play in the insanely large shadow cast by the Yankees. But after winning his 20th game on Thursday, R.A. Dickey has proved that he's Cy Young material. Dickey's name might not be as recognizable as some of the star pitchers in...
The National League Cy Young battle got even closer on Thursday when Mets ace R.A. Dickey picked up his 20th win of the season, tying the Nationals' Gio Gonzalez for the league lead. Dickey struck out 13 and only allowed three earned runs over 7 2/3 innings against the Pirates to become the ninth 20-game winner in Mets franchise history. On the season, he has a 2.69 ERA in 227...
NEW YORK -- He had craved this moment as much for the fans chanting and cheering his name as for himself. R.A. Dickey wanted an extra shot at home, an opportunity to give New York Mets fans one more chance to share the last bit of sheer joy their season had to offer after several months of misery. But the 37-year-old knuckleballer, whose life and career has dipped and darted...
Table of ContentsHere's the table of contents for today's edition of Daily Notes.1. Action Footage: R.A. Dickey Throws a Changeup2. Today's MLB.TV Free Game3. Today's Complete ScheduleAction Footage: R.A. Dickey Throws a ChangeupA Thing That R.A. Dickey Did YesterdayA thing that Mets right-hander R.A. Dickey did on Thursday was to tie his career-high in strikeouts, with 13...
NEW YORK -- He had specifically craved this moment, as much for the fans chanting and cheering his name as for himself. R.A. Dickey had wanted an extra shot at home, a chance to give New York Mets fans one more chance to share the last bit of sheer joy their season had to offer after several months of misery. Now, with some help from David Wright, whose three-run homer provided...
The Pirates lost yet again on Thursday as their hopes at salvaging a .500 season continue to go down the drain, but hey, at least the game will make SportsCenter. It was notable for two reasons: RA Dickey's 20th win and an absolutely incredible catch by Travis Snider. The Pirates actually got off to a good start against Dickey, scoring twice in the second inning. Garrett Jones...
Fred Wilpon and Sandy Alderson gazing into the future and watching their plan unfold? On Wednesday I posted this comment R.A. Dickey made regarding his thoughts on signing an extension with the Mets after this season: "If I don't see them pursuing David hard," Dickey said, "I think it would be a message to everybody that they're content to spend the next five or six years...
Myself and Darren from The7Line As I sit here, hours after one of the best Mets games I have been to in a while, I think back to what the game and experience was like at Citi Field today and I just cant believe how amazing it really was. I sat in the last row, not wanting to block people's view with my sign who were sitting in the CF section and observed what had to be the most...
Tough loss, Cleveland (23-16; Two 4th quarter field goals). It's ok, you still have Ohio State football to follow – until late November. Brandon Weeden now has 3 TDs and 7 INTs this season. Last night's INT helped break the tie he had with….Jay Cutler. The problem for the Brownies is that 31st ranked defense. Pisshoff, indeed. Today's NY Post cover: 'Dickey Does It.'...
Mets News

Delivered to your inbox

You'll also receive Yardbarker's daily Top 10, featuring the best sports stories from around the web. Customize your newsletter to get articles on your favorite sports and teams. And the best part? It's free!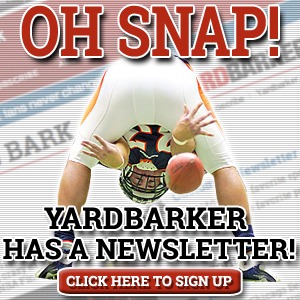 Latest Rumors
Best of Yardbarker

Today's Best Stuff

For Bloggers

Join the Yardbarker Network for more promotion, traffic, and money.

Company Info

Help

What is Yardbarker?

Yardbarker is the largest network of sports blogs and pro athlete blogs on the web. This site is the hub of the Yardbarker Network, where our editors and algorithms curate the best sports content from our network and beyond.